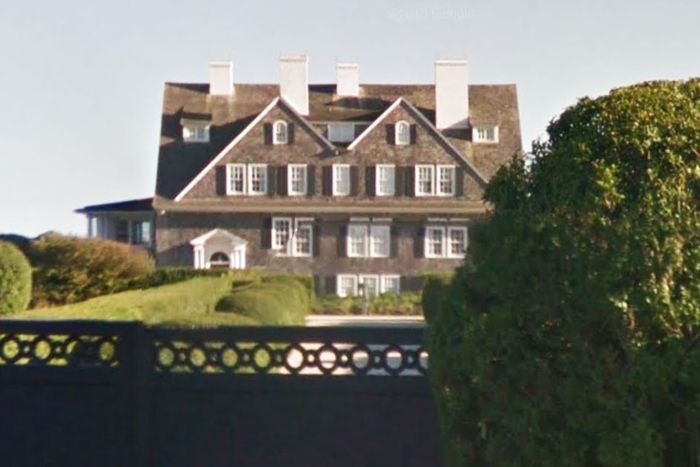 A Southampton estate listed for $150 million by the infamous art-magazine publisher and collector Louise Blouin is looking to break records as the most expensive house in the place with the most expensive houses. The only problem is actually selling it.
The property, which is actually two houses on a compound named La Dune, sits on four acres of two adjacent beachfront lots. "You are truly on the 50-yard line of nothing but wealth," the listing agent told CNBC of the property's location. The amenities and details are basically every Hamptons trope turned up to … $150 million: There's a tennis court, two swimming pools, one of which features a stand-alone bar shaded by a quasi-Greek Revival pergola, and an enormous gravel drive that could park a fleet of cars. The interiors are neutral with a shot of human growth hormone: jute everywhere. The private theater, instead of standard seating, features a vaguely menacing number of white couches. In fact, I counted at least 31 white couches and sofas in the listing photos. "I see the home as a masterpiece," Blouin told The Wall Street Journal. "It's much like looking at my favorite painting in the world from Vermeer, Girl With a Pearl Earring." (Perhaps Vermeer's muse was sitting on a white couch just out of frame.)
Despite its interior catnip for billionaires, the house hasn't had an easy time on the market: It was first listed in 2016 for $140 million but didn't sell. That summer, it was listed as a $1 million August rental (after Blouin's offshore accounts were outed in the Panama Papers). "The price reflects the house, with a pool and tennis court on Gin Lane … and a great collection of art," the listing agent told the Post. Earlier this year, the house landed in bankruptcy court, with Blouin fighting to remain in control of the property and stave off potential foreclosure. Despite not selling, it was relisted this summer at its current even higher price of $150 million.
Blouin is a notorious figure in the art world — her media empire included Modern Painters, Art + Auction, and Blouin Artinfo — who laid off her staff and then tried to retain them as freelancers, according to the New York Post. ("Blouin 'went ballistic' when virtually nobody accepted her 'generous offer,'" sources told the Post at the time.) Now she is looking for another kind of notoriety: selling the most expensive house ever (at least for now) in the Hamptons. It'll be a feat — as appraiser Jonathan Miller told CNBC, in the history of the Hamptons, only five listings have ever sold for more than $100 million. But did they have 31 white couches?