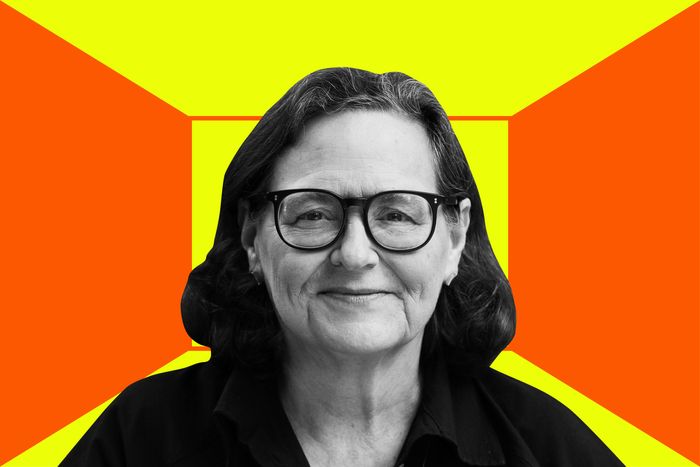 Photo-Illustration: Curbed. Photo: Erica Lansner
Since 1985, Rosalie Genevro has been the executive director of the Architectural League — one of New York's most influential design-advocacy groups — and this year, she announced that she's stepping down. During her time at the League, she created a call for proposals on how vacant lots could support affordable housing, curated exhibitions on how architecture can respond to climate change, and launched the magazine Urban Omnibus.
Name: Rosalie Genevro
Age: 69
Neighborhood: Morningside Heights
Occupation: Executive director of the Architectural League
What's hanging above your couch?
I don't have a couch at the moment. A couple of years ago, my husband and I put our couch, a Jean-Michel Frank piece, in storage. We love it, but it needs to be rebuilt and reupholstered — over the years it was used as a trampoline by our daughters and a scratching post by our cats — and we couldn't agree on the fabric.
What's the first job you had in New York?
I was working for Christian Otto, one of my professors, who was the editor of the Journal of the Society of Architectural Historians. It's embarrassing how long ago it was: They were starting a project to computerize the journal and I wrote abstracts of every article published. It was an incredible architectural-history education.
What color are you always drawn to? 
Green. There's so much pleasure in the variety of the color, like when you look at a stand of trees or a forest and there are so many different shades.
What work of art or artifact are you most surprised you own?
I have a very odd little sculpture by Lucy Hodgson. It's a piece of concrete embedded with a glass jar with a mouse skeleton inside of it. It sounds macabre, but it's not in the least bit creepy. It's like a Natural History Museum specimen.
Which New Yorker would you want to hang out with?
I would love to take a walk with Eric Sanderson, an ecologist at the Wildlife Conservation Society and the author of Mannahatta: A Natural History of New York.
What's the last thing you made with your hands?
A pork-and-green-chile stew.
Is there one thing you own multiple versions of?
None of my eyeglasses seem to be quite the right pair — I have multifocal glasses, reading glasses, computer glasses — so I have a lot of them.
What New York City museum do you always go back to?
The Noguchi Museum. It's an unbelievable kind of oasis of beauty and calm in the city, and unexpected in its fairly industrial-feeling neighborhood.
What do you always have next to your computer? 
A pen and a notebook, because while computers are great for lots of kinds of stuff, there are some things that I need to be able to write down or in order to think.
Where is the best view of the city?
The one that always gets me is when you're coming in from either La Guardia or JFK and you start going up over the Triborough Bridge and you see Manhattan in front of you. It always like, Oh, yeah, I do like living here.
What building or object do you want to redesign every time you see it?
When our office was in midtown, I was really fixated with the really crazy circulation design — or lack of design — in the area's coffee shops and diners. They could be organized so much better so people don't bump into each other as they come in and go.
What's one thing you would change about your field?
When a project gets started, I would make the first question that gets asked, What's the environmental impact of this gonna be? and What's the justice impact of this gonna be? before thinking about what it's going to cost or what it's going to look like.
If you could live anywhere in New York City, where would it be?
I have always daydreamed about living in the Villa Charlotte Brontë, which is an apartment building that pretty much hangs off the side of a cliff in the Bronx.
What would you hoard, if it stopped being produced?
Toasted sesame oil. It's one of those things that I always try to have a store of at home.
What do you do to get out of a creative rut? 
I take very long walks. I live next to Riverside Park and I'll go there, or walk all the way downtown or crosstown.
Where was your first NYC apartment and how much was the rent? 
It was this really beautiful limestone rowhouse on 105th Street between West End and Riverside Drive. I lived on the top floor and it was $350 a month. It was owned by Gerald and Dorothy Coleman, and Mr. Coleman was the secretary of the Hatters Union and on the City Planning Commission. When he died, his wife gave me all of his planning books, which I was very touched by and really cherish.
Where in the city do you go to be alone?
I go on those long walks. Even if you're around lots of people, you can feel alone.
Worst piece of career advice you've ever gotten?
I don't think I've ever gotten any career advice.
What have you given away to someone that you wish you could get back? 
Nothing. I just gave my nephew a photograph by Bruce White of the train yards at Union Station in Washington D.C. I don't want it back, but I wouldn't mind having my own, too.
What's your favorite NYC restaurant and regular order?
I like to go to different neighborhoods and try new restaurants, and the last one I visited tends to be my favorite. I recently went to Georgian House in Brighton Beach and Mariscos El Submarino in Jackson Heights.
What descriptive phrase do you want on your obit headline?
"She helped."