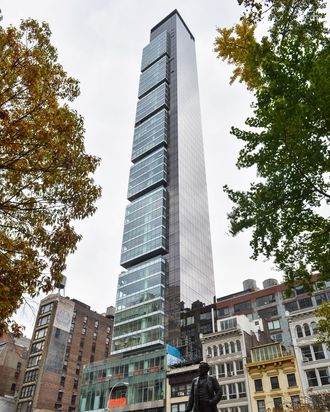 Murdoch still owns the top three floors.
Photo: David Krieger/Bauer-Griffin/FilmMagic
Rupert Murdoch has found a buyer for the three-bedroom apartment he owns at One Madison, according to the Olshan report, which tracks residential property sales in Manhattan over $4 million. Murdoch purchased the apartment, spanning the 57th floor of the Madison Square Park–adjacent tower, in 2014 as part of a four-floor assemblage totaling just over 10,000 square feet and costing him about $57 million, shortly after his divorce with Wendi Deng. (Deng got the couple's massive triplex at 834 Fifth, which a broker once called "one of the five best apartments in New York"). But in his tenth decade, Murdoch seems to be cooling on New York — and cities in general (he must be reading the Post ) — buying up remote ranchland instead.
The triplex overlooking Madison Square Park may not be one of the five best apartments in New York — it's hard to top 8,000 square feet with 4,000 square feet of terraces across from the entrance to the Central Park Zoo — but it's still pretty nice. The place on the 57th floor was always meant to be temporary: Murdoch's plan was to live there while the top three floors were being renovated by architect Jose Ramirez. After that, Murdoch would move into the triplex and the 57th floor would become a guest apartment. Sleek, with 360-degree views, hip but not so hip as to be ridiculous, the space didn't, however, really seem to have been to Murdoch's taste: He went out and bought a West Village townhouse for $25 million a year later, in 2015, relisting the penthouse, which hadn't even been completed yet, for $72 million. But then, it seems, he reconsidered. (Who hasn't had second thoughts about $50 million-dollar real-estate transactions?) Five months later, it was the West Village townhouse that was on the market, asking $28.9 million.
By fall 2015, Murdoch was living his best bachelor-pad life at One Madison, though he was soon dating Jerry Hall and the couple married four months later. (Maybe Hall loves glassy new-construction penthouses?) The pair seemed happy — just last December they paid $200 million for a Montana cattle ranch that belonged to the Koch family. But in February, Murdoch relisted the entire One Madison spread for $78 million. Which one could read as an omen of their divorce a few months later.
"There continues to be strong demand," especially for trophy properties, Corcoran listing broker Deborah Grubman told The Wall Street Journal when the listing hit the market. "He thinks it is a good market." (The triplex, while kind of scarily beautiful, has absolutely no personal touches in the listing photos. Was it staged? Never occupied? Intentionally decorated to look like a model unit?) But it was seemingly a better market for floor-throughs than potential quadruplexes. Which leaves the $62 million triplex.
It's not clear where Murdoch will live when it sells. Sure, there's the ranch in Wyoming, another ranch in Australia, an estate and vineyard in California, and possibly a townhouse and apartment in London, but, it seems, nothing else in New York (there are always News Corps' offices, we guess?). Now into his 90s, Murdoch may just be downsizing — he sold his Beverly Hills mansion to one of his sons in 2015 — but the purchase of a 340,000-acre ranch less than a year ago would suggest otherwise.