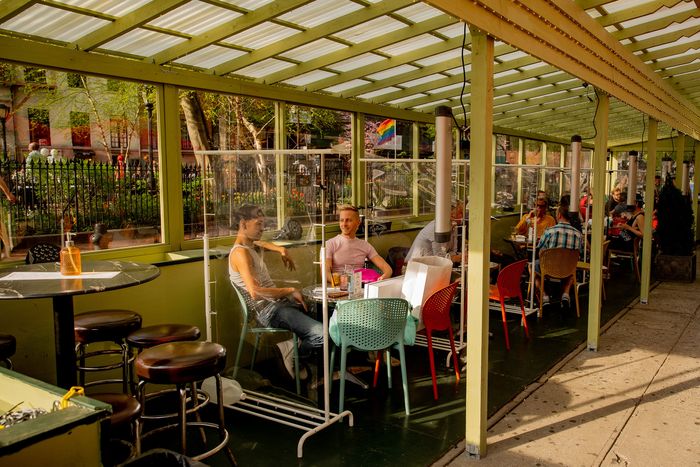 Photo: Amir Hamja/Bloomberg via Getty Images
Since they were first installed, outdoor dining sheds — a.k.a. streeteries — have been the source of many neighborhood conflicts over noise, public space, and cleanliness. One of them made it all the way to the State Supreme Court when 23 residents, mostly from Greenwich Village and the Lower East Side, sued the city to stop the implementation of a permanent Open Restaurants program. The group, named the Coalition United for Equitable Urban Policy, argued that the city didn't complete a rigorous enough environmental review of streeteries' impacts. Yesterday, the State Supreme Court's Appellate Division dismissed it.
"Given the remaining legislative and administrative steps that must be taken by the City before the permanent outdoor dining program is finalized and implemented in place of the presently operating temporary program, the City's issuance of the SEQRA negative declaration was not an act that itself inflicts actual, concrete injury," the Court's decision read. "Additionally, the petition seeking to annul the declaration should have been dismissed as not ripe for judicial review." In other words, the plaintiffs sued too soon.
Since the outdoor-dining emergency-relief program started in 2020, restaurants have been caught in a landscape of ever-shifting rules about what exactly they can build, making the program a challenge for many small businesses. The Department of Transportation planned to issue rules for the permanent program this year with implementation beginning in 2023, but the lawsuit essentially blocked the agency from taking any steps toward that. So far, hints at what the new guidance will be haven't added any more clarity. DOT indicated earlier this year that it didn't envision sheds in the design standards for the permanent program. Last week, the City Council proposed an idea to only have streeteries during warm weather and Speaker Adrienne Adams commented that she thought outdoor dining ought to be restricted to the sidewalk only because they're "taking up bike lanes and parking spaces." It's hard for restaurants to invest in a really thoughtful streetery in this chaotic climate.
Calling an environmental review insufficient is a common tactic to stall development and construction projects, with the hope that delaying them for long enough might persuade developers, or in this case New York City government, to give up. City officials seem thrilled that outdoor dining cleared this legal hurdle. "It's now full-speed ahead for putting into place permanent design rules to keep this great program thriving for New Yorkers," the Department of City Planning tweeted yesterday. "The future of outdoor dining is looking bright." Mayor Adams chimed in with a similar sentiment: "This ruling is great for New York's comeback … It's time for a permanent outdoor dining program that will make ALL New Yorkers proud." But the plaintiffs seem unphased: "We still have a case and we will be back," one of them tweeted. Hopefully we'll get to more actual details of the plan before they do.