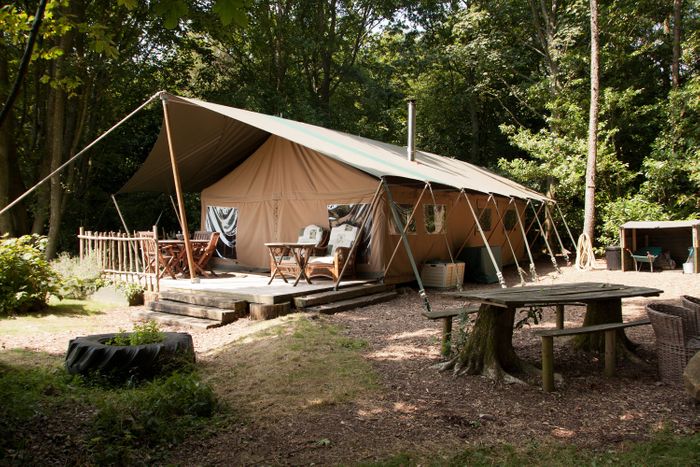 An example of a glamping-style tent.
Photo: Richard Evans Photography/Alamy Stock Photo
A "glamping" company is proposing a 75-site resort on the border of Woodstock and Saugerties, and local residents are incensed. The offending company, the Maine-based Terramor, is looking to open a new "outdoor resort" on 77 acres off Route 212, with tents renting for $300 to $500 per night. ("Relax in refined style," the website promises.) In an effort to ward it off, residents have formed a group called Citizens Against Terramor, started a Change.org petition, and told the Daily Freeman things like, "We're afraid we're headed for World War III."
Complaints about the prospective glamp site range from traffic and noise pollution to water shortages and loss of wildlife habitat. In July, residents protested at a planning board meeting holding signs that read "Terra LESS" and "Terramor Means 'Love the Earth': What About 'Love Thy Neighbor?'" One opponent of the project shared a calendar of Terramor events at its Bar Harbor, Maine, resort, noting, with considerable horror, that the resort has "LIVE music Friday, Saturday, and Sunday … EVERY weekend. If this raises your BP like mine, please share far & wide." The GoFundMe for Citizens Against Terramor has so far raised $8,799. ("RESORTS DON'T BELONG IN RESIDENTIAL COMMUNITIES," it reads.)
Terramor's director of brand and operations has tried to smooth things over, telling the Daily Freeman last spring that they were committed to being good neighbors and "want to promote providing experiences in nature, not building tents in backyards." (Terramor's Bar Harbor site reads, "At Terramor, it's so much more than tents. But wait till you see the tents.") Paul Thurman, the resident who warned of a coming war, describes himself as having spent eight years as a Buddhist monk and says he "hates conflict." But, it seems, he hates glamping more. "The people who are coming at us are not nice people," he said.
The Saugerties supervisor told the Freeman that they would try to find an amicable resolution and weigh Woodstock residents' concerns about the glamping site, noting, perhaps uselessly, "I don't believe there's a need for them to be aggressive."