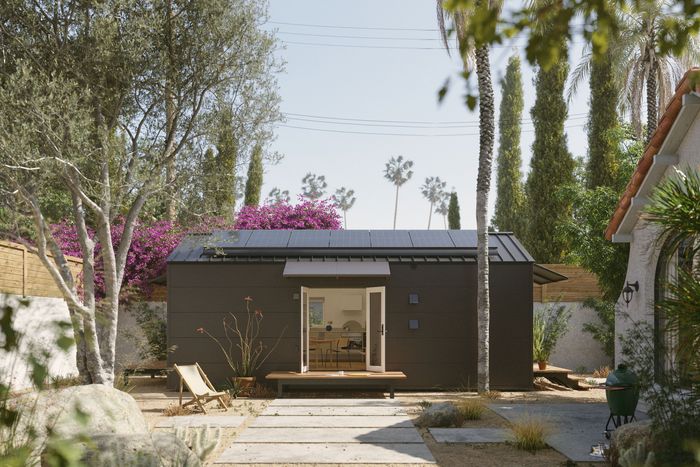 Earlier this year, New York City had more Airbnb listings than apartments available to rent, a bizarre turn of events that only added fuel to the debate over the short-term rental company's impact on the housing-affordability crises in places like New York and the Bay Area. (It certainly seems to have had some impact on highly Instagrammable spots like Joshua Tree.) Now, one of Airbnb's co-founders is launching a start-up to capitalize on the problem the company maybe sort of possibly exacerbated.
This week, Joe Gebbia, who co-founded Aibnb with Brian Chesky, and Mike McNamara, the former chief executive of electronics manufacturer Flex Ltd, debuted their new start-up to sell ADUs — that is, the little housing units built in the backyards or garages of single-family homes to allow someone, whether in-laws or complete strangers, to live close by. Gebbia left his full-time role at Airbnb in July, but the company does own a minority stake in the start-up, according to The Wall Street Journal, which first reported the launch. Gebbia's new venture is called Samara ("We build homes that help people dream bigger") which offers a prefab model known as "Backyard." (Because, you know, it goes in your backyard.) The prefab houses will measure between 430 and 550 square feet and will start at $289,000 for studios and $329,000 for one-bedrooms. The designs look like Airbnb stock images — utilitarian, but in a vaguely Scandinavian minimalist way that helps justify the high prices: cathedral ceilings, lots of pale wood, built-in storage, sleek-looking all-electric appliances.
The company is launching in California first, a state that has prioritized new home construction and issued nearly 20,000 building permits for ADUs in 2021, up from 12,520 in 2019, according to data collected by WSJ. A number of companies have since rushed into the market: A few months ago, Dwell announced that it would be making ADUs. ("We're not the first to offer a prefab ADU, but so many prefab products being passed off as houses either look like a spaceship or a tool shed," Dwell CEO Zach Klein told Curbed at the time.) There's also Cottage (a San Francisco-based start-up that connects homeowners with contractors), Abodu, Rent the Backyard, and Homestead, to name just a few.
A release from Samara states that California was intentionally selected as the inaugural market because of the housing crisis, rapidly increasing cost of living, and new regulations that facilitate greater housing density across the state. Over the last ten years, California added 3.2 times more people than housing units, according to the Public Policy Institute of California, and even before COVID and the rent increases that followed, half of all households in the state were rent burdened, meaning they paid more than 30 percent of their income for rent. In LA, for instance, the average cost for a one-bedroom hit $2,500 this fall, an increase of about 17 percent year over year.
But will ADUs do much — or anything — to help California's housing crisis, particularly when start-ups are coming out with design-forward units priced in the $300,000s? They certainly won't hurt, but making any kind of a dent would mean using the tens of thousands of new units being built in the state to, you know, actually house people. It's worth questioning, because Samara also wants you to know that you can use these prefab structures for anything you want, not just offering someone a nice place to live. "Backyard's layouts were designed with a wide range of uses in mind," they note. So maybe the ADU will become long-term housing, or an office, or a nice spot to do yoga. And it should go without saying: These tidy little mini-homes look like they'd be great Airbnbs.