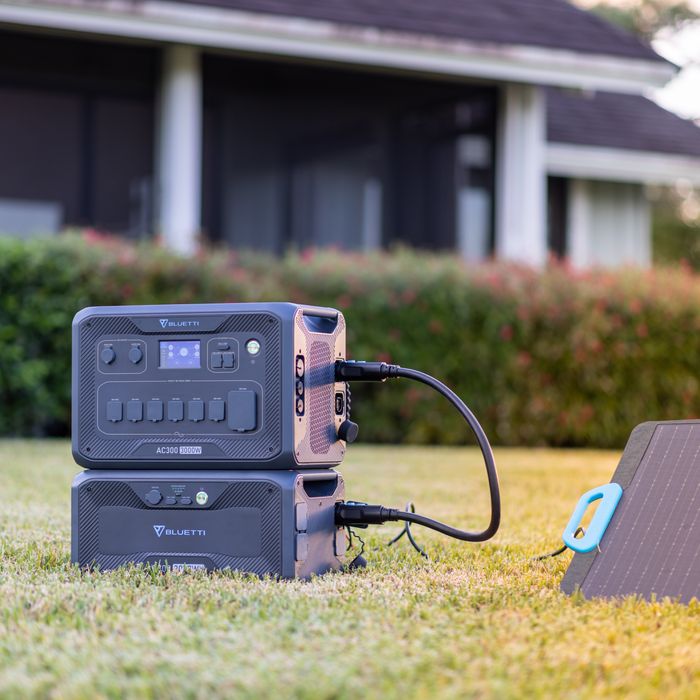 Courtesy of BLUETTI
Photo: ROMAN MARCHUK
For most of us, our homes are constantly a work in progress. From move-in day on, things start slipping through the (sometimes literal) cracks, and all of sudden you're three years in and still haven't fixed that one squeaky door knob. Updating and taking care of our homes takes a lot of work, but that work often gets pushed back in favor of more urgent matters. But this Black Friday, it's a good time to take advantage of seasonal deals to invest in some long-term improvements for your home.
One investment not to overlook? A backup power source for when you're hit with a power outage caused by extreme weather or other emergencies. Portable power stations and heavy-duty batteries, like those offered by BLUETTI, can help keep necessary appliances — like your fridge, or even just your laptop — running after your home's main power grid has gone out. (Plus, portable power stations can be used outside your home, like for camping or RV trips.) With Black Friday deals available until November 30, now is the time to stock up on some of BLUETTI's portable power solutions. Read on for our top picks from the brand.
AC200P Portable Power Station
If you're still a beginner in the world of portable power, BLUETTI's AC200P Portable Power Station is a great place to start. With up to a 4800W capability (or higher, with the addition of BLUETTI's B230 or B300 batteries), it's a great choice to bring with you on camping trips, RV journeys, or any other outdoor activity where you may want a smaller backup power option with you. (Or keep it at home in case of emergency.) It has 17 outlets, so you'll be able to power multiple devices at once. The station also recharges quickly, with seven different ways to charge including solar power. Starts at $1299 (was $1699).
AC200MAX Expandable Power Station
For a portable power station that can work as backup power at home or on the go, try BLUETTI's AC200MAX Expandable Power Station. With 16 outlets and a 2200W inverter, it can power multiple home essentials at once, and its capacity can be expanded further (up to 6144Wh) with the addition of BLUETTI's B300 or B230 batteries. Plus, it's easy to use: The touchscreen and intuitive user interface are simple to understand, and it can also be operated by remote control when using the BLUETTI app. The app can monitor power consumption, track battery status, and more. Starts at $2799 (was $3298).
AC300 Modular Power Station
If you're looking for a more robust portable power option or if you're starting to build out a full backup power system for your home, try the BLUETTI AC300 Modular Power Station. In the case of a power outage, the 3000W inverter can help provide backup power that can run a 700W fridge for 3.7 hours, or a 500W washer for 5.2 hours. (It can also be paired with up to four of BLUETTI's B300 expansion batteries for even more power up to a capacity of 12288Wh, which can help power necessary appliances for multiple days.) With 16 outlets, it has plenty of room for multiple devices at once, and is also easy and quick to charge. Starts at $2999 (was $3699).
This advertising content was produced in collaboration between Vox Creative and our sponsor, without involvement from Vox Media editorial staff.