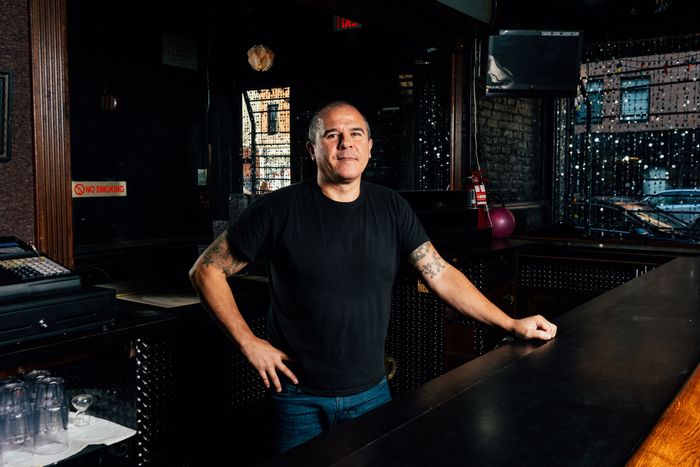 Nick Bodor inside the future Baker Falls.
Photo: DeSean McClinton-Holland
Nick Bodor took a surreptitious look both ways as he rolled up the padlocked gate to the Pyramid Club at 6th Street and Avenue A. "The East Village is a small town," he said, as I held his coffee. Below 14th Street, Bodor is micro-famous for owning the cozy yet divey Library bar, still going at the foot of Avenue A after 24 years, and the defunct Rivington Street venue Cake Shop, called the "last great rock club in Manhattan" by Spin. The day before we met, he had taken over the former Pyramid Club, which opened in 1979 and closed a month ago. This was his first visit as its co-owner, and the keys, freshly cut, were stiff in the locks. It took an extra minute to get the door open — enough time for a tall, shaggy hipster from the art-punk band Transgender Jesus to walk by and offer a confused grin.
"Nick, you're not taking over Pyramid?"
"Hey, man. I'll fill you in on this soon. Keep this quiet, Paul, but we're bringing East Village rock back to Manhattan.
"Fuck! What?!"
We slipped inside, and Bodor swiftly rolled down the gate to prevent further snooping.
I was last inside Pyramid when Reagan was president. Back then, the club occasionally hosted rock acts, including the first East Coast gigs for Nirvana and the Red Hot Chili Peppers, but it was mostly known for drag. If you were lucky, you might catch Lady Bunny and RuPaul on the floor, or even Madonna. In the mid-1980s I was into the rock boys and preferred King Tut's Wah Wah Hut or the Ritz, now (and formerly) Webster Hall, and then, a little later, Brownies. In the mid-'90s, the buzz headed south to Ludlow Street, and the East Village was left with a scattering of small folkie venues like Sidewalk Cafe and a couple of fading clubs like the latter-day Pyramid.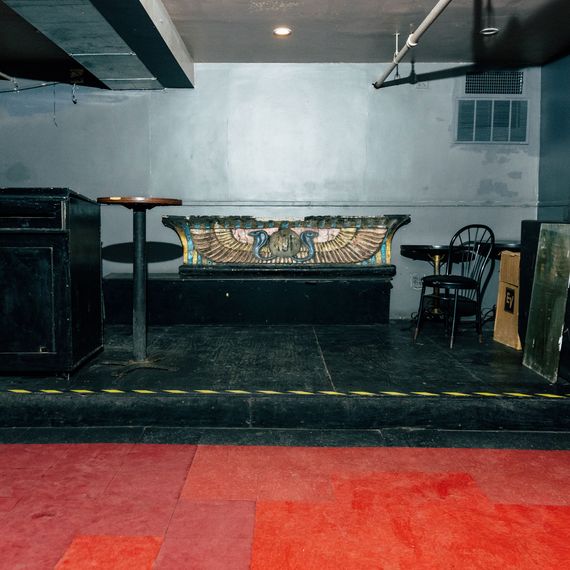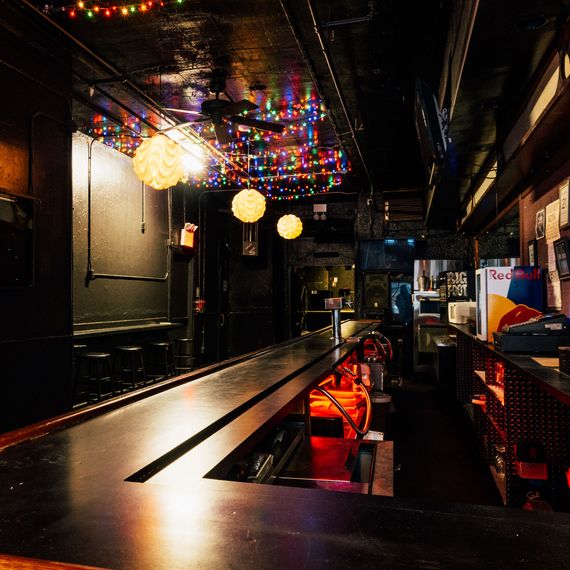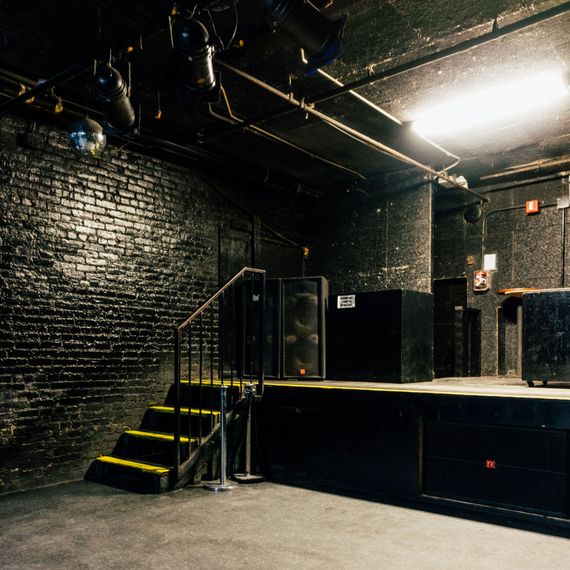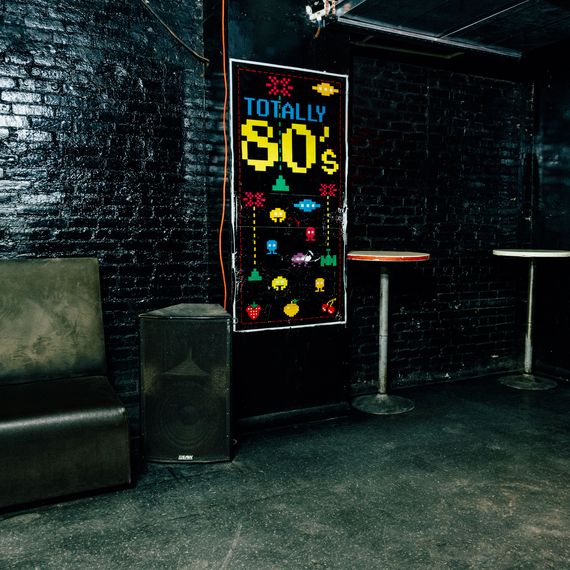 That gives Bodor, who is 53, an opportunity — but also a little bit of an image problem to overcome. "This is not a new Pyramid," he said firmly. For one thing, it will have a new name, Baker Falls, which "references Cake Shop and a Williamsburg club I also owned with my brother Andy, Bruar Falls." He added that it's a collaboration with the owners of the Knitting Factory. "The club will be all-inclusive and safe, but it will be a rock club. We'll have the sickest sound with a kick-ass backline. We may even have some vintage guitars locked away in an office so if some more prominent names want to drop by with a secret show, we will have the sound, place, and audience for it."
Nick — whom I've known for nearly 30 years since he ran an early cybercafé called alt.coffee — laid his coat on the 30-foot bar. He wore skinny jeans, a black T-shirt, and a beat-up hoodie: the old East Village uniform. Only the faded rocketry tattoos on his arms and flecks of gray in his buzz cut provided color. I told him I'd gotten a few "RIP Pyramid" texts from Gen X friends after the club shut down, but if we're being honest, Pyramid had become a relic. (It happens.) Bodor agreed but recalled visiting during the club's prime, going to goth dance parties circa 1987 where a DJ spun the likes of Sisters of Mercy, the Cult, and the Cure.
"Yes, I'm bringing the Cake Shop legacy, but the Knit is coming home to Manhattan too," he continued. (If you're old enough, you'll remember the Knitting Factory started small on East Houston Street, where Botanica is now, then moved to a bigger space in Tribeca, then to Brooklyn, then closed down this September.) "They're national and diversified, L.A. based, but the CEO, Morgan Margolis grew up on East 6th Street between First and Second. This is personal for him. We negotiated a 15-year lease and are in for the long haul. Nothing is guaranteed, but I have a financial cushion for the first time. I am the creative here, but they will help with booking, too. Win-win. I'm also not setting up an Instagrammable corner — that's always the model now, and that's bullshit to me."
The emptied-out room allowed me to grasp just how old the building is. "From 1876," Bodor says. The ground floor was a big room called Kern's Hall, "purpose-built to be a gathering spot from the get-go. People came here after the General Slocum steamship burned on the East River in 1904; so many locals were lost. Even earlier, there was a one-story building here, a brewery owned by a German immigrant, Peter Doelger, who brought pilsner-style beer to America." Bodor plans to work that history into the décor: "In the downstairs area, you will see globes and cuckoo clocks, my fever dream of what Doelger's study might have looked like. A Grey Gardens kind of place, not overdesigned. But I'll keep the Pyramid's footprint upstairs. Soundproofing will be extremely expensive, but I won't move the bar. I want anyone who has visited this space over the last 40 years to feel like they're back home. The bones will be there, and the history will be apparent."
It sounds as if he wants to create the next legendary spot, I suggest. He grins. "Yeah. Is that weird to say?" he asks. "But I do, and my entire career has led up to this point. When I opened the Library Bar in 1998, I wanted to have the most impressive jukebox in New York. Back then, in 1999, people still read The Village Voice, and we got it. The best."
Bodor hopes to open Baker Falls as soon as March 2023, with a soft launch in late February. "For touring bands, merch is the only way to make money now," he says. "And luckily for New Yorkers, many bands will be coming to New York just about when we open." What will differentiate this club, he hopes, is its size. "There are few venues in Manhattan where you can have a substantial crowd for an upcoming rock band. There's the Bowery Ballroom; it's an amazing place, but it holds 650 and that's too big for many bands. We can do 300, which is perfect."
His 19-year-old son, Angus, is getting into the business as well: "My boy's an East Village kid, but when I was hopping on those Metro-North trains to see shows at his age, he and his pals were stuck at home on Zoom. He wants this chance to be on the scene. Gen Z wants to work, and they want to learn. They are hungry in a big way, which is very encouraging. What's also encouraging is that many young people are getting into rock — especially if their parents have impeccable taste. I'm hoping Angus can take over when I step down. Maybe he'll be the next brave soul to keep East Village rock alive."