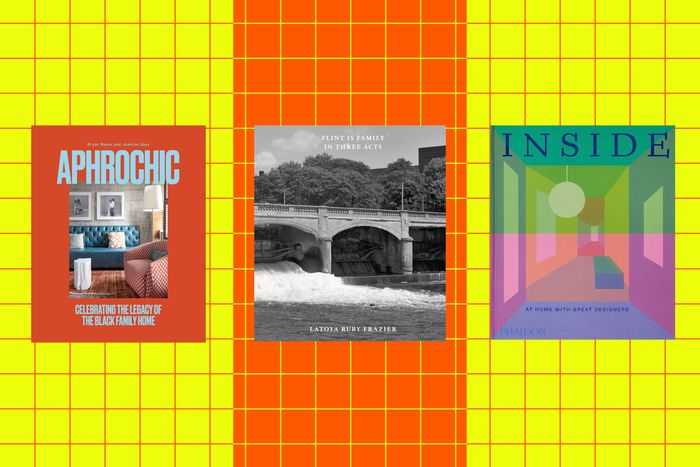 Photo-Illustration: Curbed
Despite what you may think, shopping for design obsessives is fairly easy: They're a discerning crowd that will nonetheless always appreciate a good book — ideally one with a tantalizing cover, beautiful photography, and an interesting message. Below are 13 such titles, spanning the worlds of interior design, architecture, urbanism, and art.
"Malls have been dying for the past forty years," writes design historian and critic Alexandra Lange in her new book, Meet Me by the Fountain. But what really was the mall? To its mid-century inventor Victor Gruen, it was a kind of urban utopia; Joan Didion called them "toy garden cities in which no one lives but everyone consumes." In her book, Lange unpacks the uniquely American fixation with malls, looking at them through the lens of architectural history and cultural observation. In several case studies that analyze dozens of malls, she attempts to find out what separates the good ones from the bad ones, and how they've reflected society and consumerism back to us. She also warns we shouldn't be so quick to write them off: "Every decade rewrites the obituary in its own terms." — Diana Budds
Anyone who even starts to read about design will soon encounter one of Steven Heller's 200 books, or his work in three-plus decades at the New York Times, or his legacy of mentorship and teaching at the School of Visual Arts. In his new memoir — funny and sparky and just eccentric enough — he lays out how he went from hippie weirdo (straight-arrow division; he didn't smoke or do drugs, and barely drank) to sophisticated Establishment figure. That path ran through the 1970s counterculture and alternative press, and especially through the legendarily filthy tabloid newspaper Screw, where Heller got on his feet as a designer, and long-gone papers like the East Village Other and the New York Review of Sex & Politics. Come for the disgusting Al Goldstein stories; stay for the rich portrait of New York when it could support such a wild array of pulp nonfiction. — Christopher Bonanos
Bryan Mason and Jeanine Hays founded the design platform AphroChic in 2007 to shine a light on African diaspora cultures through a blog, a magazine, product lines, and an interior-design business. This is their second book, and it features 17 homes belonging to AphroChic community creatives across the country, including opera singer turned chef Alexander Smalls and actor Danielle Brooks. "It's a design book that is actually a history book," Mason says, as they cite the challenges and triumphs of Black homeownership in America. — Wendy Goodman
Anyone can follow a trend, but true taste gets honed over years. In their first book, Sight Unseen founders Jill Singer and Monica Khemsurov divulge their secrets for collecting objects, finding inspiration, and, ultimately, cultivating your own distinct style. The book is part eye-candy interiors (house tours include curator Su Wu's sculpture-filled Mexico City home and Coming Soon founders Helena Barquet and Fabiana Faria's Rockaway Beach bungalow) and part how-to manual, and was largely inspired by Terence Conran's House Book, a 1970s design bible. How to Live With Objects is like a contemporary version of Conran's book, but in the end, there's no formula. According to Singer and Khemsurov, taste is really about the stories that come with whatever objects are in your home. — D.B.
Everyone makes mistakes, but who ends up suffering the consequences depends heavily on race, class, and privilege — and, in the U.S., it's all by design to protect the people in power. As the country stares down another year with significant spikes in traffic fatalities, opioid overdoses, and gun deaths, Jessie Singer provides a clear-eyed, compellingly written guide to understanding why the "accident" has become a uniquely American phenomenon. — Alissa Walker
Like a modern-day Gordon Parks, photographer LaToya Ruby Frazier uses her camera to expose injustice in America, showing the human toll of environmental racism on frontline communities. (She earned a MacArthur award in 2015 for her series on the decline of Braddock, Pennsylvania, a postindustrial steel town, told through evocative and intimate portraits of her family.) Her most recent project has focused on the Flint water crisis. For five months, she lived in the city, documenting the public-health emergency in which over 100,000 people, mostly Black families, were exposed to toxic lead levels in the municipal-water supply for more than two years. Her latest book follows Flint resident Shea Cobb as she's temporarily displaced to Mississippi but eventually returns to build an atmospheric water generator for her neighborhood. — D.B.
Many people have written about Minoru Yamasaki, architect of the World Trade Center and the Pruitt-Igoe housing project, among countless other projects. But perhaps none of those books is as tender as this moving picture book about Yamasaki told from the perspective of his granddaughter, Katie Yamasaki. Even though it's a children's book, it doesn't dance around the discrimination that he faced as a Japanese American trying to enter the field of architecture, nor the catastrophic end that faced his most iconic buildings. Those who know his work will also get some joy from looking at Yamasaki's paintings of his most striking commissions. — Sukjong Hong 
Phaidon's 2022 update to its Design Classics series, originally published as three volumes in 2006, condenses over 350 years of design history into a single book. The definition of "great design" is always changing, and when the editors revisited the series, they attempted to correct a mostly male, Eurocentric canon by adding more diverse designers, such as the Nigerian Canadian furniture-maker Lani Adeoye's woven-leather Bata stool and the Iranian French architect India Mahdavi's pink scalloped Charlotte club chair. 1,000 Design Classics offers history buffs a chance to learn more about the chairs, cars, and objects they love and recognize as well as to discover something new. — D.B.
Is Florida the most far-out state? Between its "family friendly" Lake Como nudist resort and live mermaids at Weeki Wachee Park, it's definitely the most out there. A groovy new guidebook from A24's publishing imprint, done up in a cotton-candy-pink cover and 1960s-inspired graphics and illustrations, presents a visually compelling argument for what might be one of the most misunderstood states in the country. — D.B.
Of course professional designers have nicer homes than you do — and this book shows them off gorgeously. Residences include the monastic Antwerp apartment of Belgian designer Vincent Van Duysen (who designed Kim Kardashian's Calabasas condo) and Ash NYC co-founder Ari Heckman's serene Soho loft. These residences are often places where the designers experiment, trying out ideas before they bring them into the world through client projects, so if you've wanted to approach your own home-renovation projects more like a designer, Inside is the ultimate sourcebook for inspiration. — D.B.
By now, gentrification has become a euphemism, a word with complex meaning related to the changing character and costs of neighborhoods and cities. Depending on whom you talk to, you might get a wildly different definition. In her new book, sociologist and urban planner Leslie Kern unpacks the complexity of gentrification and the power dynamics, economic systems, and cultural symbols associated with it. Importantly, she analyzes the phenomenon and current events — like the Moms 4 Housing takeover of a vacant Oakland rental and noise complaints in Harlem — through a feminist and de-colonialist lens. It's an essential perspective when it comes to figuring out how to make our cities more equitable for all. — D.B.
Deeda Blair is a woman of many worlds: philanthropist, biomedical activist, fundraiser, and, as Andrew Solomon writes in his introduction to her exquisite book, the last of the great American swans. Famous for her inimitable style and elegance, Blair, married to the late diplomat William McCormick Blair Jr., has traveled the world, and in this unique book shares her inspirations, her recipes, homes, and scrapbooks, creating a memoir like no other. — W.G.
Designer Adam Nathaniel Furman is probably best known for his dizzying postmodern art installations. But in this anthology, which he co-edited with architectural historian Joshua Mardell, he flexes his curatorial instincts to compile an exhaustive archive of queer spaces around the world, ranging from the private and domestic to a museum of transology in London. Dozens of contributors write about what constitutes queer space for them, and the sheer range and diversity of these definitions is impressive — especially entries that document how monumental and historical sites have been reclaimed for queer cruising and socializing, like a cathedral in Nicaragua. — S.H.