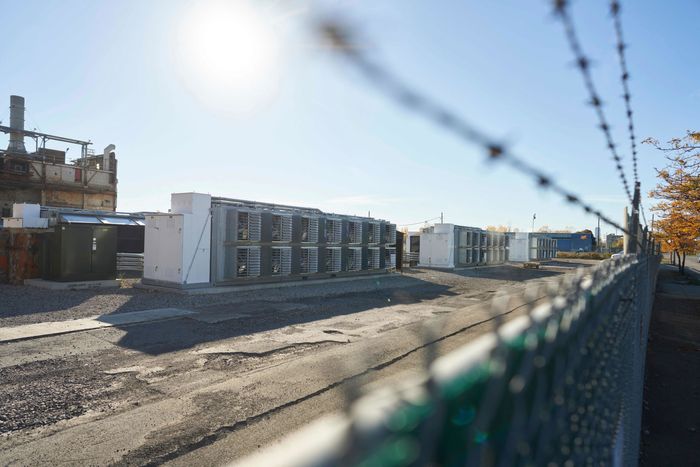 A bitcoin-mining plant in Niagara Falls.
Photo: Geoff Robins/AFP via Getty Images
Kathy Hochul signed the nation's first moratorium on cryptocurrency mining last week, temporarily pausing new issuance and renewal of air permits for two years in New York State. The bill, which had sat on her desk for the past six months, will apply only to new "proof of work" fossil-fuel crypto plants, which utilize enormous amounts of energy to feed high-powered computers to validate new coins. It doesn't apply to individuals — or companies — who have already filed paperwork in the state.
But still, the pause is the first of its kind and a win for environmentalists in the state who argued that the industry undermines New York's goal of reducing greenhouse-gas emissions. (Global mining of just one kind of cryptocurrency, bitcoin, consumes more electricity than all residential lighting in the U.S. and produces about half the emissions of the global tobacco industry, according to the University of Cambridge.) Over the past few years, upstate New York has seen a proliferation of these plants that "mine" digital currencies using fossil fuels, often repurposing old aluminum mills and coal plants in the area. As one Finger Lakes local winemaker told Politico about the smoke pouring out of a nearby Greenidge crypto plant, "I get their shit in the air, and I don't want it."
The bill also directs the Department of Environmental Conservation to study the environmental impacts of the industry, including logging the number of existing crypto mines, the amount of electric energy consumed and greenhouse-gas emissions produced, and the public-health impacts of the plants. As one of the biggest cryptocurrency-exchange companies collapses and the environmental costs of the industry become more clear, New York's bill may be a harbinger for other states to follow suit. Or as another disgruntled Finger Lakes winemaker put it, "We're building a real economy that benefits many, many people versus, frankly, a make-believe economy."