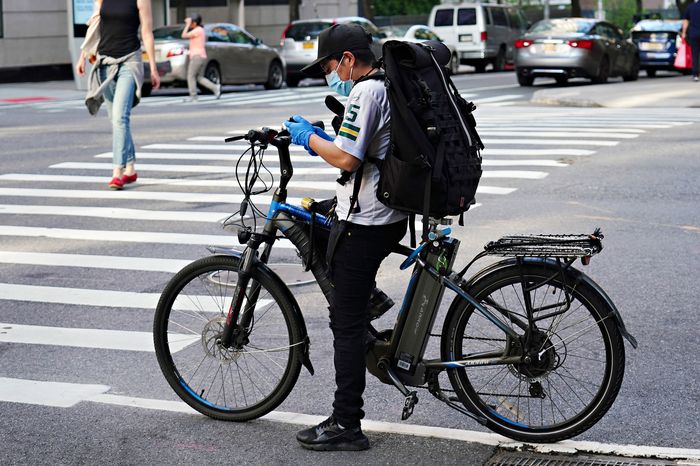 Photo: Cindy Ord/Getty Images
Rafael Elias Lopez-Centeno, a refugee from Venezuela who had been working double shifts delivering food for delis around the Bronx, died in August after the e-bike he was charging near the door of his apartment caught fire. The same week, two people, including a 5-year-old, were killed when a fire started by an e-bike battery trapped them in their apartment at the Jackie Robinson Houses in East Harlem. Earlier this month, 46 people were injured after a fire caused by an e-bike battery tore through a midtown high-rise. Until recently, being injured by a lithium-ion battery was a "relatively rare occurrence" in the city, according to New York City Fire Department acting chief of fire prevention Thomas Currao, who spoke this week at a City Council hearing on e-bike safety and storage. There were just 13 such injuries in 2019. In 2021, that number jumped to 79. "As of today," he said on Monday, "we've already identified 140 injuries, and 191 fires attributed to lithium-ion batteries this year." So far, six people have died.
The hearing, called in response to the recent string of fires, was what Councilmember Gale Brewer called "the beginning of a conversation." Proposals included a citywide ban on the possession of refurbished batteries, stricter regulation of the sale of batteries known to be dangerous (which will require some cooperation with the federal government), and a public-education campaign around safer charging practices. And while at least one local property manager has banned all electric micro-mobility vehicles in their buildings, Monday's City Council hearing came to a more realistic conclusion: Micro-mobility vehicles are here to stay, and the goal is to make them safer. That means going after the batteries — not the bikes, said Councilmember Oswald Feliz, after introducing his own legislation at the hearing. "We do need the federal government to step up," he said. "We also want to make it very clear that there is a space in the city for e-bikes."
The council is right: Many of New York City's fires have occurred when people were powering up cheap batteries that have been refurbished for use on vehicles, or with chargers, for which they were not originally designed. As Wilfred Chan wrote here earlier this year, this is a common practice among deliveristas who are performing ad hoc maintenance in order to get the most mileage out of their bikes. But that's because new bikes, and new batteries, are expensive. As Nora McCauley, who works at the Propel electric-bike store in Brooklyn, testified at the hearing, a brand-new bike from their store starts at $3,000 and comes with a certified Bosch-brand battery covered under warranty that costs anywhere from $800 to $1,000 to replace. Those batteries have never started a fire in the city, according to McCauley. But that price is out of reach for low-wage workers. The brand popular with deliveristas is a Chinese company named Arrow with e-bikes that go for $1,000, used and in questionable condition, on Craigslist. (One listing, for an e-bike, battery, and charger, says the bike "needs the wires hooked up again. Someone on the street messed with it." It's also just $650.)
Brewer's proposed legislation to ban refurbished batteries is targeting the right problem by getting the dangerous element of the e-bike operation out of people's apartments. But it won't go anywhere without a parallel plan to get safer batteries — which cost more money — into the hands of the workers who are dependent on them. Getting this right, and quickly, is crucial: The stigmatization of e-bikes runs the risk of stifling the city's micro-mobility revolution, which is making the city safer, less congested, and more climate compatible. The city doesn't track the number of e-bikes in circulation, but advocates estimate there are at least 65,000 deliveristas and at least 20 times more e-bikes and e-scooters than cars. Nationwide, electric bikes currently outsell electric cars. The benefits of cleaner air and uncluttered streets, paired with their skyrocketing popularity, means the task of making e-bike ownership more accessible and affordable should be a top priority for lawmakers.
"We cannot go back to the days when workers are getting arrested for utilizing an e-bike," said Hildalyn Colón Hernández, director of policy for Los Deliveristas Unidos. But we also can't stay where we are, as representatives of FDNY testified on Monday. Beyond the proposals targeting battery-resale markets, speakers at the hearing also addressed the problem of safely charging and storing the bikes, two problems that, right now, fall almost entirely to e-bike and e-scooter owners. There's plenty of free parking and even public charging provided for cars, but in a city with a bike-theft epidemic — one in four New York City households has had a bike stolen — there are few safe options for parking e-bikes on the street, and fewer options for publicly charging them. A new charging hub for delivery workers that the city is piloting in a former City Hall newsstand is a much-needed win for deliveristas, but unless workers can securely store their bikes there for hours or overnight to get a full charge, it's only going to be useful for topping up their batteries in short increments while they're on a break. A more lasting solution would be wide-scale investment in e-bike infrastructure: public charging hubs and secure parking and storage carved out of the 3 million free parking spaces currently set aside for cars.
The city could also go even further and facilitate a battery-swapping program via subscription service where people could simply exchange a drained battery for a charged one at stations all over the city, according to a new coalition called Safer Charging. Charging batteries at a safe, centrally located facility and swapping them out in the field wherever the vehicles are parked is what micro-mobility companies like Lime already do with their shared scooters and bikes. A similar program is available for moped riders in Taiwan. At a press conference outside City Hall before the e-bike hearing, the coalition called on the city to issue citywide battery standards (like requiring that batteries are UL-listed, a federal electrical certification given to any home appliance) and adopt a battery-swapping pilot program. "My neighbors are worried," said Shaquane Mitchell, who lives in the Riis Houses where a man was killed by an e-bike-battery fire in his fourth-floor apartment nearly a year ago. "We ask that these batteries be regulated, especially in buildings like mine." A battery exchange could also work for seniors who use mobility devices, said Delores Sampson, who uses a motorized scooter to make deliveries for DoorDash, which she charges by dangling a cord out her fourth-story window.
A wide range of city-managed services would go a long way toward helping e-bike riders save money while also getting dangerous batteries out of circulation, said Safer Charging's co-founder Baruch Herzfeld, a longtime advocate for safer e-bike practices and founder of the battery-swap start-up Popwheels, at the rally outside City Hall. "These e-bike batteries have a life span. As batteries become less effective, they're going to need a new one," he said. "They could have an option of putting down $600 for a new battery — or $40 per month to become part of a battery-swap network."