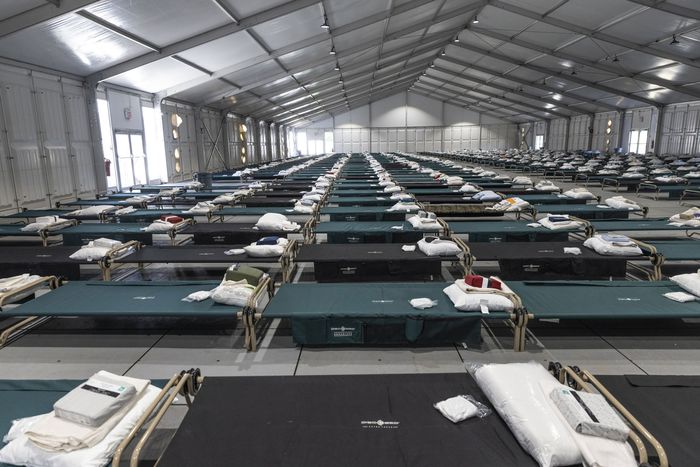 Photo: Victor J. Blue/Bloomberg via Getty Images
Eric Adams's controversial big tent that he opened to house migrants on Randall's Island 23 days ago is now going to close. As City Limits first reported on Thursday, the site — which the city labeled as a Humanitarian Emergency Response and Relief Center and was meant as temporary housing — will be shut down by the end of next week because not enough people were utilizing it. In a recent tally, of the initial 500 beds, only about 170 were in use, according to city officials.
It's the second time Adams has closed his big tent since October. Adams first announced in September that part of his solution to house the influx of asylum seekers — many of whom were bused into the city from Texas — was a big tent in Orchard Beach. Local officials and immigration advocates pointed out that the site was prone to flooding and that a big tent wasn't quite the same as a shelter with real walls, but the administration went forward anyway. A few weeks later, after the Orchard Beach parking lot indeed flooded, Adams declared that he was moving his big tent to Randall's Island. Housing advocates continued to point out that a big tent with enough capacity to fit 1,000 people in cots violated the city's right-to-shelter law, which guarantees shelter beds spaced three feet apart, and that the new site was still isolated and difficult to access via public transportation.
The facility has not seen as much use as expected. It isn't because Texas governor Greg Abbott is reversing his plan to send migrants north but because the Joe Biden administration reinstated a Trump-era public-health rule to expel Venezuelan asylum seekers to Mexico. Now the big tent is going down and migrants are being sent to hotels, in this case, to the 600-bed Watson Hotel, which is what many critics had been pushing for to begin with. As Jacquelyn Simone, the policy director of the Coalition for the Homeless, told City Limits: "We have long said that hotels are preferable to tents for providing shelter to people, especially as the weather gets colder. But we are also frustrated that the city did not utilize hotels in the first place."
"It will take another couple of weeks for the structure to be completely taken down," a letter obtained by City Limits from the mayor's office to Councilmember Shahana Hanif read. It looks like the dismantling of the tent might take nearly as long as it was up for.