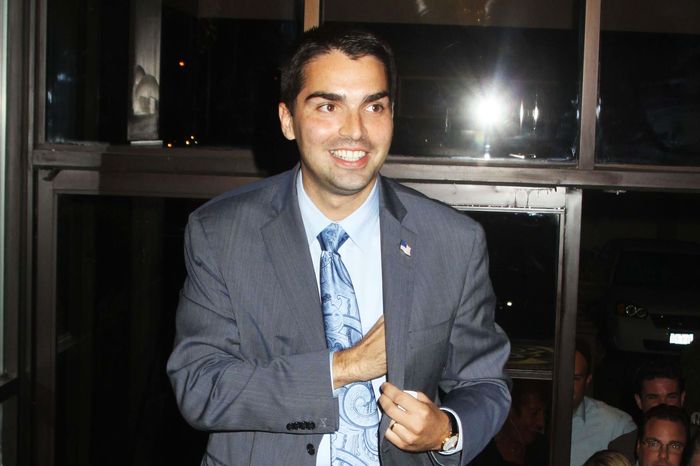 Photo: Mitchell Levy/Globe Photos/ZUMAPRESS.com
Things aren't going great at the Department of Buildings. On Tuesday, the New York Times reported that Buildings commissioner Eric Ulrich was questioned by investigators for the Manhattan district attorney's office, who also seized his phone, in relation to an illegal-gambling probe. Ulrich hasn't been accused of any wrongdoing, and the scope of the investigation was "not immediately clear," according to the Times, but sources told the paper that Ulrich's involvement in the case is focused on his conduct from before he was appointed to the commissioner position. In his past role on the City Council, Ulrich reported gambling winnings between $5,000 and $47,999 in 2016 and 2017. The next year he wrote a letter in support of Robert Pisani, who is believed to be a Bonanno crime associate, while Pisani was awaiting sentencing for a conspiracy charge that involved illegal sports gambling. (Ulrich wrote that Pisani "really is a good guy.") It's not clear if any of this is part of the probe.
A spokesperson for the mayor told the Times that they had no knowledge of the investigation and that Ulrich remains the head of the department, with the administration having "all confidence that operations will continue without issue." Operations, though, haven't really been all that smooth anyway. As The City reported in September, preliminary numbers in June showed that the department was the second highest among city agencies when it came to staff shortages. (This is a problem in many city agencies right now.) The Buildings Department had 489 vacancies, or a vacancy rate of 24.2 percent — which means nearly a quarter of positions were unfilled. Over the summer, a senior Department of Buildings employee told the Times the construction industry was poaching people from the department with promises of better pay and flexibility. In a statement, DOB spokesperson Andrew Rudansky wrote that the department was working on recruitment, adding that their inspection workforce currently has a vacancy rate of 10 percent.
A state-comptroller audit of the department in September found that its "monitoring of construction sites was inadequate," which could potentially lead to safety issues that could "result in fatalities, personal injury, and property damage." (Rudansky noted that since the audit began in 2018, "construction injuries have dropped by over 33 percent" and pointed to an NYC comptroller audit that found improvements in the DOB's controls over field inspectors.) To add to the department's woes, the mayor's budget director called on city agencies this September to cut their budgets over the next three years, with a hiring freeze imposed until agencies complied with cuts.
It's not clear how the current probe might impact Ulrich's position, and the mayor has demurred when pressed on it: As he stated at a press conference Wednesday, "No. 1, Eric is still the commissioner there. I really think that this is really so early for us to be saying 'Should we, shouldn't we.'" At the very least, it's not like the department needs more vacancies.
This story has been updated.