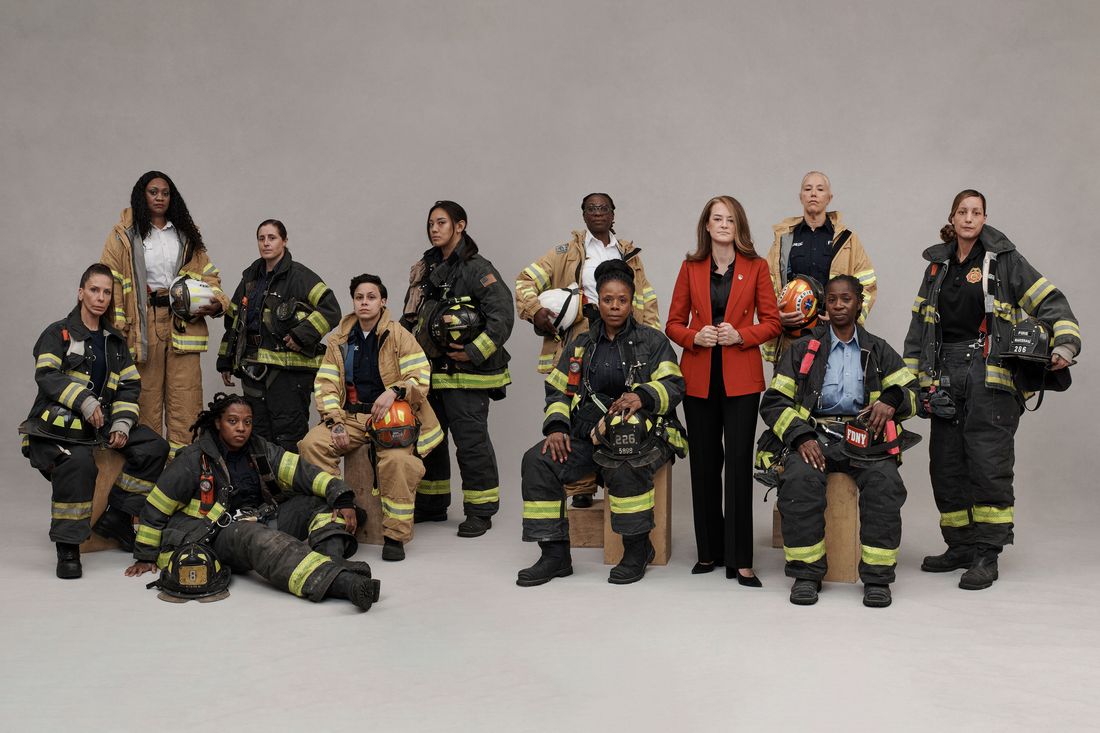 From left:
Firefighter Angelica Chomicki, Division Chief Tonya Boyd, Firefighter Melissa Bennett, Firefighter Elizabeth Parks, Paramedic Jessica Vega, Firefighter Casey Chan, EMS Division Chief Cheryl Middleton, Firefighter LaShawnda Brinson, Fire Commissioner Laura Kavanagh, Paramedic Kim McManus, Lieutenant Tracy Lewis, and Fire Marshal Jennifer Quinones.
Photo: Paola Kudacki
New Yorkers have long grown accustomed to seeing female cops and subway conductors, but it's not often that they come across a woman at the wheel of a careering firetruck. Eight women graduated from "the Rock" — the FDNY training academy — in August, bringing the number of female firefighters in the force to 141, the highest in its 157-year history, out of a total of around 11,000, a glaring gender gap for a department that has been eligible to admit women since the 1970s.
Laura Kavanagh, who was appointed the first woman commissioner of the FDNY by Mayor Adams in October, has vowed to address the disparity on several fronts. She wants to ensure that the "diversity that we have in the city is present here in our decision-making, in our operations," she told me.
If history is any indication, it won't be easy. The department didn't admit its first female firefighters until 1982 following a successful lawsuit that argued the physical exam — which involved scaling an eight-foot wall and carrying a weighted dummy up and down stairs — was discriminatory toward female applicants and didn't accurately simulate firefighting work. And there's still a long way to go: A pay-equity report issued by the City Council this year found that, while women make up only one percent of the firefighter workforce, "each level above Firefighter is held by an even higher proportion of male employees" — which means that an overwhelming number of the highest-paying roles are still held by men.
Kavanagh started as an outsider, having previously served as special assistant to Mayor de Blasio before joining the FDNY in 2014, and she has already had to grapple with entrenched patriarchal interests at the department. In 2018, James Leonard, who as chief of department was the FDNY's highest-ranking official in uniform, was ousted after being accused of verbally abusive and sexist behavior toward fellow employees, going so far as to order his subordinates to ice out Kavanagh, who was first deputy commissioner at the time.
In appointing Kavanagh to lead the FDNY and Keechant Sewell to serve as the NYPD's first female police commissioner, the Adams administration is sending a message. "I would say that it's nice to have the camaraderie," Kavanagh said of Sewell. "It is nice to pick up the phone and be able to talk to her about these roles and what we've similarly gone through."