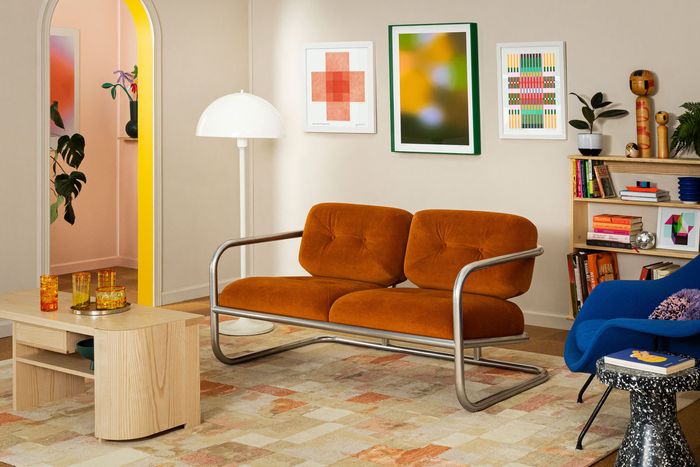 Photo: Christopher Dibble
This has been a big year for Harry Styles: He's in two movies. He headlined Coachella and is selling out arenas with Love on Tour. He maybe spat on Chris Pine. But the biggest story surrounding Styles right now is undoubtedly the provenance of the couch featured on the cover of Harry's House. You might recall that when we tried to learn more about it, Styles's publicist would only say, "It's not something that they will disclose unfortunately." But you, the nexus of Harry Styles diehards and Curbed obsessives, were undeterred and found it at Superhire, a prop-furniture company. But the couch, in a tragic twist, could only be rented.
Until now. Helen Helfand and Leland Duck, furniture designers in Portland, Oregon, have reproduced the couch (right side up). "I thought, I bet we could reverse engineer this, modernize it a little bit, and give the people what they want — which is obviously to be in a stark room with only a single couch," Helfand said. Working with a team of local fabricators, they've made a limited run of 500 burnt-orange two-seaters that they are calling Your House Couch. You, after all, kind of made it.
The couch, much like the one suspended from the ceiling on Harry's House, has a steel frame with a chrome finish. It's more of a love seat (appropriate) at around 57 inches long. "You won't believe the number of times I've zoomed in on that picture and squinted at it," Helfand said of the album cover. The main difference might be the texture: The record's couch appears to be more of a bouclé while the reproduction is velvet. ("We love velvet, which is a more durable choice anyway," Helfand says.)
At last, an approximation of the Harry's House couch — once shrouded in mystery, then kept a secret by prop stylists — can now be yours (for $4,995).