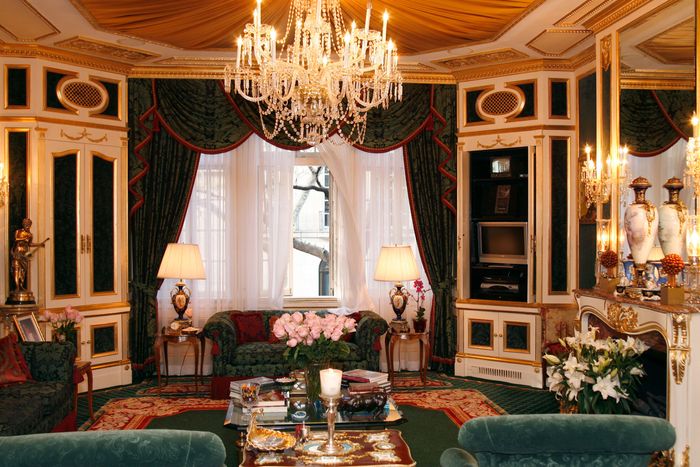 Photo: M. Von Holden/WireImage for Niche Media, LLC
A handful of months after Ivana Trump's death there this summer, her townhouse at 10 E. 64th Street has hit the market, The Wall Street Journal reports. Her children, Eric, Ivanka, and Donald Jr., are asking for an ambitious $26.5 million, to be split between the three of them. The five-story townhouse, which Ivana bought for $2.5 million in 1992 shortly after her divorce from Donald Trump, looks pretty much as it did 30 years ago when Trump redid the house with such touches as a palatial Pepto Bismol–hued marble bathroom and a lot of leopard print.
The Upper East Side home, listed with Adam Modlin of the Modlin Group and Roger Erickson of Douglas Elliman, is 20 feet wide — standard for a townhouse — though it doesn't resemble its neighbors much otherwise. A 1920s renovation replaced the brownstone front and stoop with limestone and columns. The inside is also, well, distinctive. The home is being shown with Ivana's décor and furnishings in place — with an abundance of gold fixtures, a trompe-l'oeil Renaissance garden on the staircase, crimson carpets, and an ornate canopy bed — minus Ivana's clutter, such as the stacks of the May 1990 issue of Vogue on whose cover she appeared.
One prominent Upper East Side broker noted the home is overpriced. "It needs a total renovation. I think it will sell for $17 million or $18 million," he predicted. But, he added, it isn't so radically overpriced that it will scare off serious buyers.
Of course, exaggerating the value of real estate is a Trump family tradition, and Ivana's children seem to be banking on their name commanding a premium. But buyers don't pay for provenance, the broker said — just look at what a hard time J.Lo has had selling her place in Nomad. (It's a bit of a marketing boost, but that's about it.) And even if buyers did, any allure conferred by the property's having belonged to Ivana is canceled out by the fact that she died falling down its stairs.
The listing brokers acknowledged to the Journal that most prospective buyers (with the exception of Ivana fanatics with $30 million to burn) will want to do a renovation — likely an extensive one beyond adding a pool in the basement to go with the existing sauna, as Eric Trump suggested to the paper. The 8,725-square-foot house lacks a full-size kitchen; instead, it has two galley kitchens. Fitting for a woman whose last meal was likely the takeout soup fetched by her housekeeper.