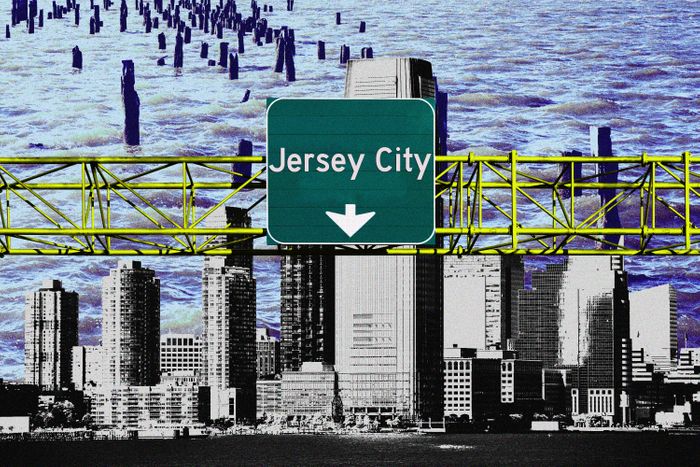 Photo-Illustration: Curbed; Photos: Alamy
In this biweekly series, "Realtor Diaries," we hear from the people at the center of a wilder-than-ever market. Today, an hour-by-hour glimpse into the working world of a top Jersey City broker, Jill Biggs.
5:13 a.m. I have a new puppy. If she's awake, I'm awake. I immediately carry her to the backyard. At my house in Jersey City, I also have four grown daughters, all of whom have moved back home with me — on and off — since COVID, and my husband and three other dogs and my kids' various pets and significant others. I bought this house as an investment property a few years ago, but because it had a parking space, I decided I wanted it for myself. A parking space in Jersey City is a gift you never let go of.
5:45 a.m. I go to the gym. I'm not pretending to enjoy this. Working out at 6 a.m. sucks, but I have a trainer, and if it's an appointment, I show up! A girlfriend and I hold each other accountable for our workouts, and I don't want to be shamed for bailing.
6:45 a.m. I peek at my to-do list. Mind you, I make this list every night at 3:23 a.m. when I wake up in a cold sweat remembering all the things that need to get done. That's when I make the list, do a brain dump, purge my thoughts, and hopefully go back to sleep. My therapist says to stop doing this. Oh well, not happening. Anyway, I usually have about 50 deals in contract. I spend hours and hours a day fixing people's projects and problems, so I need the damn list.
7 a.m. Every morning at 7 a.m., I have a five-minute "accountability call," which is not about the gym but something else. It's with three other women. We're not shopping for 90 days. I had to publicly declare it so that if I broke my promise, I'd be embarrassed and it would be painful. Pain is much more motivating than pleasure. Our deal is I'll have to take them all to an all-inclusive spa vacation if I shop. Some people eat; I shop. I did the same vow last year for 60 days and saved $100,000. It was so eye-opening.
7:30 a.m. I take a shower then sit in my hair-dry chair. I sold the house of a little old woman who had a home in Jersey City Heights. She was a hairdresser, and she gave me her old-fashioned chair to dry your hair in. I bang out my reading while my curly hair dries for about 30 minutes a day. I'm telling you, anyone with curly hair needs one of these chairs. I'm a big reader. I read business books, self-help. I have a business coach. I'm always trying to improve.
8:30 a.m. I get to work. I bring my dog — the miniature schnauzer who hates children. He's badly behaved. We all bring our dogs to my office. It's a bit of a shit show. Lots of steam cleaning. When I interview people, the first thing I now ask is "Are you allergic to dogs?" Best to cut right to the chase and save everyone's time.
9 a.m. I have a meeting with my daughter, who now works with me, to go over some floor plans. She has these clients who bought a funeral parlor. It's no longer one. They're turning it into two condos. They gave us a tour pre-construction. You know the chair where they embalm the bodies? That's still there. You can still smell the embalming fluid! So that was interesting. By the way, this is one chair I won't be bringing back to my house. But they're going to be beautiful condominiums. It's in Paulus Hook — the best neighborhood in Jersey City. It's the school district that everyone wants to move into. A big property there will sell for several million-plus dollars with lots of offers. Oh, there's one room with a pink shag carpet and a mirror, and the couple tells us, "We think this was the crying room."
11 a.m. Team meeting at the office. We pack everyone in. I'm currently running some contests. You get points for the number of calls made, appointments made, contracts, closings, that kind of thing. It keeps them inspired. Competition is good for Realtors. Last competition, I took the winning team to Nashville. It was like one big pub crawl. It was very good for team building.
Noon. I've had the same salad for four years. Grilled chicken on top of lettuce. I hate this salad so much I can barely look at it. I have five or six bites. My business coach told me I was wasting too much time having lunch and that "it's just fuel." So this is what I do now. I never gain any weight because there's very little eating happening with this damn salad. My assistant brings it to me every day. It's always on her list.
Another thing on her list is reminding me to pay the parking meter. Last year, I paid $6,000 in parking tickets. You can't show houses in Jersey City and take the time to park legally — it's just impossible, and there's no time for it. The parking is almost as tricky as New York City. Imagine having to park for every single showing if you're doing like six in a row. Realtors from the suburbs don't want to come here because they're afraid of the parking.
1 p.m. Hop on a call to hear about a buyer's home-inspection report. I spend a lot of time fixing inspection issues. My inspector orchestrated this three-hour home inspection on a 1,200-square-foot property; it should not have been more than an hour. Then the client obtained the neighbors' inspection reports, too, just to compare notes. And then he went after the developer to fix every single thing that came up. He picked every single thing apart. The developer will never build again because of this guy. I'm not kidding you. It was so time-consuming that his attorney is actually no longer practicing real-estate law! He wore everyone down. But not me. He wasn't being mean or petty, he was just unbelievably thorough.
2 p.m. I start my callbacks. Most are people who have questions about potential properties. They want the scoop from me before they take the time to book showings.
I get a ton of Brooklyn families interested in Jersey City. Today is no different. I'm talking to a mom of three who lives in Cobble Hill. She asks what she can get for 2 million dollars in Jersey City.
I tell her that in downtown Jersey City, she can get a reasonably sized brownstone. If they want a high-rise, maybe we can find her something for around 1,500 square feet, but there are not that many options because of low inventory. Jersey City used to be a bunch of undeveloped lots. Now it's a bunch of high rises, but at the moment, they are all rentals. High-priced rentals. People will pay a premium in rent to be downtown in less than ten minutes. It's a better commute than Brooklyn, Harlem, and even the Upper East side. Let's hope they build some condo buildings because we currently have nothing for people to buy, whatsoever. But there's plenty more room to develop.
2:15 p.m. Still chatting. She asks, "What else besides brownstones?" I say another option would be a newly renovated low-rise building. It depends on their lifestyle. If she or her husband wants to be near the PATH, they'll want certain areas, not others. If she wants lots of activity and to be within walking distance to restaurants, she'll want to be near Grove Street. If she wants a bit "artsier," there are the high-rises in the Powerhouse Arts District, which feels a bit like DUMBO, but honestly, there's not as much going on there.
The most coveted area for those moving to Jersey City is Paulus Hook, probably because of its proximity to the ferry and highly ranked schools. It is also home to the swanky upcoming funeral-home-slash-condo conversion. You can purchase a large brownstone there for $5 million with parking and outdoor space. By beautiful Hamilton Park, you can find a brownstone for $3 million, or alternatively, you can buy a 5,000-square-foot loft with 18 skylights and 50-foot ceilings.
Hamilton Park and Van Vorst park are significant parks with great neighborhoods and lots of kids. I wrap up the call by saying, "The point is, it's a great city with many options. Everywhere is vibrant. Artsy. Gritty, but in the good way. There are amazing restaurants. Music. Green markets. It's like New York, where the culture changes block-to-block. There's still a local butcher and cheese shop and mom-and-pops."
2:45 p.m. On another call now. This client is asking me to compare Jersey City to Hoboken. I tell her Hoboken is only one square mile, completely developed, and not as economically diverse — which leads to higher rents, so fewer food options, one of my main concerns. Jersey City has low-income housing, middle-income housing, and billionaires!
Do we have some "tightly wound" Wall Street types? Well, sure, but they exist all throughout the New York metro area, and we love them because they buy big houses! They also like big high-rises! They like to live within close proximity to all bars, restaurants, and easy transportation into NYC, which is the main draw of Jersey City. They work long, grueling hours. Views are important, modern finishes matter, and they must have an elevator, doorman, package service, and a dog walker. They also tend to love a spiral staircase. It's a lot of this: "Does the unit have fiber internet lines, and can I get a spreadsheet, please?!?!?!"
4 p.m. Every day at this exact hour, after I've been beaten down in the trenches, it's bourbon or chocolate. I'm really not a drunk. I'm honestly pretty measured.
5 p.m. Stopping by a client's new house, which I sold her. I haven't seen what she's done to it yet, but I want to get a sense of her style so I can get her the perfect housewarming gift. I think it's going to be a picture of the building when it was first built, and, of course, I'll have it framed. All the money is in the frame!
6:30 p.m. One of my daughters bought her first house; it's around the corner from my house. I go there to help her decorate a bit and hang some art. Moving furniture two inches here or there is my therapy.
7 p.m. My husband cooks us dinner. He learned to cook because I'm a workaholic mom and everyone would starve otherwise. Did I mention I spent $26,000 last year on Uber Eats! That's not including DoorDash or Grubhub. Did I mention Seamless?
8:30 p.m. I go to bed early because I wake up early. I don't get stressed out at night anymore. Could be the wine! Either that or I am just so permanently stressed that I don't know the difference. People used to hurt my feelings at work and make me cry; now I'm just a fixer and a solver.
9:30 p.m. I literally don't stop until this point. I work standing up all day. I move around all day. I fix and do and solve and talk and laugh and cry, and I mother four daughters, manage a 60-person team, and self-improve all day. Every day. And then … I crash.