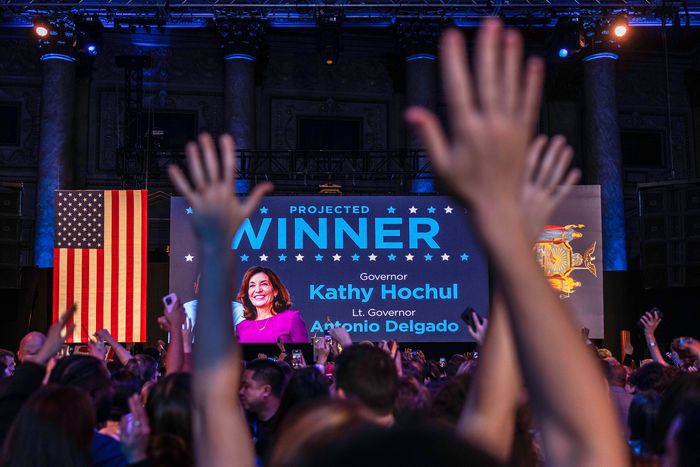 Photo: Alex Kent/Getty Images
It was not a particularly happy time to be at the Democrats' official watch party in downtown Manhattan last night at 8:45. Not only, as at any party, was it too early for the most exciting people to have shown up, but there was also a sense of building dread. Staffers scrolling their phones saw that Jake Tapper was processing the exit polls as brutal; Ron DeSantis and Marco Rubio had quickly cruised to victory. Opening the night's speeches, New York comptroller Tom DiNapoli was imploring the room that he "didn't care what prognosticators were saying." He still felt a blue wave coming. The lowest moment for the assembled partygoers had happened a few minutes earlier, when a chyron on Spectrum News, the chosen station for the night's screens, flashed up, "Lee Zeldin looks to be first Republican governor elected in more than 20 years." All of the peppy Kathy Hochul staffers I'd met on arrival — including one who told me she "doesn't work on losing campaigns" — briefly disappeared.
Two hours later, however, following a string of victory speeches from the state's best-known candidates, it was hard to remember that the mood had ever been anything but ebullient. First up was Chuck Schumer, celebrating being the first New York senator elected to five consecutive terms; he touted his accomplishments of the past two years, danced offstage (doing a 360-degree twirl) to "Back in the New York Groove," and then bolted for the bathroom. Letitia James — the clear crowd favorite — danced onstage for her victory speech (to Lizzo's "Good As Hell"). Sensing it might be a good night for their friends, Senator Kirsten Gillibrand, New Jersey governor Phil Murphy, and New York director of state operations (and former mayoral candidate) Kathryn Garcia all showed up sometime around then too.
The Chinatown location — the Capitale building on the Bowery, a former bank that had recently hosted Heidi Klum's Halloween party and an event for BravoCon — was close enough to the homes of young staffers' friends, many of whom showed up around ten. I ran into an old college friend who had been told to come through by another friend. I began seeing fewer suits and more Fortnite hoodies, Adidas sweats, and Realisation Par dresses. The friends of one intoxicated guest in a sweater-vest and wide trousers tried to keep her from talking to me but not before she could scream into my microphone, "NY Dems get down! Put that on the record!" I met a guy who told me he worked in "real-estate private equity" — which I used to think was two different jobs — and had been brought by his lobbyist girlfriend. Another chief of staff was telling friends that he had recently helped get a bill passed to guarantee one public bathroom in every New York Zip Code. "We're calling it 'Let my people go,'" he explained. Elsewhere, a party official wearing a Rolex showed me how quickly Schumer typically replies to his texts.
At that point, the music was the only thing stopping this from feeling like any other downtown party. As at weddings and bat mitzvahs, we were treated to "Love Shack," "Changes," "Uptown Girl," the New Radicals, "Take a Chance on Me," "My Girl," and a surprising amount of Kacey Musgraves. When I asked whether any senators or governors might be coming to the floor, the response was no — it had gotten so boisterous that the officials didn't feel safe. By the time I left at midnight, the only signs that trouble might be afoot further down the New York ballot were at the edges of the room, where people attached to less high-profile campaigns were refreshing vote trackers to see if they would still have jobs in January.