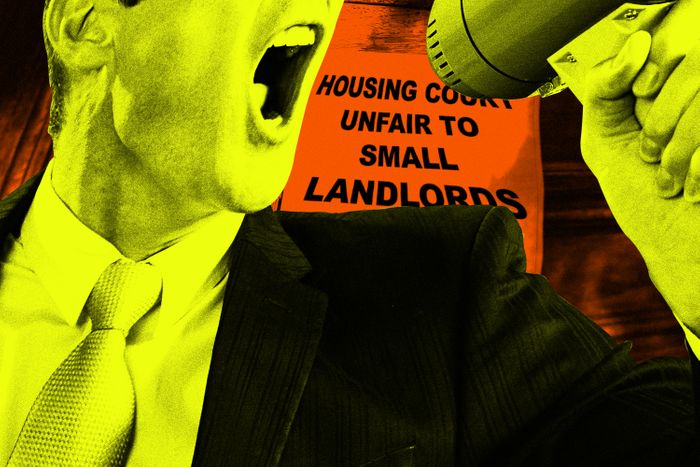 Photo-Illustration: Curbed; Photos: Getty
No one at the landlord's-rights protest wanted to give me their full name. One woman said she was concerned about harassment; another claimed she couldn't go on the record because of her job. The sole exception that October morning was Brian Liff, a clean-cut 50-year-old software engineer wearing standard-issue city business-guy attire. "The state fundamentally took my property," he said as cars hurtled past us outside Kathy Hochul's Manhattan office. Liff had bought an eight-unit rent-stabilized building in Harlem just a few months before New York passed the Housing Stability and Tenant Protection Act of 2019, a sweeping set of reforms that significantly limited the power landlords have to raise rents and evict rent-regulated tenants. Then came the pandemic, followed by state and federal eviction moratoriums like inconvenient little dominos. Liff had planned to evict the tenants in four of the building's occupied units and build himself a well-appointed family home, but that was now off the table. In his estimation, the past couple of years had amounted to the state telling him, "You must house people against your will." Dream home deferred, he can't even rid himself of the place since he says he can't sell the building for anything close to what he put into it. He feels boxed in by the state.
The 150 or so protesters standing with him were largely in agreement on that point: They held posters reading "Small landlord lives matter" and "Give landlords due process now." The consensus among the crowd was that the bias against landlords had reached a fever pitch and was coming from all directions — the governor, the state legislature, the courts, and the general public.
In the nearly three years since the start of the COVID-19 pandemic, millions of tenants have engaged in rent strikes, whether declared or de facto, while membership in tenant unions and building associations ballooned. Somewhere in all of this tension between renters and owners, more landlords began to publicly embrace the language of a protected class being ignored, or worse, by its elected officials. The battle lines were reflected in the press: In the New York Daily News, a Realtor wrote that "landlords are people too" and claimed a kind of financial symmetry between struggling tenants and their struggling landlords who were "barely able to meet their own family's needs for food, housing, and utilities."
An estimated 28 percent of New York City's 2.3 million rental units are held by landlords who own fewer than five properties, which is what passes for a mom-and-pop shop in a city of megadevelopers and private-equity ownership. As of 2019, only 13 percent of units were rented out by a landlord with just one home in their portfolio. Even so, this fraction of the industry has become the face of an emerging political identity among property owners: the underdog landlord, a struggling, small-scale operator hobbled by the political status quo. They're drowning in debt, in danger of losing their homes over missed payments or rent caps, and facing routine abuse from tenants and the scorn of the greater public. And that morning, the assembled landlords were ready to fight back.
Right now, there are an estimated 569,000 tenants in New York State who owe a cumulative $2.4 billion in back rent, debts that increased during the pandemic and compounded as rents in the city soared over the past year. Landlord groups say these deficits, along with inflation, the cost of utilities, and rising taxes, have scrambled their budget sheets. According to a report released earlier this year by the Rent Guidelines Board, the nine-member body that sets rent adjustments on the city's stabilized-housing stock, landlords' net operating income plummeted almost 8 percent over the past year. And according to an analysis of JPMorgan's internal data, small- and medium-size landlords in New York lost more rental income than landlords nearly anywhere else in the country during 2020 as residents lost jobs or simply fled. That spring, more than one in seven landlords in the city missed at least one payment on a home. The burden they face is so great, landlords say, that even the largest rent increase on stabilized housing in a decade wasn't enough to make them whole. "The adjustment approved by the RGB today will not put a penny of profit in the pockets of small property owners," Jay Martin, the executive director of the Community Housing Improvement Program, a landlord-advocacy group, said in a statement after the board's June vote. "The RGB has simply taken steps to limit their losses for the next year."
CHIP launched a campaign earlier this year to draw attention to what its members say is their plight in the aftermath of the 2019 rent reforms. On Twitter and TikTok, the group regularly shares photos of trashed empty apartments it says well-meaning landlords can't afford to fix up and rent. For 20 years prior to the passage of the HSTPA, landlords in possession of vacated rent-regulated apartments could raise rents up to 20 percent and factor in the cost of major capital improvements; once the rent reached a certain dollar amount, those units were then deregulated — converted to market-rate units with no cap on rent. In the mid-aughts, the combination of the two allowances removed 345,000 apartments from the rent-stabilization rolls, according to the progressive-policy nonprofit the Community Service Society. The repeal of these so-called vacancy bonuses, according to CHIP, put small landlords at a disadvantage when tenants moved out after decades and left apartments in disrepair. "Gut renovating an apartment is expensive," reads the text of a video showing an apartment in shambles, the camera panning over a dingy bathroom with missing tiles. (A-ha's "Take On Me" provides the soundtrack.) Unable to raise rents, the organization claims, landlords are forced to contribute to the city's housing emergency: "By keeping vacant units under regulation the government has eliminated any path forward for these apartments to be upgraded to current housing standards and rented back out," says Martin.
Implicit in all the claims of powerlessness is real power, and these campaigns can sometimes sound like a threat. The landlord group holding the protest in front of Hochul's office said an internal survey shows that 44 percent of smaller property owners won't rent their units again given the experiences they've had with tenants. Similarly, CHIP's campaign advertises the fact that landlords are choosing to keep thousands of affordable apartments vacant over dissatisfaction with their potential return on investment. Landlords claim they would lose money renting the units at regulated rates after being forced to shell out upwards of $75,000 for necessary repairs.
Beyond the protests and social-media campaigns, landlord groups have sought redress through the courts. Not long after 2019's rent laws passed, CHIP and other landlord groups filed a nearly 100-page lawsuit against the Rent Guidelines Board and the City of New York challenging the new rent laws. The regulations circumvent due process, they argued, and violate landlords' Fifth Amendment right to proper compensation. They claim the law restricts their control over their units so intensely that it represents a takeover of whatever property they own. ​​"We're going into the court system clearly with an eye of getting to the Supreme Court," Joseph Strasburg, the president of the Rent Stabilization Association, said at the time. "And we recognize that this is a long journey."
The rise of the pissed-off small landlord is complicated by how vanishingly rare the small landlord seems to be. The average New York landlord owns nearly 900 units, according to an analysis by the housing nonprofit JustFix. But a maze of LLCs makes an objective determination of ownership data nearly impossible: A small landlord could be a single person; it could also be a subsidiary of a massive company that owns a single home. So the owner-resident renting out the other five units in their building may very well feel besieged by uncooperative tenants and progressive rent laws, but they could just as easily blame their large corporate counterparts for the crunch. Small property owners are a shrinking minority in an economy that favors the deep-pocketed and in a landscape where buying and renting property is as much about securing cyclical returns on investment as providing a stable place to live. (When single-family homes run as a business do go under, they are increasingly likely to be scooped up by institutional investors.) It's also difficult to definitively quantify landlords' net losses or gains. Publicly available information on the business of being a New York City landlord is mostly limited to what New York City landlords find fit to share. Affordable-housing researchers and development organizations have long criticized landlords for significantly overstating the losses they would incur by making necessary structural or even cosmetic repairs.
One of those organizations, the Community Service Society of New York, a progressive-policy nonprofit, published an analysis predicting a mortgage crisis would follow pandemic-related rent arrears. But the villains in the study aren't lackadaisical tenants: For over two decades, they write, the vast majority of landlords have bet on a market they were certain would trend ever upward, raising rents and taking out bigger and bigger equity loans on buildings that appreciated by the minute. Between 2008 and 2010, the researchers say, the median debt level in most parts of New York rose between 100 and 200 percent. "They were gambling with their buildings in the first place," says Sam Stein, a policy analyst with CSS, "under the assumption that the laws would not get stronger and that the market would continue in the direction that it was going."
In many cases, according to the report, landlords would use that equity to buy another property, certain they would be able to pay given that, by 2018, home values were as much as six times what they were in 2000. As Stein's colleague Jacob Udell testified to the Rent Guidelines Board this spring, mortgage data shows most refinancing schemes for multifamily homes in New York are structured to "keep buildings leveraged and to profit from the rising asset value" — that is, to passively take in the income of a valuable asset, rather than reinvest in, say, dilapidated units in need of lead abatement. The tragedy of the struggling landlord, they say, isn't the hardship of the pandemic or the 2019 rent laws; it's being on the losing end of a risky bet. And if the business of being a landlord gets too volatile, they can most often just sell their valuable asset and get out.
When CSS released its report, Stein says, landlord groups "saw us as saying, Push the small landlords off a cliff." But he argues that one solution will serve struggling tenants and struggling landlords equally well: The government "should intervene," he says, "not to bail out these landlords but to convert the housing into some kind of social-housing model." Government intervention could theoretically provide the aggravated landlord class freedom from the financial ruin they're describing as well as a place to live — as tenants.
That proposal seems unlikely to appeal to the landlords who marched on Hochul's office. Lee Zeldin had been invited to attend the protest that morning, though he ultimately didn't show. But Stefano Forte, a longshot Republican candidate for the New York State Senate, did turn up and spoke to the crowd, a hype man for private property. "We want the American dream we were promised!" he said to cheers. "We will protect our property rights together!"
Demonstrators erupted into chants of "Give back my property!" as a man nearby bobbed a sign that depicted smug-looking cartoon tenants tipping the scales of justice in their favor. Liff, like others present, believed New York State's courts were skewed against him, but he was hopeful that CHIP's lawsuit would find traction as it moves through the system. Though not a named plaintiff in the lawsuit, Liff lent the story of his Harlem building to the lobbying organizations to include in their complaint. In the years since, he has been reaching out to elected officials with emails alleging he's an "indentured" landlord. "At some point, courts are gonna realize property owners' right to exclusion is the primary definition of property ownership," Liff told me. "If you can't exclude someone, do you even own it?"