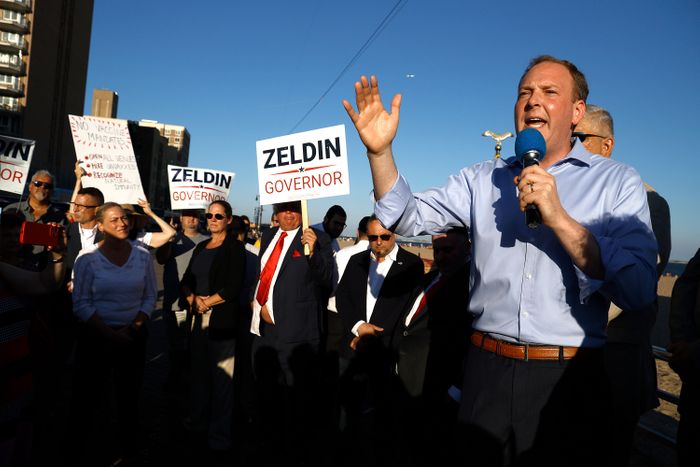 Photo: John Lamparski/Getty Images
The unofficial results from Tuesday night's New York gubernatorial election are in and Kathy Hochul secured her spot (albeit by a relatively slim margin compared to past Democrats), capturing 52.6 percent of the vote to Lee Zeldin's 47.4 percent. Hochul carried New York City with the exception of Staten Island (naturally), but some neighborhoods elsewhere in the city were splashes of red in what was otherwise a sea of blue. A micro-level rundown, according to preliminary data from the City's handy neighborhood tracker:
Brooklyn neighborhoods like Brighton Beach, Sheepshead Bay, and Bensonhurst went Zeldin, and the Long Island Republican also carried the borough's Orthodox and Hasidic communities — with strong support in Borough Park, Midwood, parts of Crown Heights, and South Williamsburg. In Queens, Whitestone and College Point went for Zeldin, as well as Howard Beach, Broad Channel, and the law-enforcement-and-first-responder-heavy enclave of Breezy Point, where turnout was especially high. A few Bronx neighborhoods, like Locust Point, went for Zeldin, as well as two tiny districts that went red by virtue of having one Zeldin voter total. Ronald Lauder would be proud.