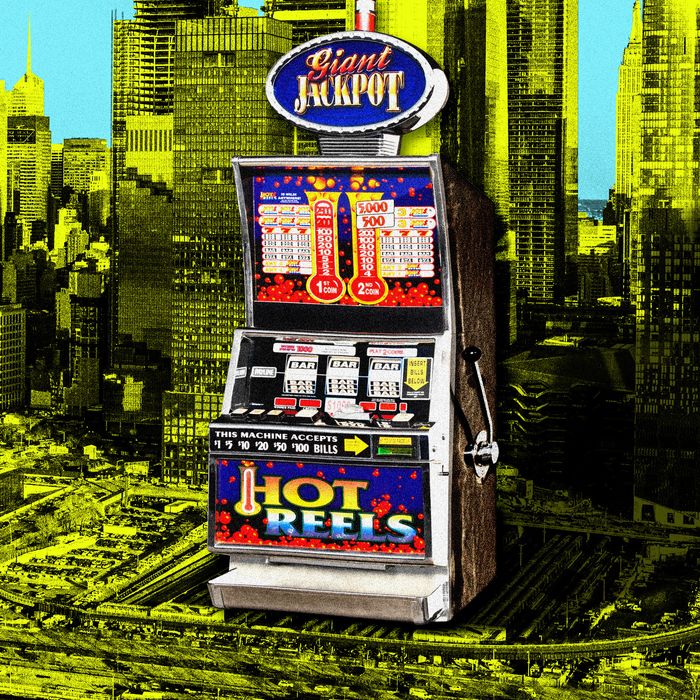 Photo-Illustration: Curbed; Photos: Getty
Picture a casino. If you're seeing a raucous poker table or a smoke–filled back room with tuxedo-clad dealers, you've never gambled in New York City. The city's only casino is on the outer edge of Queens, just a few minutes' drive from JFK airport, flanked by a Home Depot and the Aqueduct racetrack, and it's a 6,500-machine e-gaming paradise for gamblers in jeans and bright sneakers. Blackjack, baccarat, and other table games are available — but only electronically. You can rock out to Elton John tribute bands, but there aren't any free drinks, and there's no smoking either. In short, at Resorts World, the state's Gaming Commission prohibits the frills that would give the experience any hint of what happens in Vegas or even in Atlantic City.
In a few years, though, gambling in New York might look very different. In April, state lawmakers lifted a ten-year ban on casinos in Long Island, Westchester, and NYC (which was meant to help upstate casinos) and gave the green light to three full-service establishments downstate. (These are the kinds of casinos that feature table games with callers and dealers à la Vegas — but smoking will still be banned.) Given the enormous potential for profit, New York State is attaching a $1 million fee to each application, and a $500 million fee to each license. This effectively narrows the competition to the biggest, best-financed players.
Two existing casinos — the aforementioned Resorts World New York City in Queens, owned by Genting, a Malaysian developer, and Yonkers' Empire City Casino, also attached to a horse racetrack — are front-runners because the commission will probably favor existing sites with a track record and the capacity to add live table games. That leaves just one license up for grabs. And there's a strong possibility that it will go to New York City, which offers millions of potential gamblers with little competition nearby.
Now it's a six-way race between some of the city's most well-known developers. In September, Related Companies, the main developer behind Hudson Yards, and Wynn Resorts, the Nevada–based developer of casinos all around the world, were among the first to announce they'll be bidding for a casino to go up on the undeveloped chunk of Hudson Yards south of the Javits Center. In October, SL Green and Caesars Entertainment announced a joint bid for a Times Square gambling establishment. New York Mets owner Steven Cohen is angling for a Hard Rock casino in Willets Point, next to Citi Field (with some reporting that he was also in talks with the Las Vegas Sands, founded by the late Sheldon Adelson, who's known for the Venetian in Vegas). Stefan Soloviev, scion of the late Sheldon Solow's real-estate empire, has also thrown his hat into the ring, proposing a former Con Edison site in Midtown East, near the U.N. And just this past Tuesday, Thor Equities Group has officially announced its own $3 billion bid for a Coney Island project. Vornado's Steve Roth has also hinted at a potential Herald Square bid.
Among these options, Willets Point and Coney Island are a major schlep from Manhattan, where most visitors — and potential casino customers — will be. Consequently, West Side developers are banking on location to distinguish their bids from the competition.
It sounds implausible now, but a typical casino building—sleek, windowless, opaque—would blend in perfectly with the architecture of Times Square or Hudson Yards. Given that 6.2 million square feet has already been cleared for development in Hudson Yards' Western Yards, and its proximity to Javits, a casino there would likely include a hotel, nightlife venues, and restaurants — a doubling down on Related's promise for a 24-hour luxury neighborhood.
There's major precedent for a high-end casino district like this, although the most prominent examples are overseas. Singapore's Marina Bay Sands is a $5.6 billion development with three high-rise hotels, an observation deck, and a casino with over 3,000 electronic and table games — as well as an 800,000-square-foot mall where shoppers can pick up a Cartier watch and a Louis Vuitton Speedy. In Macau, the $4.6 billion Wynn Palace resort and casino is similarly massive, with a 1,700-room hotel, a 350-table casino, a luxury mall, and a 320,000-square-foot lake for performances and light shows. In the U.S., the best example is, of course, on the Las Vegas Strip, where the Waldorf Astoria Las Vegas, Aria Resort & Casino, Aria Sky Suites, and the Bellagio — four of six AAA five-diamond properties in the city — all gel into a luxury mini-district where someone can walk from a $20,000-minimum buy-in poker room to the spicy rigatoni at Deux Moi–approved restaurant Carbone in 15 minutes. It's easy to imagine Hudson Yards 2.0 as a comparably lavish project.
The rail-yard site has already been the canvas for other megaprojects that have been killed, most famously a football stadium. In the early 2000s, Dan Doctoroff, Mayor Michael Bloomberg's deputy mayor for economic development, tried to sell the city on the New York Sports and Convention Center (NYSCC), a would-be stadium for the Jets and a key asset for the 2012 Summer Olympics (however, because it wasn't yet built, New York City lost the bid to London). The stadium's boosters claimed that a public investment in the complex would create 7,500 permanent jobs and generate tax revenue equal to or beyond the city and state's initial $600 million investment. They also argued it would expand the Javits Center's capacity (though it was unclear whether New York could attract enough conventions to break even).
But the community board and local elected officials vehemently opposed the plan. "Stadiums are dead zones," one told New York Magazine. "It's feast or famine with these facilities. There's either no one there or there are tens of thousands of people flooding the area." They questioned the cost and the promised financial benefits, and worried about quality of life in the area, from unruly fans to excessive traffic.
However, what ultimately brought the project down wasn't community pushback but one of the project's most powerful opponents: Cablevision, the erstwhile cable company that owned the Knicks and nearby Madison Square Garden. It feared a Jets stadium would bite off revenue from its pro sports investments and spent $22 million in 2004 on anti-stadium ads and lobbying. It's possible that the stadium may have brought more income to the city, as David Halle and Elisabeth Tiso note in their book on New York megaprojects. But the belief that the venue was a money suck prevailed, and New York State lawmakers effectively killed the project in 2005.
Hudson Yards emerged in the aftermath of that failed stadium bid, when the city selected the Related team's bid out of five proposals for the site. We know what emerged in the first phase: A mall, offices, $2 million apartments, the Shed, and the now-shuttered Vessel. And while all of this new construction was presented to the public as self-financing, it actually wound up costing the city an additional $2.2 billion. All in all, tax breaks and government subsidies for Hudson Yards totaled nearly $6 billion. (For reference, the East Side Coastal Resiliency Project, one of the largest infrastructure projects currently underway in Manhattan, comes with an estimated price tag of $1.45 billion.) Hudson Yards' second phase, proposed in 2009, was supposed to include more offices, 4 million square feet of apartments, a green space from 11th Avenue to the river, and a 120,000-square-foot school spread over eight buildings. Compare that to a casino.
Just this year, a meta-analysis of the impact of casinos on urban areas in the Northeast suggested that they overpromise on long-term economic benefits to host communities while also encouraging problem gambling and related issues, like overspending and declining mental health. An older study from the National Gambling Impact Study Commission also found that the prevalence of pathological gambling was nearly double in communities up to 50 miles away from a casino.
But despite the negative effects of casinos on their host communities, at the state level, it might be hard to pass up the cash. The city's casino is one of the most profitable outside of Nevada. In less than ten years, Resorts World Casino New York City produced over $3 billion in revenue for the New York Lottery's education fund, money that's distributed annually to school districts statewide. In 2021, only Pennsylvania and Nevada surpassed New York's commercial casino gaming tax revenue. In fiscal year 2019–2020, New York collected $3.7 billion from all of its gaming operations, which is equal to 3.6 percent of the total taxes and fees the state collects annually (this includes sports betting, fantasy sports, lotteries, VLT facilities, horse racing, and casinos). But it's unclear how long this revenue stream can be sustained.
Resorts World itself may be profitable, but if you look at New York State as a whole, commercial casinos are less successful than expected. Right now, casino revenue represents just a small fraction — 0.2 percent — of state revenue. A 2020 report prepared by the Office of the New York State Comptroller found that the four existing commercial casinos have consistently made less money than their operators forecasted when they applied for licenses with the state Gaming Commission — just two-thirds of what they projected they would make. As a researcher at the Urban Institute told Crain's, the benefits of new casinos tend to come from their novelty and last only a short time. With 12 tribal gaming casinos in the state, including a new Shinnecock Casino Hamptons under construction in Southampton, there will also be more competition for table games in the region.
Like the gambler who thinks he can win big on the next hand, New York developers seem unperturbed by potentially weak long-term forecasts for casinos in the state and elsewhere. It's still too early to tell what any of the proposed casinos will actually look like; applications for the licenses open on January 6, so entrants have about a month and a half to refine their proposals. But there have already been some rumblings of dissent from local officials, including state senator Liz Krueger (whose district includes Times Square and the Penn Station area) and a few Broadway organizations. As Related, SL Green, and the other teams prepare their bids, they have a long road ahead to win the approval of many state and local stakeholders. For each proposal, the Gaming Facility Location Board, which will oversee the application process, requires an evaluation from a Community Advisory Committee comprised of state and local elected officials to gauge support for a casino in their districts. In New York City, the committee includes six people: the governor (who wants to speed up the process), the mayor (who counts among his senior advisers an executive at Resorts World), the state senator and assemblymember, the borough president, and the City Council member who represents the district. To move a proposal forward, four of the six members have to agree to support or pass on the application. Then the project will have to go through Uniform Land Use Review Procedure (ULURP), New York City's process for reviewing major land-use changes that takes about ten months from start to finish. With the first sites about a year away from selection, a development won't break ground for at least three years. Until then, gamblers will have to content themselves with the magical machines and '80s cover bands of Resorts World, only an hour away from midtown.