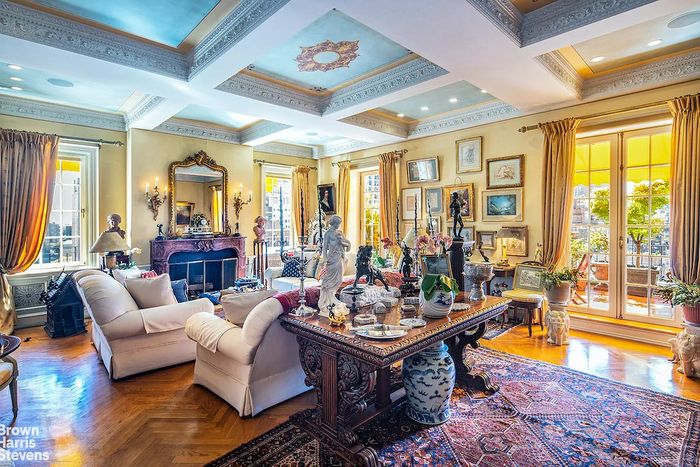 The corner living room at 333 East 68th Street.
Photo: Brown Harris Stevens
Most of the apartments in 333 East 68th Street, a red-brick Neo-Georgian building situated on St. Catherine's Park, are fairly staid — tastefully renovated with austere finishes and hints of character from an odd chandelier or molded fireplace. Not Penthouse A. Every square inch of the sprawling, six-room apartment has been renovated by WQB Architecture to resemble a chateau in Provence. This includes, among many, many other things, two carved-marble wood-burning fireplaces; herringbone floors; a hand-painted mural of a French Baroque garden landscape depicting classical marble statues, fountains, and lush but manicured greenery in the stairway leading to the library; an arch painted with sirens between the living room and second bedroom; and a robin's-egg-blue coffered ceiling with intricate crown moldings and hand-painted gilded detailing.
The large dining room is clad in intricately carved wood paneling with a delicate floral-and-lattice-patterned ceiling. Built-in bookcases and hand-painted murals of angels and foliage climb the 13-foot ceilings of the wood-paneled office and the loft with a built-in captain's bed. No surface of this apartment has been left unpainted. Even the most subdued rooms, the bedrooms, have ornate details, including painted lace trim and Corinthian columns.
The unit occupies the entire 15th floor of the eastern side of the building, allowing for a large landscaped terrace that wraps around the apartment on three sides with views of the East River and the Chrysler Building.
333 East 68th Street, built in 1928, was designed to be "a regular Park Avenue type building" but at about half the price. It attracted Frank Crownishield, the 22-year editor of Vanity Fair and one of the founding trustees of the Museum of Modern Art (who was once described by Amy Fine Collins as "the most cultivated, elegant, and endearing man in publishing, if not Manhattan"). He lived in one of the penthouses for a time in the '30s, likely PHA, but based on the historical archive alone it's difficult to be certain which. The other penthouse apartment in the building is on the ninth floor — also a six-room triplex with private terraces. It last sold for $5.25 million in 2012.
The seller of this penthouse, Luc de Clapiers, has had it since 1999. He has had a lengthy career in finance, including a stint as the president of the now defunct luxury Hôtel Plaza Athénée, a five-star hotel on East 64th that features similarly intricate murals and crown moldings, and he has been active in many of the city's French American social clubs. His love of French culture is more than apparent in his painstaking renovations.