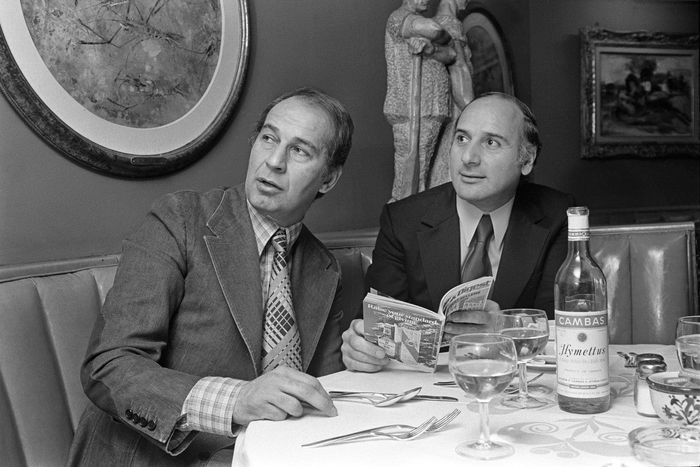 George Lois, left, with magazine publisher John Veronis in New York, 1975.
Photo: Eddie Hausner/The New York Times
Everyone talks about the Esquire covers, but they were, financially at least, a rounding error for him. In 1962, George Lois was the fast-talking, egomaniacal, foul-mouthed, proudly and inextricably Greek New York street kid at the top of the advertising business, and Esquire's editor, Harold Hayes, offered him $600 a month to give its covers a jolt of energy. (It was such a minor fee for Lois, compared to his vast agency salary, that he donated the honorarium to a fund for Greek orphans.) They had a deal: no workshopping, no back-and-forth. Hayes sent over the stories, Lois sent back a cover, and the magazine could use it or not. His success rate was 92 times out of 94.
For his first cover, in advance of a title bout, he ordered a photo of two faceless boxers who stood in for Sonny Liston and Floyd Patterson; it showed the Liston figure facedown on the canvas in an empty arena. He wasn't calling the fight, not exactly, but he wasn't not calling the fight either, and if you thought he was, well, so be it. "Sly editorializing," Hayes's boss remarked, smiling.
For a Christmas issue a couple of years later, Lois and Hayes put Liston in a Santa hat, glowering from the cover and scaring the bejesus out of Esquire's advertising department. Correctly, as it turned out: Liston, a rough-edged figure who was not so palatable to white America, and especially to the subset of white America that read Esquire, reportedly drove away $750,000 in ads. Hayes referred to the cover as "a rude raspberry" and loved it, and his bosses chuckled and let the two men keep at it. "The ruder the raspberry," Lois later wrote, "the happier was Hayes."
Lois — who died on November 18 at 91, just two months after his wife of 71 years, Rosemary — delivered a lot of Bronx cheers in his life, not least because he'd grown up in the Bronx itself. He prized brashness, speed, and edge — not just on his magazine covers but in his ads and his life. He once persuaded a recalcitrant client to go for his pitch by climbing halfway out the window and threatening to jump unless it was okayed. He torpedoed a million-dollar job with a prim cosmetics-company president by ad-libbing the phrase "It doesn't suck. It doesn't fuck. Shove it up your ass, and it blows your balls off" during the pitch. He often deployed his father's coded response to people he disliked: a Greek slang word, drawn out as "chhhhessya," which in English would be heard as "yessir" but in Greek meant, approximately, "go soil yourself." He was a madman, if not quite a Mad Man. (He disdained that TV show; he thought the characters spent too much time drinking and screwing and not enough time working.)
His 1972 memoir, George, Be Careful, gives the flavor of the man: headlong, galloping, leaving everything out there every day. Like advertising itself, it deals in explosive images and elides a lot in the service of the message, and reading a whole book of his Madison Avenue swashbuckling is a little like downing five desserts in a row: delicious, certainly, but maybe too much. It reveals someone who was fantastically equipped to make a splash—whether in a pitch meeting, in an 30-second spot, or with a magazine cover—and also a little less well-equipped to be a great judicious collaborator in the long term, which is perhaps why he repeatedly left his partners to start breakaway agencies. He was uncontainable for any length of time. He would also be unemployable today, a walking lawsuit: Seemingly every other page goes hard on ethnic stereotype, rampant sexism, fat-shaming, or just overaggressive boss behavior. The n-word makes steady appearances. His customary job interview involved chucking a paperweight at potential colleagues to see how good their reflexes were, and also to size up how they'd do on the hypercompetitive softball team.
Lois dove into any nearby spotlight, and a lot of his colleagues grumbled that their teamwork often accrued to him, sometimes because Lois couldn't help inserting himself into the narrative. When in 1977 he abruptly left one of the agencies he co-founded, Lois Holland Callaway, his partner Jim Callaway told the Times that "we had too much of a boutique image—we were tarred by that image. We were being perceived as George Lois's thing." Lois's magnetism and extroversion and lightning tongue (and titanic ego) made it almost impossible for anything he did to be perceived any other way.
But all of that, of course, is advertising! You're looking to hit people where they have emotional responses, and brazenness, shamelessness, mouthiness, and outrageousness — to whatever degree the era even somewhat permits them — are the coin of the realm. If you don't like it, your beef is not necessarily with him; it's with the business culture that retailed it, fertilized it, and ate it up. We now think of Don Draper's quiet intensity — the Carousel pitch — as the gold standard, but truthfully, climbing out the window while shouting worked awfully well.
And what did he make? Catchphrases and taglines that still stick in the mind 60 years on regardless of whether the product does. "When you got it, flaunt it," for Braniff Airways, now gone. "I want my Maypo," for the oatmeal still around in the supermarket. And, most of all, a late-career resurgence: After MTV's spotty launch on a few cable systems, Lois created a set of spots suggesting that young people call their cable companies and demand the new channel, and "I want my MTV" was born.
And, maybe best of all, he had the great photographer Carl Fischer render Muhammad Ali as the martyred St. Sebastian. Ali, reportedly, briefly balked at the shoot; he'd been stripped of his title in part because of his Muslim faith, and he didn't want to be rendered as a Christian. He got his spiritual adviser, Elijah Muhammad, on the phone, and Lois—of course!—sold the two of them on the idea in minutes. No knock on the work of my colleagues past and present here at New York, of course, but it's a contender for the best magazine portrait ever.