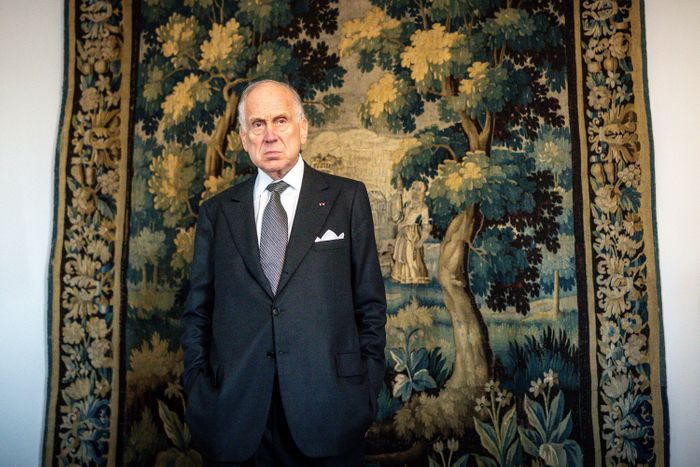 Photo: Michael Kappeler/picture alliance via Getty Images
There are a few reasons why Ronald Lauder, the billionaire son of Estée Lauder, has thrown a staggering $11 million behind Republican Lee Zeldin's gubernatorial bid, he tells the New York Times. For one thing, he is afraid to ride public transit ("You couldn't pay me to get on the subway," he told the paper). Plus he's just a balanced guy in general ("I want two parties," he said of supporting a Republican in deep-blue New York). Tax breaks are also potentially relevant for one of the wealthiest men in the state, but Lauder denies such motivations. For its part, the Times suggests another possible reason Lauder might like Zeldin over Democrat Kathy Hochul, and it involves a proposal for a four-mile wind-farm cable.
For years, Lauder and his wealthy neighbors in the Hamptons hamlet of Wainscott have been fighting the plan to make Wainscott Beach the landing point for a cable buried underneath the beach. Alternative energy and the offshore wind farm isn't the problem, opponents of the cable say; it's just that the cable on which it all depends should be buried elsewhere, like maybe Montauk. (A petition opposing the cable placement in Wainscott claims it would have "overwhelming negative direct, indirect and cumulative impacts on recreation and tourism, our economy, and our environment.") Citizens for the Preservation of Wainscott, an anti-cable group, has hired lawyers, circulated petitions, and even tried to secede from East Hampton in an effort to save itself from the cable.
And as the Times reports, Lauder hosted Hochul for dinner a year ago and brought up the wind farm, which Hochul has supported and broke ground on. The Times asks, Was this dinner a turning point? Lauder rejected the suggestion that the wind-farm cable might be the reason why he's writing checks to Hochul's opponent. "That's not why I'm doing it," he told the Times. Weren't you paying attention? It's because the subway is too scary.