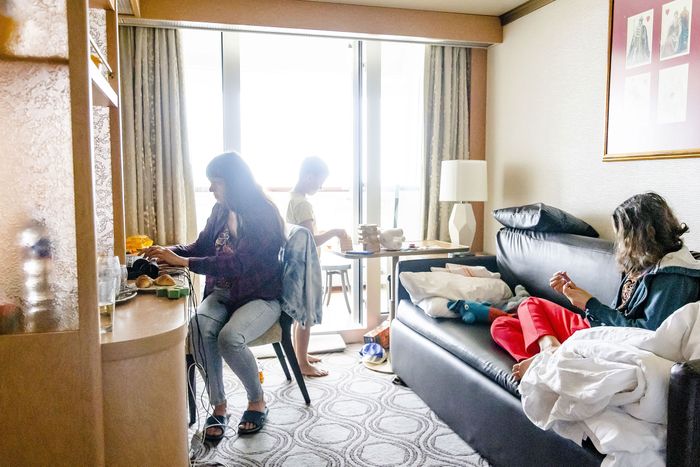 Refugees in a cabin onboard the Holland America Line cruise ship docked in the Merwehaven, Rotterdam.
Photo: Hollandse Hoogte/Shutterstock
During New York City's summer scramble to find beds for a surge of migrants, Mayor Eric Adams initially proposed housing people on cruise ships — an idea that local immigration advocates called insulting. The city ended up creating three "emergency relief" centers instead, building a tent city on Randall's Island and repurposing two midtown hotels. But the number of migrants has "dropped significantly" in recent weeks after Adams lobbied Biden for stricter border policies, said Fabien Levy, the mayor's press secretary. So New York decided to close the tent city last week and has shelved the cruise-ship idea for now.
But that doesn't mean it has completely gone away. If anything, temporary cruise-ship housing has become a real trend — especially in Europe. The Dutch city of Rotterdam was the first to house Ukrainian refugees on a cruise ship this year during a six-month charter that concluded in mid-September. Edinburgh began hosting Ukrainian refugees on a cruise ship in July, and Glasgow announced a similar plan in September. Last month, the city of Amsterdam chartered a cruise ship to house at least 1,000 migrants. U.K. officials are also weighing the option of using cruise ships to accommodate a surge of asylum seekers.
The idea of a wealthy city putting displaced people on boats feels off-putting — like a tacit admission that it's unwilling to make room for them on land. But the officials who managed the Rotterdam charter, and even refugee rights advocates who witnessed it, told me that the cruise ship was a surprisingly effective short-term solution — with a few caveats.
Normally, asylum seekers who land in the Netherlands are sent to the country's notoriously unsafe and overcrowded migrant-processing center located in the rural northern village of Ter Apel. Syrian, Afghan, Somalian, and Nigerian refugees have languished there as they wait for their cases to be processed. Over the summer, the center ran out of beds, forcing many to sleep on the ground outside. But despite increasing numbers of refugees, the country's xenophobic right wing has battled efforts to expand migrant housing — including prime minister Mark Rutte, who has demanded that the country's migrants "act normal or go away."
So when the port city of Rotterdam received notice in late March that thousands of Ukrainian refugees were arriving imminently, officials had to find a lot of new beds and quickly. Aides to Rotterdam mayor Ahmed Aboutaleb, a Muslim immigrant and social democrat, saw an opportunity in the Volendam, Holland America's 781-foot-long, nine-deck cruise ship that was conveniently empty and ported in Rotterdam with room for 1,500 passengers (not including crew). The Seattle-based cruise company quickly agreed to a six-month charter, and just days later, the buses arrived: mostly women and children with suitcases in tow.
Elma Jonas, Aboutaleb's chief of staff, was put in charge of the frantic operation. "In one minute, I went from the manager of the mayor's office to the manager of the Volendam," she said. Jonas decided to bring 1,300 refugees onto the ship, fearing overcrowding if they filled it to capacity. That decision allowed them to allot each family its own room and avoid placing anyone with strangers. Rutte's government — which said it would be "generous" to the Ukrainians — fast-tracked funding (€100 per refugee per night) that covered the refugees' lodging, food, and a personal allowance of €55 per month. Holland America kept the Volendam fully staffed with nearly all its amenities running. Only its casino, pool, and a high-end steak restaurant were closed. Other Rotterdam public employees pitched in. A team of nurses was onboard around the clock, and there were even librarians to read to the kids when they weren't using the playrooms, basketball courts, or tennis courts.
The Dutch Salvation Army provided 50 social workers to serve as the Ukrainians' first point of contact for any issues onboard. Gert-Jan Freeke, the Salvation Army staffer in charge of the Volendam project, assigned each social worker to a small group of refugees, helping them do things like create bank accounts and make doctor's appointments. To bridge the language gap, sometimes they used Google Translate.
The ship felt like a village, said Jonas, "Everything happened." Women received news that their houses had been destroyed or their husbands killed. Someone was diagnosed with breast cancer, and a couple got divorced. There were joyful moments, too, like the birth of two children aboard the ship. One night, the refugees put on a performance in the ship's 650-seat theater with children singing Ukrainian songs.
But there was one factor above all that made ship living bearable: The refugees could legally stay and work in the Netherlands for up to three years under rules enacted across the E.U. this spring that applied to Ukrainian refugees only. Employment agencies helped many of the ship's residents get jobs in local factories, restaurants, and bars. Others found work as street vendors. The Volendam was docked near the city center, and refugees bought bikes to ride into town. Their children were enrolled in Dutch schools. Originally, the city organized classes for them in Ukrainian ("We thought, Maybe the war will be over quickly so they can go back," Jonas said), but as the conflict dragged on, they started teaching the children Dutch.
However, the same privileges haven't been afforded to other refugee groups who arrived earlier — including those from countries like Syria, Afghanistan, Somalia, and Nigeria. Some of those refugees are in Rotterdam but living on smaller "river cruise" boats that can house around 150 people each, according to Jonas. The double standard troubles her — these migrants, who fled war and persecution, "are not allowed to do anything. It's really depressing for everyone," she says. But only the national government (or the E.U.) has the power to give these refugees work authorization, and under the current administration, that seems unlikely.
For Jonas, the silver lining in the short-term Volendam stint is that it helped buy time for another promising housing initiative. In March, suspecting that the war would outlast the ship's charter, city officials started looking for unused structures like office buildings, nursing homes, and churches to convert into dormitories for the refugees — Jonas was "surprised by how many buildings were empty." She says it was "really easy" to add shared kitchens and bathrooms to the spaces and "in a few months' time, we had thousands of beds in different buildings," which refugees moved into in September. There are about 20 refugees to a kitchen, but they have "no issues" taking turns, she says. The goal is to eventually transition the Ukrainian residents into more permanent housing, then to repurpose the dorms for students, other asylum seekers, or low-income residents.
So should more governments embrace the use of cruise ships as emergency shelters? Valerie Kierkels, a spokesperson for the nonprofit Dutch Council for Refugees, which has sued the government over its migrant policies, said using ships like the Volendam is preferable to putting people in tents. But she cautioned against placing ships in remote areas ("That makes it difficult for refugees to connect with society") and said the nonprofit's preference is for governments to "accommodate people sooner in more permanent shelters."
Josh Goldfein, a staff attorney at New York's nonprofit Legal Aid Society, agrees. The only way to solve the problem of overcrowded shelters is to move more shelter residents into permanent affordable housing, he says. Just this week, Mayor Adams announced a set of reforms that expand the eligibility for CityFHEPS, the city's low-income-housing vouchers. But he left in place a rule that New Yorkers must stay in a city shelter for 90 days to qualify for the program, which Goldfein and other advocates have long opposed. And the administration excluded undocumented immigrants from the voucher expansion (who generally are not eligible under current rules).
Without more robust housing reform, cruise ships will likely remain an option for cities grappling with sudden surges of migrants. Amsterdam officials recently called Jonas to ask for advice before launching their own cruise-ship housing initiative for migrants. "I said, 'It solves your problem quick, but it's a short-term solution,'" she says. "I really think that it's not healthy to keep people a year in a boat's cabin with everything taken care of for you. It's a strange way of living."