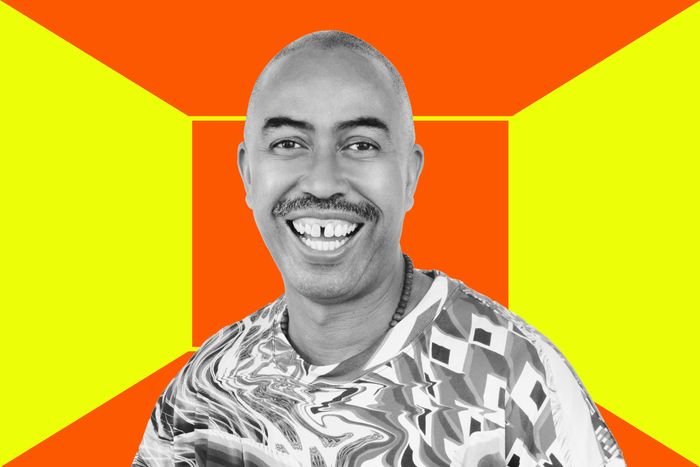 Photo-Illustration: Curbed; Photo: Courtesy of the artist
A lot of us did small home-improvement projects during the pandemic, but educator and industrial designer Stephen Burks took the "shelter in place" order as an opportunity to invent new furniture: a woven "cabinet" for a flat-screen, a small memorial altar based on Southeast Asian spirit houses to help his son grieve family members who died, and pedestal-like stands for small electronics so his partner, the cultural strategist Malika Leiper, could turn their living room into a home office. Those pieces, and more, are part of "Shelter in Place," a new retrospective exhibition at the High Museum in Atlanta, which runs through March 5, 2023.
Name: Stephen Burks
Age: 53
Neighborhood: Boerum Hill
Occupation: Industrial Designer
What's hanging above your couch?
A large photograph by Paul Mpagi Sepuya from his Screen series.
What's the first job you had in New York? 
At the risk of dating myself, I did displays for Barneys in the early '90s. The store had these funny windows all the time and it was like you were always in Christmas-window-display mode coming up with wacky ideas. As a young student from Chicago, it was thrilling to see the inner workings of presentation and display on the scale of the Madison Avenue flagship.
What color are you always drawn to? 
Warm colors attract and comfort me, so the orange, red, and yellow side of the spectrum. Terra-cotta is my favorite color of all.
What work of art or artifact are you most surprised you own?
I recently got a big wood block from the designer Jonathan Muecke. It's a solid-oak cube with intricate joinery that must weigh 200 pounds. It's really dumb in the simplicity of the idea, but it's incredibly sophisticated in its execution. I remember when I brought it home, I thought, This is just a big block of wood. You don't want to talk about how much it costs or what it does. It's become a side table that someone occasionally stubs their toe on.
Which New Yorker would you want to hang out with?
About 20 years ago I met Fran Lebowitz at a party. She was the most New York of all New Yorkers I'd ever met. I know it's hard to believe, but we spent what seems like hours talking about the most mundane things in the funniest way. I couldn't believe that I was there in conversation with her. It was kind of romantic in a comic, intellectual way. But then at one point she excused herself and I never saw her again. I'd love to pick up that thread with her.
What's the last thing you made with your hands?
Our practice is called Stephen Burks Man Made, so everyone thinks we make everything by hand, but we don't; we integrate what we think of as handmade techniques into industrial production. But we spent the whole month of August making prototypes of the "Shelter in Place" project for the High Museum.
Is there one thing you own multiple versions of?
I'm a huge Dries van Noten fan. Whenever he introduces T-shirts, I always buy two of them. The most flattering question I get when I wear them is, Did you make that? It's like, Wow, I wish I had.
What New York City museum do you always go back to?
The Whitney. I'm not the biggest fan of the Renzo Piano building — it's kind of like a boat, right? — but I love the big column-free galleries and outdoor spaces.
What do you always have next to your computer? 
A large Blue Bottle New Orleans iced coffee. It's like the chocolate milk of coffee. As my son likes to remind me, I'm addicted.
Where is the best view of the city?
The Empire State Building, if I could bear the lines and throngs of tourists.
What building or object do you want to redesign every time you see it?
I'm never really satisfied with the outcome of my own work, regardless of how successful it is. Whenever I come upon my old things, I'm pleased — it's like a surprise of meeting an old friend — but I'm sitting there studying them and rethinking all of the details and how I would do things differently today. It's an internal obsessive-compulsive exercise that I do on my own and try not to reveal to others at the risk of sounding insane.
What's one thing you would change about your field?
The existing 3 percent royalty standard for the furniture industry was established in the late 1920s by Gilbert Rohde and Herman Miller, and it fundamentally hasn't changed in 100 years. At the time, Herman Miller was broke and couldn't pay Rohde a design fee, but the designer was so confident in his ability to make something that would sell so he came up with the idea that the designer would get just 3 percent of the sales price. It's a bit arbitrary, and I think a full reevaluation of the standard is necessary.
If you could live anywhere in New York City, where would it be?
I love the area around Bond and Lafayette, which is a little bit like no-man's-land. The scale is great: It feels like you're downtown in the city, but there is all of this world-class midsize residential architecture that you see in Europe but not very much in the United States. 40 Bond is my favorite residential building downtown. The green glass façade is killer and cast-aluminum gate was created by sampling graffiti from all over the city.
What would you hoard, if it stopped being produced?
My mom used to say I have "steak taste with a hamburger budget." I know it's not the way the world is heading, but I love a good steak and I'd probably hoard meat. I'm salivating just thinking about it.
What do you do to get out of a creative rut? 
Travel is my greatest source of inspiration, so I'd just go someplace else.
Where was your first NYC apartment and how much was the rent?
I moved to New York from Chicago in 1992, to go to grad school at Columbia, and lived in the East Village on Eighth Street between B and C. I found the apartment on a laundromat wall and it was $600 a month, which is more than any of my friends could imagine paying. It was on the top floor with two windows facing the Empire State Building from my bedroom and three windows facing the World Trade Center from my bathroom.
Where in the city do you go to be alone?
Central Park. It's my favorite place to be in New York. And you're not alone, of course, which is the best part. Because sometimes when you want to be alone it can be a bit depressing; maybe you've got heavy thoughts or some problem to solve.
Worst piece of career advice you've ever gotten? 
When I was in grad school, I lived and worked in Tokyo for a summer. I didn't want to go back to New York and finish my master's of architecture degree, but someone told me I should so I did. But since I'm not an architect now and never practiced architecture, I wish I stayed in Japan. I was working at Idée with Teruo Kurosaki, who discovered Marc Newson and introduced Philippe Starck to Japan. I wish I kept that good thing going.
What have you given away to someone that you wish you could get back? 
I had to sell a Lynette Yiadom-Boakye drawing during the recession. It was heartbreaking, but it kept my studio going. A friend bought it from me and he refuses to sell it back, though I don't think I could even afford it now.
What's your favorite NYC restaurant and regular order?
I struggle with restaurants in New York. Everything is so overhyped, overpriced, and the service sucks. But I love Wo Hop in Chinatown and always order the shrimp egg foo young. It reminds me of the Chinese food in Chicago that I grew up with.
What descriptive phrase do you want on your obit headline?
"He lived."