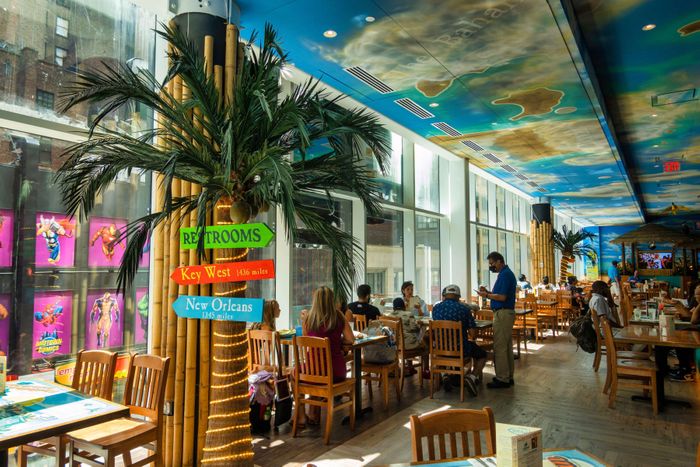 Photo: Patti McConville/Alamy Stock Photo
The 32-story Margaritaville resort that opened in Times Square last year has 234 guestrooms, five bars and restaurants (including something called the License to Chill bar), a Statue of Liberty holding a margarita, and an outdoor pool. There's just one crucial thing missing, according to a new lawsuit: a synagogue. Developer Sharif El-Gamal's Soho Properties purchased the building in 2013 for $61.5 million under the condition that the future hotel would include space for the building's long-term resident, the historic Garment Center Congregation. But it's been more than a year since paradise on earth (the Times Square Margaritaville) has been open and, as Crain's reported this week, the promised synagogue has yet to be built.
The Garment Center Congregation, founded in 1931 to serve what was then the city's bustling garment industry, had a 99-year lease agreement with an annual rent of $1 for its former space at 40th Street and Seventh Avenue. (The building was last owned by the New School and was where Project Runway was filmed.) The lease also included the condition that, should the building be demolished, the landlord would have to provide a comparable space for the synagogue in the new construction. At the time, El-Gamal agreed to put a 300-seat space in his Margaritaville.
In addition to the problem of the nonexistent synagogue, the lawsuit alleges that El-Gamal failed to pay the rent and maintain the lease on the temporary space the congregation moved into during construction. Last September, after the hotel opened, El-Gamal met with the congregation to do a walk-through of the area where he planned to put the synagogue. The lawsuit alleges that a proposal he provided the next month outlined a space that was 50 percent smaller than promised. "Although the Margaritaville Resort was completed and open for business, very little construction had been done to rebuild the synagogue, and the space appeared to be used for storage by Developer for a restaurant at the hotel," the suit reads.
El-Gamal has tried to buy the synagogue out of its lease, but the congregation claims that it became clear after "months of delays and stall tactics" that he was not serious about the offer. In the meantime, the side entrance of the Margaritaville intended for the new synagogue is "adorned with a marquee that states 'Rooftop Bar.'"