Megumi Arai and Alex Tieghi-Walker.
Photo: Maureen Evans, Courtesy of Tiwa Select, 2022
Megumi Arai, a Brooklyn-based textile artist, had an epiphany a few years ago during a residency at a 300-year-old papermaker in Japan. "I was pounding mulberry, and I was like, I'm in heaven," Arai says. The catharsis of pulverizing plants into fiber was enough to make her quit her job as a commercial photographer, which mostly involved working at a computer screen. "I needed to be working with my hands again," she says. Since then, she has taken up fiber arts, making delicate patchwork collages out of hand-dyed and found antique fabrics. In Arai's first solo show in New York, "Moments of Fulfillment," she presents a series themed around the four seasons. It's also the inaugural exhibition at Tiwa Select's new gallery and events space at 181 Mott Street in Nolita.
The shoji-inspired textile screens and noren-like wall hangings in the show demonstrate Arai's meticulous and obsessive attention to process. It begins with the dyes; she made her own from plants she'd foraged from Salmon Creek Farm, a commune turned artists' retreat in Northern California. She harvested them at their peak in each season: cochineal and rhubarb in the spring, cosmos and goldenrod in the summer, chestnut and persimmon in the fall, and walnut and rosemary in the winter. She then collaged together the pieces of silk, linen, and cotton she had dyed into quiltlike compositions, adding in accents of bolder vintage textiles, including an orange-and-blue kimono fabric and a magenta floral pattern from Eastern Europe, which bring together her Japanese and Jewish ancestry. "It's totally intuitive," Arai says of how she assembled everything. "It's like a feelings dance."
Arai's practice inspired Alex Tieghi-Walker to found Tiwa Select, the design shop he began in Los Angeles. As Arai recalls, the two met "totally by chance" in 2019 at Bar Basso (Milan's designer hangout) at 3 a.m and found they had a shared interest in antiques and artwork with a personal story. Tieghi-Walker was drawn to Arai's craft-based process and sought out other artists like her who he sees as engaged in a "cycle of tenderness" — people who are intimately involved with each step of making something, so the final piece feels deeply personal. The other artists he represents, who are also on view at 181 Mott, include Jim McDowell, a North Carolina potter who makes ceramic face jugs inspired by the grave markers enslaved people once made; Dana Yolanda Arbib, a designer whose handblown glassware is inspired by vessels from Libya, where her family is from; and Andrée Singer Thompson, an 80-year-old artist Tieghi-Walker met in the San Francisco Bay Area who makes sculptures from found objects that are usually rusted and patinated.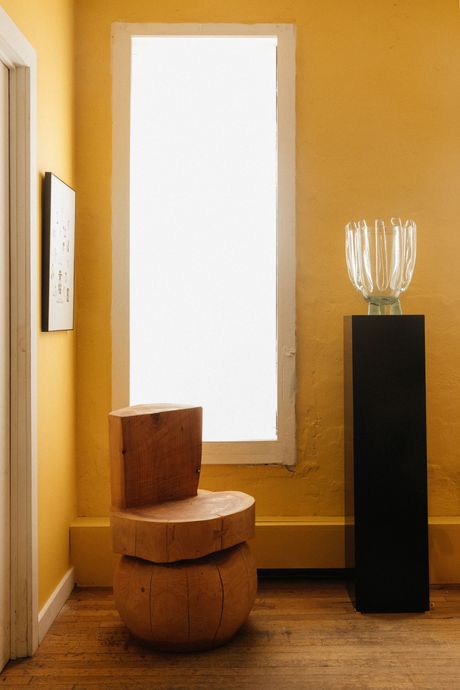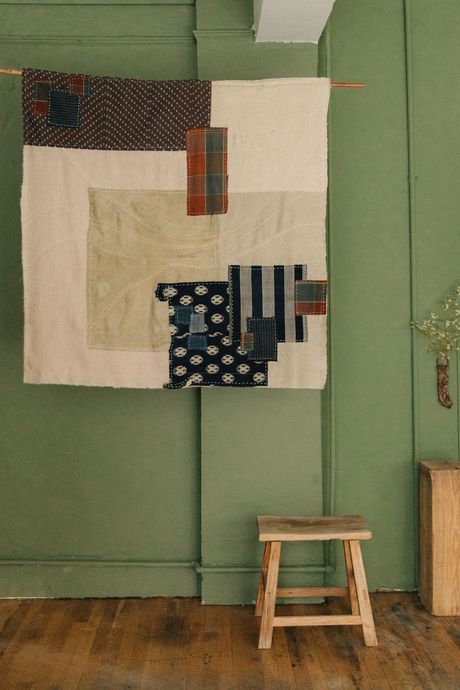 Tieghi-Walker decided to launch a New York space because of the city's gallery culture of "let's just walk by," which is more open-ended than in L.A. The gallery itself reflects this. Tieghi-Walker looked for a building that was "very characterful and soulful," he says. He knew his first show would be of Arai's work, so he wanted something that would complement her textiles. 181 Mott was most recently the site of the boutique Warm before it closed during the pandemic, and as Tieghi-Walker discovered while looking at a municipal archive of 1940s photographs, it was once the storefront and storage facility for an olive-oil merchant. Some of the iron beams and storage closets from that era are still visible — details Tieghi-Walker appreciated as a palimpsest of the previous occupants' influence on the space. The renovations so far, by Currie Ritchie, have been light: removing as much of the contemporary finishes and fixtures as possible and painting the space in mossy green and golden yellow. "We kept it very human and atmospheric," Tieghi-Walker says.
Tiwa Select is just one half of 181 Mott, which will fully open in early 2023 with a kitchen and event space run by the chef Chris Kronner on an upper floor of the building. Tieghi-Walker plans to host other galleries in his space too. "I don't want this to be a fortress of art; I want it to be more like an open house," he says. "My aim is for the space to feel very convivial and communal." At the opening of "Moments of Fulfillment" last Thursday, the shoulder-to-shoulder crowd — designers, artists, editors, and the actor Abbi Jacobson — spilled onto Mott Street, drinking cocktails served in amber and blue tumblers by Mamo. You could almost mistake it for Bar Basso at 3 a.m.