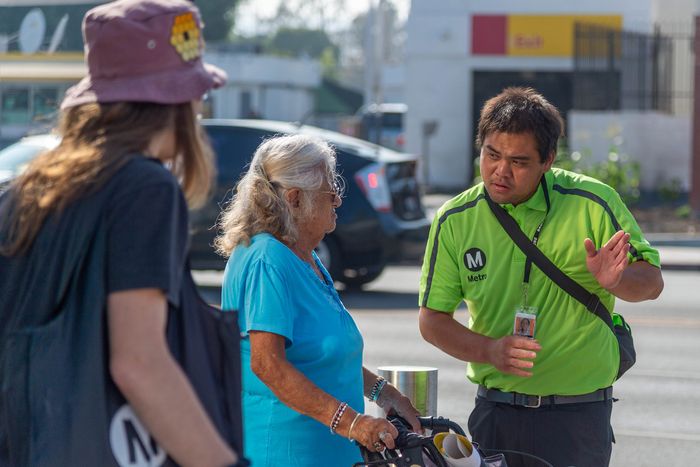 L.A.'s public-transit agency is deploying 300 transit ambassadors across its system, the largest program of its kind in the country.
Photo: Courtesy of LA Metro
As far as I can tell, the job of a Metro transit ambassador is meant to fall somewhere between a TGI Fridays host and Sesame Street character. Within minutes of my arrival to the plaza of the Expo/Crenshaw station, a colorful glass box ringed by palm trees marking the northernmost stop of Metro's newest light-rail line, one of the neon-shirted ambassadors approached me with a cheerful, unprompted question. "First time on the K line?" she asked. I wasn't the only rider getting ambassador attention: It was the first week of the pilot designed to "create positive and compassionate interactions" on Metro through a team of service personnel trained to answer questions, give directions, load fare cards, and generally act friendly. Some passengers filtered right past the ambassadors, while others stopped to ask about bus transfers or if the K line was even open to begin with. In the bustle of the morning commute, just the presence of a handful of upbeat (but not annoyingly so) people, some wearing colorful buttons with the letter names of Metro's seven lines, was a subtle upgrade to the vibe. This is more or less the point.
The ambassadors program was first proposed by Metro's public-safety advisory committee in the summer of 2020, in the months after George Floyd was murdered by police and as uprisings against racist police violence erupted across the country. At the time, Metro's policing contracts — about $800 million annually — happened to be under review, and the committee saw an opportunity to shift the agency's approach by canceling deals with law enforcement in favor of an unarmed model of service and intervention. (Advocates also believed this would go a long way toward addressing racial profiling on public transit: Half of all Metro citations are issued to Black riders, even though only 18 percent of riders are Black.) What materialized two years later is closer to a customer-service program to supplement the law-enforcement contracts that were left very much intact. The job description is more like transit-employee triage: In addition to their help with directions and basic troubleshooting for commuters, ambassadors are meant to determine when a situation should be handed over to cleaning crews, social workers, or the cops. But even though the program isn't exactly what anti-carceral activists had hoped for, it's still a significant step in the right direction, says Scarlett De Leon, one of Metro's public-safety committee members and a campaigns director for Alliance for Community Transit. The ambassadors may be the human embodiment of Metro's customer-experience department, but they're a very good one, and they provide a welcoming, unarmed presence. "If it's successful, we can roll out more alternatives," says De Leon. Outfitted with shoulder bags filled with line maps and public-art guides (and a radio to call for backup if they need it), the ambassadors are an experiment on what it means — and what it takes — to make transit feel safe.
According to Metro's 2022 customer experience survey, Metro's riders — who are overwhelmingly people of color, overwhelmingly low-income, and disproportionately disabled or homeless — are fairly united in what they say they want from the agency: reliable service, clean platforms and vehicles, and a feeling of safety as they move from point A to B. (Overall, crime on Metro is still below pre-pandemic levels, though reports of violent crime are up compared to 2021.) The ambassador program is designed with those concerns in mind — to reduce what researchers call "victimization," where passengers feel unsafe because of transit-riding conditions, which is about much more than crime. Vandalism and disrepair — broken elevators, smashed rail maps, dirty stations — can contribute to feelings of victimization, and ambassadors are trained to report these cleaning or maintenance issues using a Metro-customized 311-like app. On the still-spotless K line, I saw crews move fast to whisk away litter on the platform, although it's unclear if the same requests will be resolved that quickly elsewhere on the busier parts of the system.
Ambassadors are hired by two contractors that recruit through existing community groups, resulting in a diverse, multilingual workforce with lived experience taking transit. They're trained in-house by Metro, with half of their 80 hours of coursework spent in the field, riding the B line from Metro headquarters in Union Station. The curriculum is focused across three key areas (which are also printed across the gray jackets worn by ambassadors on chilly mornings): support, connect, report. In addition to crisis-intervention techniques like trauma-informed response and de-escalation strategies, the county contributed new training on how to intervene during hate crimes, and Metro's own civil-rights department led a session on disability awareness to assist passengers with ADA access issues. They can, as they did for me, walk up to a semi-lost-looking person and help them figure out where they're going. They can tell you when the next bus is coming by consulting a real-time-arrivals touchscreen. They can even connect you with housing, a meal, or services (since 2018, Metro has employed social workers to assist with homeless outreach).
But beyond all this, sometimes the simple fact of an ambassador's presence is the point: "Researchers found that poorly guarded or empty areas on the train and platform contributed to not feeling safe riding the train at night," says Madeline Brozen, deputy director of the Lewis Center for Regional Policy Studies at UCLA's Luskin School of Public Affairs. Transit ambassadors add people to bus and train lines during off-peak hours when there are fewer riders and commuting can feel more desolate, she says, even though the hours ambassadors currently work — 6 a.m. to 10 p.m. during the week and 8 a.m. to 10 p.m. on the weekend — don't yet cover Metro's most desolate hours. Still, it's an improvement. "The public realm needs more people looking out for other people," says Brozen.
There are limits to what an ambassador can do: Anything that falls under enforcing the code of conduct or handing out citations is up to Metro's black-uniformed security. Outside of an ambassador's jurisdiction: stopping a fight, waking someone up who is sleeping on the platform, checking a TAP card to make sure the fare is paid, or telling someone to stop smoking on a train. If ambassadors believe someone is committing a crime, they are instructed to call 911. "Metro ambassadors assist our riders as they navigate the system," says Jennifer Vides, Metro's chief customer experience officer, "while at the same time increasing our eyes and ears to report any cleanliness or maintenance issues, as well as suspicious or unruly behavior to ensure a quicker response."
Metro's program is too new to offer much data about impact, but a similar program on the San Francisco Bay Area's BART — a system much smaller than L.A.'s — has had ten ambassadors on its trains for two years. The thinking behind the program is similar to L.A., although BART's ambassadors work in concert with the security team; as BART police chief Ed Alvarez said earlier this year, the ambassadors fight crime by "responding to calls that free up my sworn officers for other emergencies." The numbers may reflect that reality: Compared to 2020, violent crime on BART was down 36 percent in 2021, and electronic-item thefts were also down year over year, from 47 events in November 2020 to 12 in December 2021. The presence of extra people isn't necessarily deterring all types of crime; as Next City reported, rider surveys showed that complaints of drug use increased from 18 percent in 2019 to 25.5 percent in 2022. But there is one promising data point: During the first six months of the program, BART's ambassadors called police for backup 66 times, which is less than 1 percent of the approximately 14,000 interactions they had with riders.
After my visit to the K line, I spent a few days riding back and forth on the B line, observing as the latest cohort of ambassadors did their thing at one of the busiest train stations in the country. The neon-shirted ambassadors were harder to spot than the black-uniformed security guards in the bustling underground stations, but they were there — easy to spot by their friendly smiles activated among the faces of decidedly less-enthusiastic commuters. According to Vides, in the first two weeks of the program's existence, ambassadors saved three lives in these stations, including administering CPR before first responders arrived. But just like on the K line, the ambassadors I talked to said their most frequent interactions were giving directions and generally helping people make their way through the system. At the very least, this is what riders deserve.