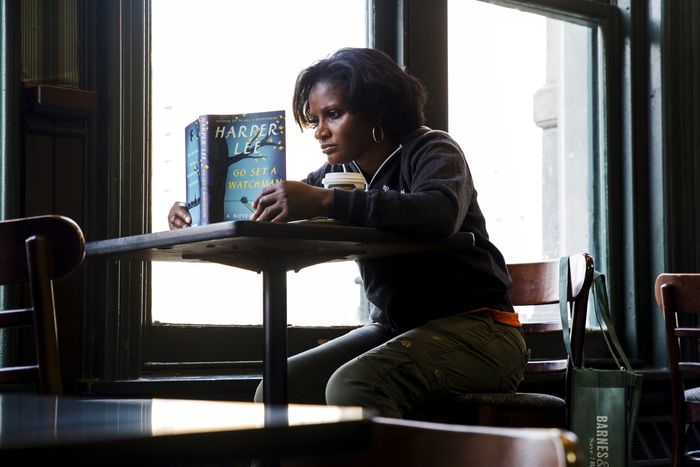 Photo: Lucas Jackson/Reuters
Barnes & Noble is reopening on the Upper East Side, and you'd think it was never the enemy. The chain that was once fictionalized as the devouring book-Borg of You've Got Mail closed down its East 86th Street branch in 2020 and this week announced that it will return in a smaller space at Third Avenue and 87th Street. This time, the neighborhood is rooting for it. "Wish it was bigger!" an online commenter wrote. "It was a sad day when they closed the 86 St store" and "Love that store!" and "Great! A new place to pee," others offered. And there was a flood of requests for more departed B&N stores to reopen: in the Bronx, in Bayside, in Forest Hills.
That a B&N is replacing a closed Duane Reade is great for the neighborhood. (That's no knock on Duane Reade, which is a reasonably nutritious part of an urban retail diet, but Manhattan has a surfeit of drugstores and a dearth of bookstores.) It also continues to confirm that the heartening rehabilitation program for B&N's bookstores instigated by its newish CEO, James Daunt, is working. The dumpy stores are getting overhauled, the closures of the past few years are being reevaluated, and the crassest marketing practices have been chucked out, and he has a fine grasp of how big (or not) and how driven by centralization (or not) a neighborhood bookseller ought to be. The former 86th Street store was at the base of an immense 2007 condo with a mostly glass façade, and its space is now a Target. The new one on Third will be in a 19th-century building that once housed a garment factory and a dance hall. Which one is likelier to feel like a bookstore? It's not a tough call. Besides, in its great pushback against the Store That Sells Everything and Started With Books, B&N has become not the Borg but the underdog, and people are more inclined to support it. The company has opened 16 stores in the U.S. this year and says 30 more are due in 2023.
All those comments remind me of something more, though. A lot of the response centered on the utility of the old 86th Street store in realms besides bookselling. People sit and read at B&N, sure, but they don't buy a book every time. Teens might hang out in a hidden corner. Neighbors and nannies might catch up in the café. To another, more shortsighted retailer, that might seem a problem — but it isn't, not really. Get people used to hanging around your store, and they may not make a purchase every time, but they will buy some of what they read. If they come in often, that will add up. It appears that Daunt and his group understand that, which is a good thing.
Even more important, those sorta-shoppers have somewhere to sit, period. The increasingly hostile architecture of New York and other cities, meant to deter unhoused people from setting up camp, now means that it's surprisingly hard for anyone, let alone someone homeless, to get off their feet. If you look presentable, you can go into lots of stores and browse, but very few have seating. Street benches are comparatively rare, except in districts where a BID installs and keeps an eye on them. Even if you find one, they're of limited use in cold weather, doubly so if you're older. Public libraries are the ideal, and a civic treasure, but there aren't enough of them and their hours have often been slashed. Your only choice, usually, is to find a barstool, and that's fine if you're so inclined, but it shuts a lot of people out. (Particularly, say, before noon.) The chain bookstore, with its club chairs and long tables and nice lighting, has accidentally become a surrogate for the community centers we ought to have in far greater quantity. It's distressing that we have, by inaction and poor civic choices, outsourced this function to a private company that can remove it at will. But at least this one is coming back. Along with the prospect of — yes! — decent bathrooms. Got2GoNYC must be delighted.
Now then: Can we get back the Barnes & Noble Sale Annex on 18th Street, the remaindered-titles clearinghouse where, several decades ago, I routinely spent my allowance? That would be best of all.