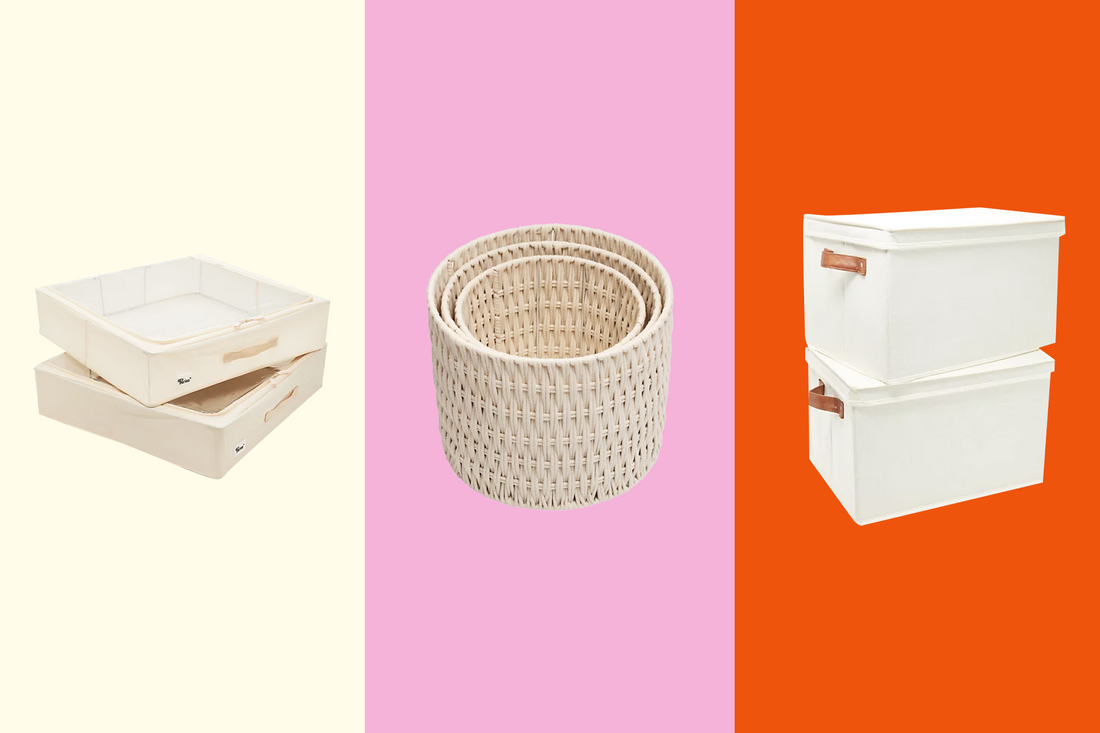 The holidays can be many things: magical, exciting, happy, dazzling. They can also be, let's just admit it, stressful, overwhelming, hectic, and not always the most restful. Between trips to the mall, finalizing your guest list, and prepping your social calendar, it's easy to get lost in the holiday hustle.
As important as it may be to impress your mother-in-law with the perfect gift or to master your grandmother's stuffing recipe, taking care of yourself and your home is more essential. And since shopping is unavoidable this time of year, why not spend some of your time investing in feel-good items that will help you stay organized, calm, and potentially even on top of your upcoming New Year's resolutions?
For Under the Bed
When your closet's full and your drawers are maxed out, it's time to take up real estate in other concealed areas — like under the bed. These handy boxes will help you declutter without overwhelming the narrow space between the floor and box spring. It's a great way to store your jeans, shoes, extra blankets, or anything else that may be laying around taking up precious space.
For the Entryway
Any entrance area is a high-traffic zone, which means it's destined to look disheveled from time to time. While foot traffic is unavoidable, getting a handle on it is completely possible. This shoe and-coat rack combo is a sleek solution for nipping clutter in the bud as it walks through your door. It even gives miscellaneous items like umbrellas and hats a homebase so they're always within reach.
For Sneaky Storage
If you're constantly on the hunt for more places to stow things, this hybrid piece of furniture is your answer. To you, this ottoman is a game-changing storage bin for toys, blankets, candles, you name it. To everyone else, it's a comfy seat or foot rest that gives any room a stylish, homey touch. It's subtle, durable, and most importantly, will help your floors stay clean.
For Quick Organization
This cubby organizer sorts your items in a compact, visible way. It's perfect for bags, shoes, books, and anything else you may need to quickly stash or snatch. You can place it inside a closet to create a custom feel or stick it by an entryway to keep shoes and miscellaneous items in check.
For Staying Centered
Creating a sense of calm is all about relaxing your senses. Dim the lights, make yourself cozy, and unleash the comforting scent of essential oils. Coupled with light mist, the aroma will help turn any space into a tranquil one. This diffuser features a continuous mist mode that lasts up to six hours, plus automatic shutoff if you happen to feel so at peace you fall asleep.
For Odds and Ends
Is there anything more satisfying than a designated spot for anything and everything? If you're passionate about tidiness, you can count on these rope baskets to bring you joy. Stuff them with blankets, cords, and knick-knacks; slide them in a corner, and let them sit there looking pretty. The set includes a small, medium, and large basket for maximum storage variety.
For Seasonal Items
Rather than tossing your out-of-season decor or supplies into cardboard boxes that won't last, try a more systematic approach. Keeping everything in durable, stylish bins will help you breathe easier every time you reach for something you need. These fabric boxes are the perfect size for tucking away things like ornaments, string lights, candles, and greeting cards. Just shut the lid, stack them for space, and close the closet door.
For the Vanity
Peace of mind is much easier when your bedroom is in order. If your vanity or dresser has turned into a giant catchall, this is your sign to get a hold on it. All you need are a few smart storage solutions, like this makeup and jewelry display case. Made to keep your essentials organized and right where you can see them, digging around for your favorite eyeliner will be a thing of the past.
For Keeping Cozy
Unwinding is infinitely easier when you have something soft and warm to cuddle up to. This throw features five temperature settings, a detachable controller, and best of all, it's machine washable. Before you know it, your worries will be melting away. And when you fall asleep with it turned on, the auto shut-off feature will kick in for your safety.
For a Touch of Design
More than just a storage space for books and decor, this shelving unit is a stylish and easy way to elevate your home. It's perfect for that bare wall you're unsure what to do with or your office corner that could use sprucing up.
For Elevated Comfort
There's something about owning high-quality towels that makes you feel like a true adult. This 100-percent-cotton set includes two bath towels, two hand towels, and two washcloths. It's an easy way to give your bathroom an instant spa-like feel. We especially love the set's elevated textured design and lasting durability.
This advertising content was produced in collaboration between Vox Creative and our sponsor, without involvement from Vox Media editorial staff.