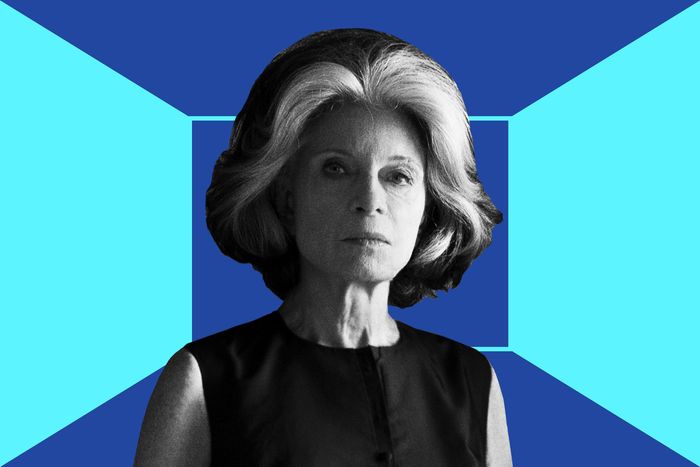 Photo-Illustration: Curbed; Photo: Julia Hetta, Courtesy of Deeda Blair
New York's "21 Questions" is back with an eye on creative New Yorkers. Deeda Blair is a style icon and medical activist and philanthropist who was on the front lines of pioneering AIDS research. She founded the Deeda Blair Research Initiative for Disorders of the Brain in 2016, and is the author of Deeda Blair: Food, Flowers & Fantasy, which presents glimpses of her life and travels with her late ambassador husband William McCormick Blair, Jr., along with recipes, tips on entertaining and depictions of fantasy meals. The proceeds of the book will go to her foundation.
Name: Deeda Blair
Neighborhood: Turtle Bay
Occupation: Founder of the Deeda Blair Research Initiative for Disorders of the Brain
What's hanging above your couch?
A Kenzo Okada. He was a Japanese painter we knew. He began the paintings in Japan and then finished them here. And for me, the picture is serene but still interesting, and of course it has all the colors that I love.
What's the first job you had in New York?
When we first came, which was 17 years ago, I met a very interesting man, Joel Marcus, and a woman who worked with him. He started a real estate business for biotech companies, venture capital companies, and built a beautiful group of buildings here on First Avenue right near the hospital called Alexandria Real Estate Equities. It had a state-of-the-art conference room, and so we did summit conferences. They were very curated, and we would speak to the participating scientists for an hour or so as a group. We did oncology and neuroscience and then we did one or two on philanthropy. That was the first and only New York job. I resigned about 5 months before Bill died. I still attend or listen to them.
What color are you always drawn to?
Chalky colors. Chalky blue and chalky pale lilac, and black and white.
What art or artifact are you most surprised you own?
There's a drawing in the living room by Hubert Robert and it's one of fantasy ruins. I always loved them. I saw this at the antiques show and I got a dealer to go and sort of persuade them to charge a little less. I never thought that I'd have a Hubert Robert drawing — although there are drawings and things around, there are no major pictures; I don't want something unless it is terrifically wonderful.
Which New Yorker would you want to hang out with?
Harold Koda, Samantha Boardman, Andrew Solomon, Anne Goldrach, and Caroline Millbank…. the list goes on
What's the last thing you made with your hands?
The dust jacket to the book (Deeda Blair: Food, Flowers and Fantasy). I'm not sure that Charles [Miers, the publisher of Rizzoli] loves the idea, so I call it the wrapping.
Is there one thing you own multiple versions of?
Years and years ago I found a shop in Paris that had jackets with a Mandarin collar, and they came in wonderful colors. I'm home a great deal, working, and that's my work costume, and that's the only thing I have multiples of. I have at least 6 of them.
What New York City museum do you always go back to? (and why)
The Metropolitan. You usually go to see an exhibit. But I think you can go and see something because you're in the mood for it. I mean, how many times have I gone and looked at the Wrightsman Rooms? To wander through the Egyptian wing or to wander through the Greek and Roman rooms is the greatest pleasure.
What do you always have next to your computer?
I don't use a real computer, I use an ipad or a telephone, so there's nothing always next to it.
What is the best view of the city?
I love the view out my window, which is the ruin on Roosevelt Island. They planted wonderful trees over there, and they have so far left the ruin alone, and I just love that.
What building or object do you want to redesign every time you see it?
I don't have an answer for that.
What's one thing you would change about your field?
I would like to see much more philanthropic funding going into medical research on disorders of the brain. I read something the other day, and I don't know whether it's an accurate statistic or not, that only 5 percent of philanthropic funds really goes to medical research. It seems off to me…so I would say, not enough. I mean people give megabucks to the opera, to the symphony, all kinds of glorious cultural things. I took a long time in figuring out this research program that I am doing to find out what is missing and what is needed. I think when you can identify young people who have been through medical school, have finished a residency and are going off to Stanford or Yale — they need start-up funding.
If you could live anywhere in New York City where would it be?
Well, I think I would live closer to the Met.
What would you hoard if it stopped being produced?
I am a hoarder of paper: it's letters, it's articles, if an article interested me five years ago; it is still here, and eventually findable.
What do you do to get out of a creative rut?
I'm never in a creative rut, I'm always thinking of things I want to do.
Where was your first New York City apartment and how much was the rent?
Here, on 52nd Street.
Where in the city do you go to be alone?
I used to walk so much and I can't anymore because of my back. The bedroom with the door shut.
The worst piece of career advice you were ever given?
A very selfish person I didn't even ask for advice from felt compelled to tell me I should not work professionally for a venture capital group, and it was a venture capital group entirely devoted to healthcare. We did the first gene therapy company, we did a number of firsts, and I paid no attention, and thank god I didn't.
What have you given away to someone that you wish you could get back?There's one fantastic Givenchy evening dress that went to a museum. It was special in that Hubert let me change things — he wouldn't let everybody change things. I wore it for years and I remember one time I was in Paris and was invited to something divine that required a glamorous long dress and it was sent by DHL and not a wrinkle. It never wrinkled. It was heavenly.
What is your favorite New York City restaurant and regular order?
Well, obviously, that changed with Charles Masson gone [the owner of La Grenouille], so I did go to Majorelle a lot, and always had Dover sole.
Descriptive phrase you want on your obit headline?
I have a hard time coming up with anything because there is no way of saying "a massive amount of curiosity." There's no way of saying that! So I suppose the word, kind, or helpful; I don't know.