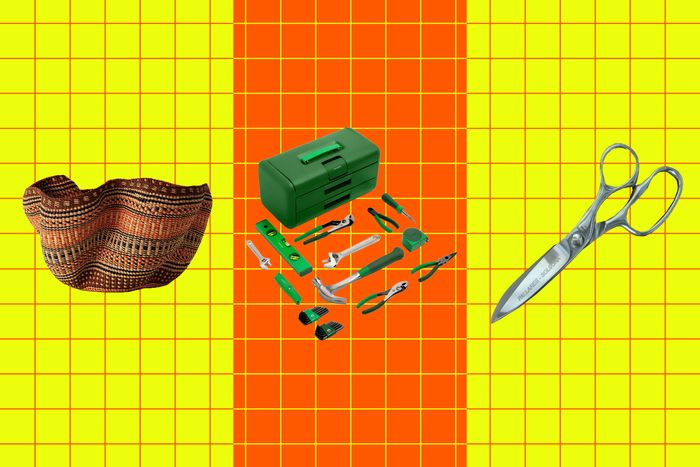 Photo-Illustration: Curbed; Photos: Retailers
Some people spend years looking for the exact side table that will pull a living room together, secure in the knowledge that once they've found it, that's it — the space is done. Other people decide at 4 p.m. on a Wednesday that it's time to replace a light fixture, rearrange a few frames on the wall, and, while they're at it, rip out the backsplash in the kitchen and go tile shopping.
This list of gifts has the second kind of person in mind. We chatted with architects, contractors, shop owners, Realtors, and perennial renovators to find out: What should you give the project-obsessed person in your life this year?
For Actual Renovations
"A really good level and a laser tape measure definitely come in handy when you're doing almost any kind of home project," says Realtor Megan Brenn-White. This tool is accurate to 1/16th of an inch, and the app allows you to sync measurements to photos and floor plans.
Kate Reggev, an architect at Beyer Blinder Belle (which took part in the New York Public Library renovation), says, "If I didn't already have a crazy mishmash of tools inherited from my father plus random items purchased ad hoc at Home Depot, I would absolutely love for someone to gift me this tool set in either the Sunshine or Character colorways. I can guarantee that every item in this set is something a new homeowner, renovator, or DIY hobbyist would use on a regular basis, and I know I'd want to use them even more frequently because of their fun colors."
"As a new homeowner, host, and shop owner, no tool has been more useful than the hammer drill — especially in a city with historic brick or plaster walls," says Kate Lauter, founder of Williamsburg homewares shop Feng Sway. "The power is unmatched, and it's ergonomically comfortable." She used it constantly, she says, during a recent renovation at the Sway Stays Artists Retreat in Palm Beach.
Bronwyn Breitner, an architect and principal at Breitner Ciaccia, a Brooklyn-based firm behind this Montauk microcabin, says, "I'm obsessed with these affordable, beautifully staged photos of pigeons of all varieties." The prints, produced by two Brooklyn locals—a photographer and a set designer — could complete a gallery wall or brighten up a quiet corner on their own.
For Something Practical
A small improvement that makes a huge difference? Whatever makes a home a little less noisy. That's why Bill Rohlfing, the owner of Uptown Townhouse, a design and project-management company that primarily renovates townhouses in Harlem, suggests a soft-close toilet seat: "It's the gift of silence," he says. (This will be especially appealing for one-bathroom households.)
An actually nice-looking firewood carrier is both stylish and practical, says Doug Maxwell, a managing partner of Upstate Modernist, a Rhinebeck-based building firm. "Look for waxed canvas with leather handles," he says — it will be handy for wood gathering and storage at weekend homes upstate or for carting Duraflames to your Brooklyn apartment after a trip to Home Depot.
One can never have too many houseplants, but they can also come with unwelcome guests. "Some bugs are way too small to see with the naked eye," says Peter Morris, a horticulturist at Plant Specialists, a landscaper that offers sick-plant house calls. "All you see in the damage are the symptoms." That's why he recommends a handheld magnifier for both experienced and novice plant owners.
"These kitchen shears are impossibly sharp, well made, and indestructible," says Stefanie Brechbuehler, a partner at Workstead, the Brooklyn-based design studio. "The moment I had them in my hands, I knew they were special and bought them on my phone that very moment. They are made in Spain by a company that has been manufacturing knives since 1917, and you can use them in the kitchen, of course, to break down chicken, slice chives or herbs directly over a salad (one of my favorite uses), or simply breaking down tough packaging. They are a small and simple thing to gift that you can use, love, and pass along one day."
For Zhuzhing Things Up
Leah Solk, founder of Solk Architecture, is fond of this a petite table lamp from Marset. "I really enjoy the Dipping Light collection, because they come in a range of colors and have a beautiful handmade feel in the gradation," says the architect, whose projects include the renovation of a historic schoolhouse into a loft. This versatile light would work just as well in a living room that doubles as a home office as it would on a bedside table.
"Good lighting is an instant mood enhancer and lifter — at least for me," says Lisa Przystub, author of Upstate: Living Spaces With Space to Live, who occasionally shares moments from her own upstate home renovation on Instagram. "I've been questing for the perfect lightbulb for years now — these impart a warm rosy glow to any room they happen to be in, which is a big check in the plus column."
"A thoughtfully made, beautifully functional object adds texture into a home no matter what its current composition or upcoming transformations may be," says Madeleine Parsons, art director at Colony, a design co-op that features independent creators of textiles, lighting, and furniture. "The hand-woven Pakurigo Basket by Baba Tree offers creative storage without sacrificing form" — an ideal gift for anyone constantly misplacing things, which is especially easy to do in the middle of a redecorating spree.
After leaving her apartment of 27 years, design editor Wendy Goodman is just beginning to renovate her new place. She recently received this rose soup plate from a friend and thought it would make the perfect gift for someone else in the same situation. "There's so much chaos in a renovation, and if you can have one beautiful thing you can look at, it brings peace of mind and serenity," she said. "You think, One day my apartment will be settled, and here's something beautiful to look at in the meantime." While she recommends any of the John Derian x Astier de Villatte dinner or dessert plates, she particularly loves the size and structure of the soup bowl. "I literally use it for everything — I use it on my desk to hold special things, I'll use it to put nuts in while I think about something special to serve one day."