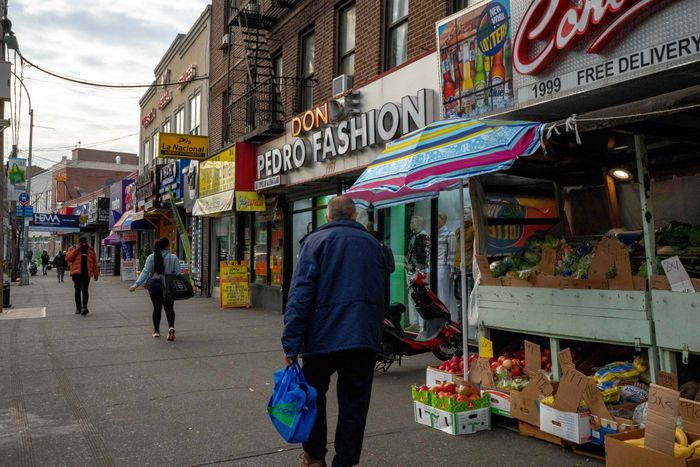 Photo: Desiree Rios/The New York Times/Redux
At the start of the pandemic, as nonessential services pulled down their gates under a mandatory lockdown, New York City moved quickly to launch a program to help keep small businesses afloat. In March 2020, before the Paycheck Protection Program had even kicked in, the city's Department of Small Business Services opened applications to dole out what ended up amounting to nearly $23 million in loans and almost $25 million in grants. But a new report out from the city's comptroller showed that the money wasn't distributed equally across the boroughs — and the Bronx fared worst.
Nanette Burke, who has run a day care out of her home in the Edenwald neighborhood of the Bronx for 12 years, ended up shutting down her business for six months as COVID first swept through the city. She applied for the SBS bailout but was ultimately denied. "It was a struggle," Burke said. "I lost all my revenue." According to SoBro, a Bronx-based community development group, 40 percent of Bronx businesses closed during the pandemic.
The two emergency-relief programs were first come, first serve, issuing loans to businesses with fewer than 100 employees and grants to those with fewer than five employees. According to the report, while Manhattan accounts for 37.7 percent of the city's small businesses with fewer than five employees, the borough received 63.1 percent of the grant funds, which were funneled mainly into Chelsea, midtown, Tribeca, and downtown. Meanwhile, the Bronx received 2 percent of grant funds, despite accounting for nearly 8 percent of eligible businesses. The loan program saw a similar geographical disparity.
The Bronx was hit hard overall by the pandemic. In the early months of COVID, data from the New York City Health Department revealed that the borough, home to many frontline workers, had the highest rate of COVID cases, hospitalizations, and deaths. A state comptroller report last year found that the Bronx was also hardest hit economically of all the boroughs, with the highest unemployment rate in the city. Burke said that she saw much of that impact firsthand, with many parents whom she works with still out of a job. She only managed to get by in the early months of the pandemic through unemployment benefits.
Part of the problem might have been that many Bronx business owners simply didn't know the programs existed. The comptroller's audit suggests that SBS could have done more "targeted outreach" to ensure business owners across the city were aware of the program. "The city mobilized swiftly to keep thousands of local businesses afloat, but poor administration of these programs meant our public resources were not distributed equitably," Comptroller Brad Lander said in a statement.
In their response to the audit, the SBS wrote that at the time the programs opened, there was "no known geographic or industrial impact due to the pandemic," which was why they operated on a first come, first serve basis. It added that "new data shows that many of the areas in Manhattan that the Comptroller stated were 'over-served' by this program experienced some of the highest net-loss of businesses since March 2020."
Burke says that the impacts of the pandemic have lingered — her day care still isn't at capacity. "It's a struggle all around," Burke said. Knowing about the disparity between boroughs, Burke says, "doesn't make it feel better."