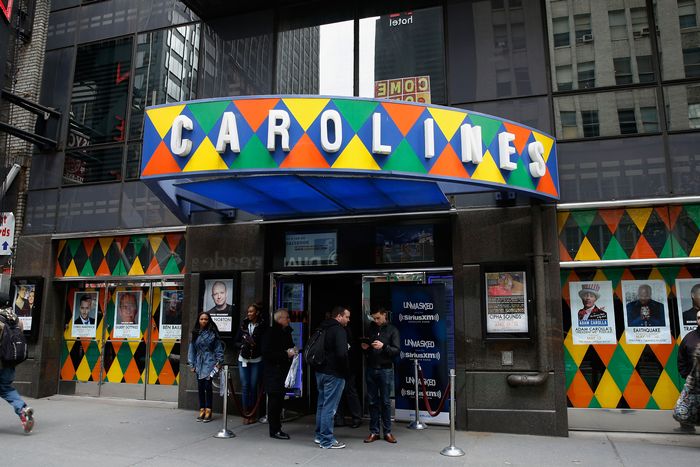 Photo: Cindy Ord/Getty Images
After 30 years in a dark, windowless basement just off Times Square, Carolines on Broadway is closing. Last call: December 31. Last solo act: Dave Attell. If comedians are weeping for the 300-seat club, that's because, in their world, Carolines is a kind of corporate Mount Everest — the place Tracy Morgan chose to do his first set after that nightmare car accident, the epicenter of the New York Comedy Festival, and a spot where upstart comedians still clamor to get onto a stage that helped mint celebrities (Jay Leno, Jerry Seinfeld) who were welcomed back to sell two-drink minimums. (The $21 rum-based Kevin Hart comes in a 30-ounce souvenir cup.)
Cristyne Nicholas, a rep for club owner Caroline Hirsch, said the story is a "standard landlord-tenant dispute." Standard except the landlord in this case is the real-estate arm of the Kuwaiti government's sovereign-wealth fund, Fosterlane.
Carolines occupies the dank basement of a sparkling 36-story, 561,000-square-foot office tower at 750 Seventh Avenue once owned by Morgan Stanley. When Fosterlane bought it in 2011, Carolines still had a year left on a 20-year lease with an option to renew for ten years, which it did in 2012. (According to the Real Deal, the firm bought 750 Seventh Avenue, along with its neighbor at 758 Seventh Avenue, for $485 million, or $800 per square foot. Those two buildings became Fosterlane's only holdings in the city after it sold 350 Park Avenue and Third Avenue's Lipstick Building, the former home of Madoff's Ponzi scheme.) It's upstairs neighbor, Ruby Foo's, wasn't so lucky. The restaurant's ownership group found itself in a legal dispute over whether it had properly notified its new landlord of its intent to renew its lease and alleged that the landlord was "trying to wring additional revenue out of the space."
According to Nicholas, Hirsch's rep, that seems to be happening again. She said Fosterlane offered a lease at a price that "doesn't make business sense" and is "way beyond market value." She says Carolines countered, offering to stay for six months or a year while the club found a new home and Fosterlane secured a new tenant, but Fosterlane didn't budge. "Unfortunately, 30 years of being a good tenant doesn't really count for much."
A person who answered the phone this morning at Fosterlane's U.S. office, in Atlanta, said, "We don't do interviews," and hung up. But Fosterlane may have motive to seek a tenant who can bring in more cash.
Meanwhile, Fosterlane's owner — the Kuwait Investment Authority — is at the center of a political struggle. The death of the country's emir in 2020 left a power vacuum just as oil prices plunged, and the KIA found itself running a monthly deficit of $3.3 billion. The war in Ukraine may have pulled oil prices up, but some of the fund's stock bets didn't pay off, and the government is still in crisis. This year, the political turmoil seeped into the investment fund itself with a fight between old-school employees and new-school reformers, forcing a leadership change that instilled a more conservative chief who's expected to bring the fund back to its "conservative roots," according to one analysis.
"Landlords in the past would come to the club," said Nicholas. "They knew the value of Carolines. That's a difference. I think that's a disconnect."