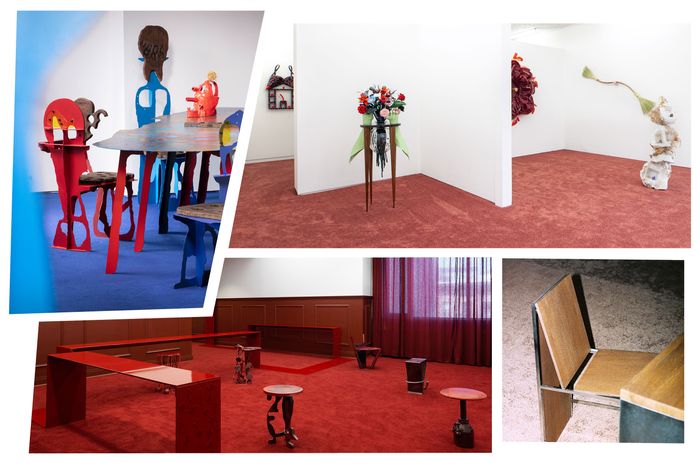 Photo: Joe Kramm/Courtesy R & Company, Courtesy of the artist and Mrs., Maspeth, NY, Dan Bradica/Courtesy of Performance Space New York and Project Native Informant, adrianna glaviano
Hear the words "wall-to-wall carpeting" and perhaps a bland suburban tract house from the 1990s or a musty hotel room will be the first images to come to mind. Whatever it is, it probably doesn't look good and it definitely smells bad. The floor covering even manages to cheapen the look of a $90 million condo, as is the case with casino tycoon Steve Wynn's recently listed Central Park South duplex. All of which is why I was surprised to see a revival of wall-to-wall carpeting this year in museums, galleries, hotels, and homes.
In these spaces, the carpeting, rather than receding, stood out in striking, saturated colors. The rooms instantly became immersive. In some exhibitions, the covering added a sense of intimacy, such as in MoMA PS1's exhibition on the photographer Deana Lawson, where a deep burgundy carpeting mirrored the domestic settings of her images. Similarly, by covering its floors with terra cotta–toned carpet, the design gallery Love House created a warm, apartment-like environment for Studio Haos's austere steel-and-wood furniture, which would have felt unapproachable set against a typical gallery palette of white walls and concrete floors. This was also the case with SFMOMA's "Conversation Pieces" exhibition of contemporary furniture, which cocooned the entire presentation in maroon carpet that not only extended to the walls but also ran up to the ceiling.
Elsewhere, the effect of wall-to-wall carpet was surreal. In a presentation of Rose Nestler's fabric sculptures at the Queens gallery Mrs., a slightly unsettling shade of mauve carpeting dialed up the unusual compositions of the artwork on view, like a red velvet stage with three stone tongues and a wall-mounted skirt ruffle with seven legs poking out from its edges. Similarly, R & Company's vibrant cobalt blue carpet in its exhibition of designer Serban Ionescu's whimsical furniture made the installation feel like a playroom. The intense, crimson carpet in Laila Gohar's apartment and in Dozie Kanu's "Blood Type" installation at Performance Space, filled with red tables and chairs he designed, transformed a color associated with galas and awards shows into something much more dreamlike.
The return of wall-to-wall carpeting feels part of a moment when cocaine-décor maximalism, like black-lacquered furniture and glass surfaces, is popular once again. The bar at Ulysses, a hedonistic new hotel in Baltimore developed by Ash, comes straight from that playbook, complete with velvet bar stools, a mirrored ceiling, and purple and magenta carpet.
It might be hard to remember, in an era where gray-planked floors seem inescapable, that wall-to-wall carpet used to be everywhere, a product of the postwar era when synthetic fibers became cheap and robust enough to cover large areas and withstand high traffic. Less expensive than other flooring materials like wood and linoleum, it took off with the midcentury building boom. And while it's fallen in and out of fashion — color-blocked 1970s interiors and McMansions both favored this type of flooring — it's never really left, though it's more common in offices and airports now. But, as we've seen this year, if you want to make a space stand out with a single move, vibrant wall-to-wall carpeting is one way to do it. And it is possible to do it extremely well. Case in point: designer Mark Grattan's Mexico City apartment and its seafoam-green living-room carpet, which was on the cover of Elle Decor last year. Or the Coming Soon founders' bungalow in the Rockaways, covered in a custom installation of Cold Picnic's patterned rugs. Just please, keep this feature out of the bathroom.