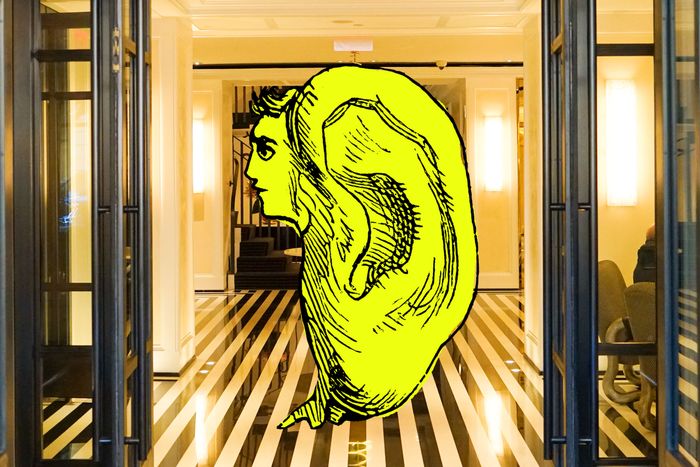 Photo: Inspired By Maps/Shutterstock
Living in New York means constantly, discreetly listening in — to breakups at bars, friend fights on the subway, and gossip about complete strangers or, from time to time, people you do in fact know. But what happens when you situate yourself in an ultraspecific spot around the city over an extended period of time and listen intently? You learn a surprising amount about the state of things. Here, we stood in the lobby of the Upper East Side hotel as guests checked in and out.
We have a Christmas tree here, but the rooms themselves don't come set with Christmas decorations. Yes, it's 100 percent possible, let me just see.
So you don't think we can do before three? My wife will be here at three and wants to shower.
We're high on occupancy today and early check-ins so we're not able to. But tell her at three, she can shower.
I will, but it's not gonna be good.
Have you stayed on the fifth floor before? Is it too loud for you? The seventh, in my professional opinion, is not as noisy. If you like, I can assign you back to the seventh.
She's on her way up.
So just wait for her on the seventh floor?
She's on her way.
Oh Jesus. 
They're gonna use us and break us and destroy us until there's nothing left. That's all they do.
Yes, we do, we have a fabulous hair salon. Frédéric Fekkai. I'm sorry, can you repeat that? For some reason your phone is going in and out. Absolutely, I'll connect you now.
It's good to have dreams. I want to wear a bikini again.
We're almost exactly the same size. Wanna go up and try mine on? 
I think Audi sold too many Audis. They don't have the support for it. When you call to have it serviced, you're on hold for 15, 20 minutes. And when you drive in to have your car serviced, you're outside 15, 20 minutes.
But is the actual service good?
No.
No, I get it, I'm just saying, like, they're going to see the document. There's a huge discrepancy in the cash balance.
I hear you, but once you go to market, it's really fucking hard to change it.
No, I get it.
I'm not worried about the agencies.
No, I believe you. I'm just saying … don't go to market.
So what, somebody needs a shoe shine? I can do it, right? Why not? I'm the best!
Yeah, you're the best. 
Wait, are you going back to shining?
I do all the things! That is how we roll! Next step, Hollywood!
Okay, so — hi, this is [X] from the concierge desk. The shoeshine guy is coming up to you.
Do you come here often?
Yeah, I do most of my fittings here now. 
Will you like a bottle of water?
Yes, please.
Chilled or room temperature?
Chilled.
Can we get into the restaurant now? I mean, they haven't had lunch yet, I haven't eaten all day, all night. This way we can eat something in the restaurant and have our things sent up? 
Oh, you want to go right away? You don't want to go upstairs?
… We're starving. 
We went to the Swiss Alps last Christmas.
Where are the ladies? I was just in the restaurant — where are the ladies? 
[X] and you have been dating for–
Two months. 
This is strange to me. How old is she?
52.
Wow! Age appropriate.
You make it sound like I run around with 5-year-olds.
He leaves, like, a white powdery residue on the desk, and she cleans it and has to go to the hospital.
Wait, so how did she get sick?
From the powder that he left. Listen, I don't know the whole story. This happened today.
That's what I love most about my friends from college is finding out the different regional vodkas. What was your regional classic vodka?
What? 
Ours is Ruby and hers is Prestige. What was the Connecticut one?
I live in the East Village.
Oh, I know the East Village. It used to be bad, bad, bad. Now it's very cool. Lots of girls. And Tribeca has always been hip. I think it's very cool to live in the East Village. Are you guys artists?
She is.
Own it! You're an artist, too!
Is this the place you saw on TikTok?
Yeah, I think it is. 
Do you ladies need help? Did you have a reservation, ladies?