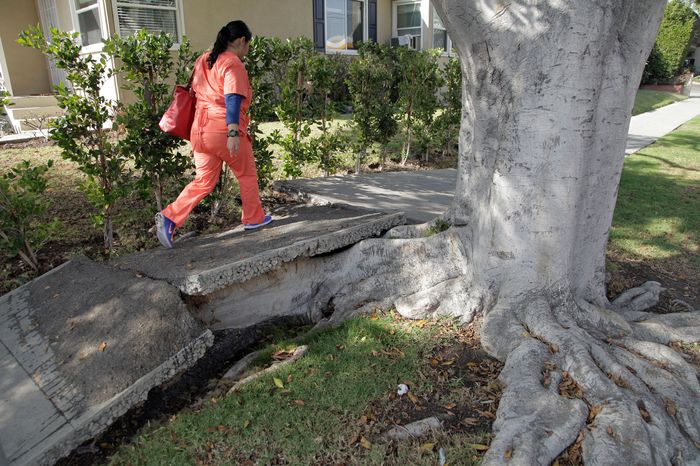 About 40 percent of L.A.'s sidewalks are estimated to be in need of repair.
Photo: Myung J. Chun/Los Angeles Times via Getty Images
On a sunny spring morning in 2017, days before he would be decisively elected to a second term, Los Angeles Mayor Eric Garcetti stood on a rare unbroken expanse of sidewalk in Sherman Oaks. For years, navigating this stretch of pavement connecting a block of apartment buildings to the Trader Joe's and bus stop on the corner had been grim — "before" photos printed out on foam core and displayed on presentation easels showed fragmented rectangles of concrete rippling through the grass — but now it represented, with its smooth unmarred surface, the 33 miles of sidewalks that the city had repaired in just three months. "When we repair our sidewalks, we improve the safety and quality of life in our communities, raise property values, and boost our sense of neighborhood pride," Garcetti said, flanked by a dozen transportation and disability advocates. (Many of the repaired sidewalks had been specifically identified by people with mobility disabilities.) The campaign, dubbed Safe Sidewalks L.A., was simple, easy to understand, and even easier to get behind — the smiles seemed genuine as an assemblage of city officials posed for photos with an oversize certificate of approval signed by the Bureau of Engineering. Nothing a Los Angeles mayor could do would be more straightforward, or more essential, than fixing the city's notoriously slanted and shattered sidewalks. It was a good day.
Flash-forward five and a half years, as Garcetti prepares to leave office after nearly a decade as mayor, and the city's sidewalks are still a mess. His big plan has managed to repair just 1 percent of L.A.'s sidewalk parcels, meaning just a shred of the 640,000 properties that front the right of way have received those certificates of approval. This failure could more or less describe Garcetti's tenure. If you want to know what kind of mayor he's been for our city — botching the basics locally while chasing national clout — just look down.
In 2015, the city attorney finalized the $1.4 billion settlement for Willits v. City of Los Angeles, which, according to the mayor's office, was the largest disability-access class-action lawsuit in U.S. history. ​​Filed on behalf of the 280,000 Angelenos with mobility impairments, the lawsuit claimed that the city's broken sidewalks and unsafe crosswalks violated their right to move freely around the city under the Americans with Disabilities Act. The $1.4 billion represented the estimated cost needed to bring the city's pedestrian infrastructure under ADA compliance. L.A. hadn't had a sidewalk program since the 1970s and, like many cities, fixing them simply hadn't been a priority of elected officials. L.A.'s plan to pay to actually fix the right of way, a key part of the agreement, was announced in late 2016: Broken or uneven pavement would be replaced, curb ramps would be installed or repaired, and rampant tree-root damage would finally be addressed. The city set up an online portal, allowing anyone to request repairs near them, with priority given to requests made by disabled people. "Now people with mobility disabilities will be able to go wherever they need to go, and also where they want to go," said Lillibeth Navarro, executive director of Communities Actively Living Independent & Free and one of the suit's plaintiffs. Garcetti took a victory lap, calling the plan a sign that he was "changing the way we do business at city hall."
His pledge to fix L.A.'s sidewalks had two timely advantages: In 2016, voters approved Measure M, a county transportation tax that could be used for pedestrian improvements around bus stops and train stations, and in 2017, California's gas tax was raised, making additional money available for local sidewalk repairs. Plus Garcetti was making waves nationally as the co-founder and chair of the Climate Mayors, a consortium of mayors promoting ambitious emissions-reduction pledges for their cities. One of the pillars of L.A.'s own climate plan was a commitment to making it easier to get around without a car. It all seemed teed up to work. Even I was cautiously optimistic — I used L.A.'s example to anchor a piece about the possibilities of sidewalk reform nationwide.
The cracks soon began to show. Unlike other city services, making a sidewalk repair request didn't translate to public-works crews showing up within weeks — or even months. Requests into the rebate program, meant to reimburse property owners who made their own repairs, were taking more than a year, and about half the inquiries ended up being canceled, as city data would later reveal. There was little transparency about which fixes were being made first, and as sidewalk advocates noted in a strongly worded letter, no strategy for integrating those fixes into the city's long-range-transportation plan: "For the most effective and efficient use of spending, the sidewalk repair program should be considered part of the larger transportation network that is currently experiencing a 'revolution' in Los Angeles."
Meanwhile, Garcetti wasn't around much. During one 12-month period, he was out of town for 112 days, testing the waters for a presidential run that never materialized, then building an international profile at the urging of his advisers that may or may not help him land his next gig. In 2017, Garcetti was named infrastructure chair of the U.S. Conference of Mayors, where he cited the importance of improving streets because "the path to economic prosperity runs through our investments in America's infrastructure." Back home, sidewalk advocates were pressuring the city to prioritize repair requests along the city's high-injury network, the streets where the most traffic fatalities were occurring — and increasing under Garcetti's own Vision Zero plan. As his platform got bigger, sidewalk progress was shrinking. In 2019, while still serving as the chair of the Climate Mayors, Garcetti was simultaneously named chair of C40, a global version of the climate mayor consortium, where he spoke about how mayors wielded outsize power for taking bold climate action. "We control transportation networks, water and power lines, and building codes," he said, "all of which are instrumental in this fight." Back home, sidewalk advocates were demanding accountability for a program rolling out at a rate that, according to their calculations, would take 200 years to amount to a truly accessible, climate-friendly transportation network.
By 2021, the verdict was in: The city controller's office released a scathing report essentially declaring the repair plan a failure. "The program has not been responsive to meet the needs of Angelenos who use our sidewalks day in and day out," said controller Ron Galperin at a press conference across the street from city hall, where ficus roots meandered out of tree wells like coils of rope. In addition to certifying only 1 percent of parcels citywide, Galperin said, the rate of repairs had essentially flatlined compared to the number of requests made, and there were now more than 50,000 sidewalk segments in need of fixing that remained in a backlog. Perhaps most troublingly, during the past five years, a total of $35 million had been paid out by the city in sidewalk-related injury settlements — roughly the same amount the city had supposedly allocated annually to repair the sidewalks.
The audit confirmed what advocates feared: Without any strategy for which segments, streets, or even neighborhoods should be first, the sidewalks in front of city facilities were being prioritized, repairs the city should have been making as part of its own ADA requirements, outside of the settlement money. The fixes themselves were wasteful, the report alleged: Crews would often tear up an entire parcel instead of focusing on the single most serious accessibility issue, making repairs more involved and more costly. Among the half-dozen agencies involved, the city's Bureau of Engineering led the process — rather than transportation-focused departments — and ended up installing curb ramps that were actually worse from a walkability perspective and that will now have to be redone. The sidewalks weren't the only problem. Garcetti's L.A., supposedly an international model for climate-friendly innovation, left residents strolling barren, treeless streets, baking in the sun at bus stops, and dying in dangerous crosswalks. The city's pedestrians never became a priority at the scale promised. (Compare the average of 41 days it took for temporary sidewalk repairs, according to city data, to the three days it took to address a pothole.)
The failure to deliver such a simple promise to his city as he traveled the world making grandiose claims on the conference circuit — his name was even floated as a candidate for Joe Biden's Secretary of Transportation — was jarring. The transformative change he spoke about never made it onto most Angelenos' blocks. There were some challenges Garcetti faced, like ending the city's ballooning homelessness crisis, which he couldn't have fixed on his own. But what Garcetti said when he became C40 chair was absolutely correct: There are many parts of running a city that can be hugely impactful both as part of a global climate-action agenda and for improving day-to-day life that mayors have complete control over. Sidewalks are one of them.
A few months before the sidewalk audit was released, the City Council amended an ordinance, 41.18, that effectively criminalizes homelessness by making sitting, lying, or sleeping on sidewalks illegal. On the day the amendment took effect, Garcetti issued a statement specifically noting that the city could forcibly remove people from the sidewalk without doing any homeless outreach at all — outreach that also has a success rate of about 1 percent when it comes to getting people into permanent housing — if it determined them to be creating "obstructions to the Americans with Disabilities Act and other accessibility obstructions." Earlier this year, I watched city employees near my house drag people's tents into the roadway, lobbing their belongings indiscriminately into the back of sanitation trucks, all in the name of keeping the right of way accessible. On the other side of the street, the sidewalk had been heaved up in a way that made it completely unnavigable, buckled from years of neglect.