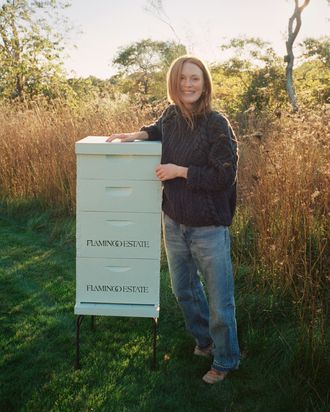 Photo: Cass Bird, courtesy of Flamingo Estate
Honey cultivated in Will Ferrell's garden tastes like acacia, oak, and chaparral. In LeBron James's yard, the honey tastes like Chinese elm and eucalyptus. Tiffany Haddish's backyard offers something "as fresh as Tiffany's SNL monologue," whatever that might mean. I know all of this because recently, a friend of mine received a holiday catalogue in the mail advertising what can only be described as the most Los Angeles product ever: celebrity honey. Celebrity honey is exactly what it sounds like — honey grown in the gardens of celebrities, on sale for $250 a jar. (All of the proceeds go to a charity of the celebrity's choice.) The mix of people involved is chaotic: One could also purchase honey cultivated in the backyards of Julianne Moore and, perhaps most inexplicably, Ai Weiwei. ("Ai Weiwei is a long way-a-way," the description for his honey starts, because the artist lives in Portugal.)
Flamingo Estate, the company behind the catalogue, markets high-end farm-to-table products from a Highland Park house turned wellness brand; think $48 mushroom and kale chips, $3,000 hand-forged garden tools, and a $3,785 handwoven plaid cashmere blanket you can "feel the soul in." (Another friend who received the catalogue told me she threw it away because she assumed it was a parody.) But an $800 ceramic menorah (handmade, of course) is still the kind of thing I can conceive of in the known universe. Honey cultivated in proximity to where Julianne Moore watches television was more mysterious. ("Ever wonder what the difference in taste would be between honey harvested in LeBron James's Bel Air garden versus in Julianne Moore's Montauk meadow?" an Architectural Digest write-up recently read, as if this is a normal thing to ask. No!) Still, I had questions. Has a bee stung Will Ferrell? Who's buying $250 honey? I called up Richard Christiansen, the founder of Flamingo Estate, in November to talk about bees and the famous people allowing him to make honey in their yards.
This interview has been edited and condensed for clarity.
How did you get into the celebrity honey business?
My background is beekeeping. I'm the son of beekeepers, and we talk about honey the way Texans talk about oil. I just thought, Wouldn't it be interesting to see how different honey tastes depending on whose garden it's in?
It's quite an eclectic mix — LeBron, Will Ferrell, Ai Weiwei. How did you decide which celebrities to approach? 
It's really rare for anyone to open their home and time up for something without being paid or getting overcomplicated with agents. What was so remarkable was how simple it was; it fell into place really quickly. LeBron and Savannah were the first people we had spoken to and we were like, "Let's think about a dream list of others" — we wanted to pull a collection of people from the worlds of sport, art, music, and film.
What was your pitch?
It was simple, I was like, "How would you feel about me putting my bees in your garden and have you house-sit some bees for a few months?" The idea was to see how much honey we could make and sell it for charity.
So Ai Weiwei says, "Yes, come put bees in my backyard." What happens next? 
We just had to make sure we weren't too close to the house and then let the bees settle in and get to know the new neighborhood. Our beekeepers scouted, and everyone's garden was really different. Savannah and LeBron live in a really established garden with tall trees and mature big plants, versus Tiffany Haddish's garden, which is in central L.A. and much smaller. Ai Weiwei's garden is in the middle of rolling hills of landscape of Portugal, with mainly olives and lavender.
Where did you get all the bees? 
The bees were originally housed in my orchard, except for in Portugal. And Julianne's bees were from a beekeeper who used to work with me in Montauk who took the bees I used to have, so they're my distant children. Some of the celebrities were really interested. Tiffany was wildly excited and still is — she was always there when we came to check on the bees.
How would you describe the nuances between, say, Julianne Moore's honey and Ai Weiwei's honey?
I haven't tasted them yet, but the one I'm most excited about is Julianne's. Montauk honey is historically really dark and full-bodied because Montauk has such late summer blooms. It tastes like a Dark and Stormy. Contrast that with Ai Weiwei: His honey is going to be much lighter and really floral, mainly because of the lavender and much smaller variety of flowers there.
Whose honey is selling the best? 
Ai Weiwei had a lot of interest right out of the first weekend. LeBron and Julianne are neck and neck, but it's still early.
A jar of honey for $250 — that's a lot. 
I totally hear you. Because all of the money is going to charity and so much effort went into it, we wanted to make the juice worth the squeeze.
A couple of my friends very randomly received the catalogue. Can you describe the average celebrity-honey consumer? 
I'd like to say it's everyone who also considers their garden and Mother Nature their doctor, therapist, and friend.
Has a celebrity ever been stung by their bees? 
My bees are on their best behavior. I've heard of no one getting stung yet.
Did anyone you asked say no? 
We had a couple, but they were all legitimate nos. Most of it was scheduling. We're doing it again next year, so stay tuned.
Living or dead, who would be your No. 1 ideal person to grow honey in their yard? 
I would love Dolly Parton to do it. Bees are really sensitive to everything, and we have lots of music in the orchard. I wouldn't say no to Oprah.