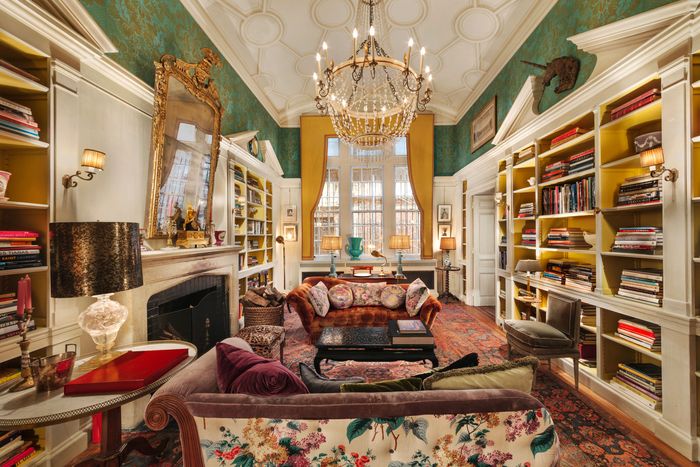 The 17-foot-high ceilings distract from ground-floor views.
Photo: MW Studios for Sotheby's International Realty
The outside world always seemed irrelevant to Hamish Bowles. The editor has made a career at Vogue (and The World of Interiors, which he has helmed for the last year) out of helping readers imagine dreams of frothy luxury well beyond their bank accounts. And in his own two-bedroom Greenwich Village co-op — a ground-floor duplex with dreary views of brick walls through bars — he did what he has always done best: cut off the depressing real world and turned our attention inside.
And there's a lot inside. On Friday, Bowles listed the co-op for $2.9 million with — unsurprisingly — "zero staging," according to broker Chris Poore. Walls covered in green damask stretch up to 17-foot ceilings above broken Milanese-style pediments that top built-in bookcases with cupboards painted marigold. And that's just the living room. Up the stairs is the bedroom, where you wouldn't want to take anyone who wasn't prewarned: A bubblegum-pink floral extends from the wallpaper to the curtains above carpets of variegated green. The foyer and hall are tricked out in the particular shade of plum that Bowles has made his signature. There's only one room that allows the eye to rest — a sort of farmhouse kitchen with yellow walls, copper-cup drawer pulls, and a chrome fridge.
"To our eye, it's like he's just done this big bouillabaisse," says Wendy Goodman, who remembers going to a housewarming party there after Bowles bought the place in 2008 for $1.5 million. (They've been friends for years.) "But he is such a scholar. There is a lot of planning and decision-making involved."
Bowles never stopped perfecting his apartment — renovating with his friends at Studio Peregalli, whose treasure-stuffed interiors are a contemporary homage to Renzo Mongiardino, an Italian architect known for creating visual illusions. (A dining room, which Bowles concocted out of a second bedroom, features a trompe-l'oeil door painted atop a flat one — a faux knob distracts from the one that actually twists.)
The building itself — 45 East 9th Street — was designed in 1925 by Harvey Wiley Corbett. It's one of three addresses across 68 units that regularly pull in celebrities — including Candace Bushnell, Chris Noth, and designer Jonathan Adler and his husband and former creative director of Barney's, Simon Doonan. Bowles is leaving the address to relocate to London, where The World of Interiors is based and where Bowles is from.
"Hopefully, we find a buyer who appreciates the owner's taste as well," says Poore. "Because it's definitely well done."