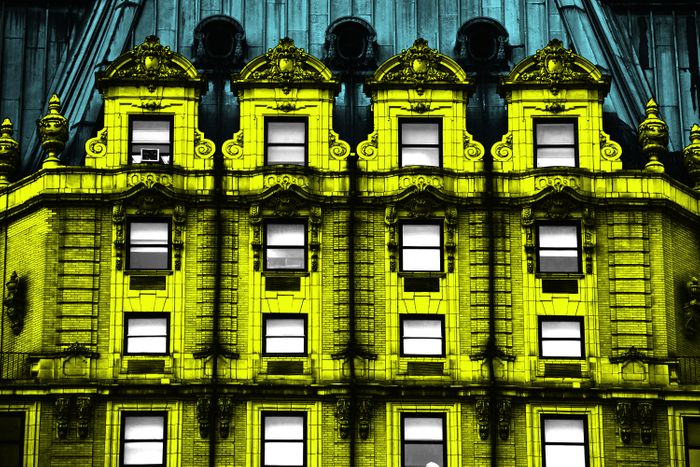 Photo-Illustration: Curbed; Photo: Alamy
As COVID-19 tore through New York City in the spring of 2020 and tourism all but dried up overnight, desperate hotel owners were willing to try almost anything to fill rooms: Dozens of properties signed contracts to temporarily become hospital sick bays while luxury brands slashed prices and advertised themselves as decadent home offices or mini-escapes for the restless in lockdown. Talk of "virtual reality" tourism circulated among the most delusional while the Soho Grand opted for nostalgia — reminiscing on Instagram about that time Alexa Chung came to its New Year's Eve party and the guy from LCD Soundsystem did a DJ set. Things were bleak — the shutdowns "put the dagger to the throat" of the industry, as the president of the Hotel Association of New York City said at the time.
In this chaotic moment, an unlikely coalition came to agree on one thing: Some of these distressed hotels could probably become permanent housing. As market predictions stayed dire into 2021, a group of housing and tenants'-rights activists, homeless advocates, affordable-housing developers, and legislators drafted the Housing Our Neighbors With Dignity Act, nicknamed HONDA. The bill would simplify the process of converting hotels to affordable-housing developments, ultimately putting $200 million into the project. The biggest hotel-lobbying organization — the Hotel Association — and the powerful hotel-workers union — the Hotel Trades Council (HTC) — even came out in support, and the bill passed in June of 2021. It was a fairly radical proposal, but it was also tantalizingly practical: What good is an empty hotel to anyone?
But then nothing happened. In its year and a half of existence, the legislation has yet to produce a single hotel conversion. The story of this failure has now been told again and again through a fading Renaissance-style landmark in the heart of Times Square: the Paramount. Its size and location made the hotel an ideal candidate for conversion. It also, by all appearances, was a miserable place for tourists to stay (complaints on review sites ranged from mold on the ceiling to stained carpets to a cockroach in the bed), and owner Aby Rosen was supposedly even eager to sell. But Breaking Ground, an affordable-housing nonprofit, and HTC, which represented the Paramount's 170 laid-off workers, ultimately found themselves at odds. Despite their mutual support for the law, they were deadlocked over a provision requiring developers to honor the union contract's successor agreement, which says they must keep its union workforce — or buy out their contract. It was a $50 million expense Breaking Ground says it could not afford. The deal died and the story about why drew sides: labor against affordable housing.
But the successor clause, and its likely price tag, was always part of the deal — it's how the state managed to bring HTC onboard and pass the bill in the first place. So why hasn't HONDA met the moment of crisis for which it was intended? "Another version of 'doomed to fail' is 'never got a chance to really get started,'" says Sam Stein, housing-policy analyst at the Community Service Society. The slow speed of the legislation, the delay in regulatory relief, the fact that HONDA occurred between gubernatorial and mayoral administrations so that it wasn't really a set piece for any big-name politician, "all meant that when the iron was hottest, we couldn't strike." Even as political leaders continue to declare the city is in a state of housing emergency and heavily campaign on the issue, with Kathy Hochul announcing housing as her major priority of 2023, the solutions remain frustratingly undersized.
HONDA passed at the last possible moment in the 2021 legislative session — just days before lawmakers were set to break for the summer. It took another full calendar year to approve the regulatory reforms that housing developers and advocates said should have been included in the original bill. Language easing the zoning restrictions in manufacturing districts (a major hurdle to any conversion) was finally added in June 2022, just six months ago. Advocates say it took months for the state's Division of Housing and Community Renewal, the agency that handles HONDA applications, to share a "term sheet" delineating requirements for conversion projects, and that the Department of Buildings has yet to issue its own. "I think it's hard to look at the timing of these programs and say that it was treated as an emergency," says Noah Kazis, a University of Michigan professor and former Furman Center researcher who has studied the law.
In contrast, California spent nearly $800 million of its federal COVID-relief funds in 2020 alone to buy 94 vacant hotels through its Project Homekey plan, turning them into more than 6,000 housing units. This allowed the state to avoid relying on private developers to take on conversion projects. "California was really bold," says Kazis. "Obviously we have to know about the long term, but in the short term, they did what they set out to do." Vermont spent $13.5 million in three months in 2020 to house 30 percent of its homeless population in hotels via an expanded voucher program. King County, Washington, where Seattle is located, quickly leased six hotels in 2020, moving more than 600 unhoused people out of congregate shelters, and has since bought three for permanent conversion. New York's housing activists initially wanted the state to buy the hotels outright, like King County did, as part of HONDA. "But that is anathema to this government," says Stein, who helped work on the legislation.
Now, nearly three years into the pandemic, as hotel rooms across the city are renting for a record amount, many owners are far less game to sell. The average daily revenue rate in October was $339, data from industry tracker STR shows, the highest on record, a trend driven by the luxury, high-end market. While occupancy isn't back to pre-pandemic levels, fewer tourists are paying more to visit. Of the 200 properties that closed in the early pandemic, 65 have reopened since, with 77 in construction. Just 45 have stayed shuttered. Vijay Dandapani, the president and CEO of the Hotel Association of New York City, put it very bluntly in April to New York Focus: "With a gradual increase in occupancy, the incentives to participate in adaptive use to affordable housing diminishes for owners." Ted Houghton, the president of Gateway Housing, a nonprofit that consults with affordable developers who worked on HONDA, tells me he has his eye on a vacant hotel, but that its wealthy owner in Singapore stands to gain more of a windfall from letting it sit empty and unused and eventually selling for market rate ($500,000 a room, Houghton says) than selling it now to an affordable developer. "There's no way I can buy it."
Which, like the high cost of a union buyout, brings up another uncomfortable point about HONDA's viability: Was $200 million ever going to be enough to get a program this ambitious off the ground? The costs involved were no secret: Breaking Ground purchased 90 Sands, a former hotel in Dumbo owned by Rosen, in 2018 for $170 million. Sources I spoke to who worked on HONDA said that the amount was far below what they would have wanted to achieve, especially in light of the lack of major federal funding for affordable housing. And as the hotel industry continues to rebound, it's only going to get harder to compete against private developers.
Still, Houghton claims there are a few conversions he has heard are in the works that he hopes will be announced this year, though he couldn't give me more detail. There are certainly failing nonunion hotels concentrated in the outer-boroughs that will be easier to convert, but advocates say they have a dire need in the central business districts, where union hotels dominate, and that the properties outside Manhattan are often too small to make conversion financially feasible. The matter of just how much housing — and where, and on what timeline — HONDA will ultimately produce remains an open question. Meanwhile, in Times Square, which has some of the highest concentrations of people sleeping in subway stations in the city, the Paramount has reopened, offering rooms for up to $475 a night. In a recent Tripadvisor review, a manager responded to a guest who fumed that they had to throw out their Junior's cheesecakes without an in-room fridge to store them in. "We hope you will give us another opportunity to welcome you for the outstanding stay you deserve," the hotel representative wrote.