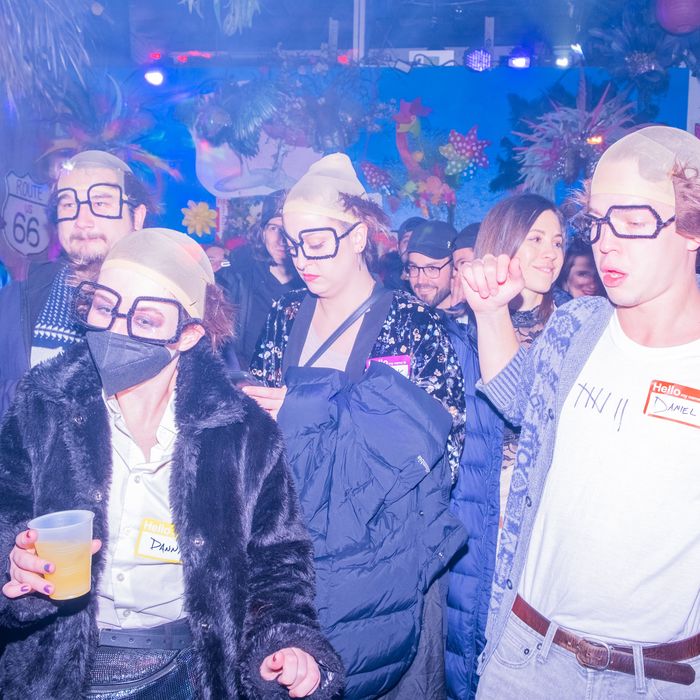 "A Night of A Thousand DeVitos" invited the hardcore fans and the Danny-curious to immerse themselves in all things DeVito.
Photo: Lucia Buricelli
"I think he's gonna come tonight, I just feel it in the air," John Beltrano said to a friend while adjusting the tufts of hair protruding from his mesh semi-bald cap. "It's like Beetlejuice — if you get enough people to shout his name and strip onstage, that is when Danny DeVito comes." His look, inspired by Frank Reynolds, DeVito's character on It's Always Sunny in Philadelphia, also included black "glasses" made from pipe-cleaners and a white T-shirt with seven tally marks (another Reynolds reference from the show's tenth season). But he wasn't the only DeVito; Beltrano was just one of hundreds of attendees in makeshift black frames who had endured frigid temperatures and an L train shutdown to attend the first "Night of a Thousand DeVitos" at Rubulad, an underground performance space in Bushwick.
For Alana Miller, the organizer of the party, filling the space with a swarm of DeVito lookalikes was itself the point. As she explained, "There are no bad ideas if you're willing to commit hard enough." She's been organizing events and parties under the name Glittermilk since 2020. Many of her absurdist parties have been collaborations with Rubulad, including Disco Fish, an aquatic-themed disco party with mermaids and kiddie pools and "A Night of a Thousand Clowns" Halloween party. As a former arts therapist in the public-school system, she used to spend her summers producing interactive experiences at music festivals, such as a performance where people repented their sins to a dominatrix nun. In 2020, she decided to produce events full-time.