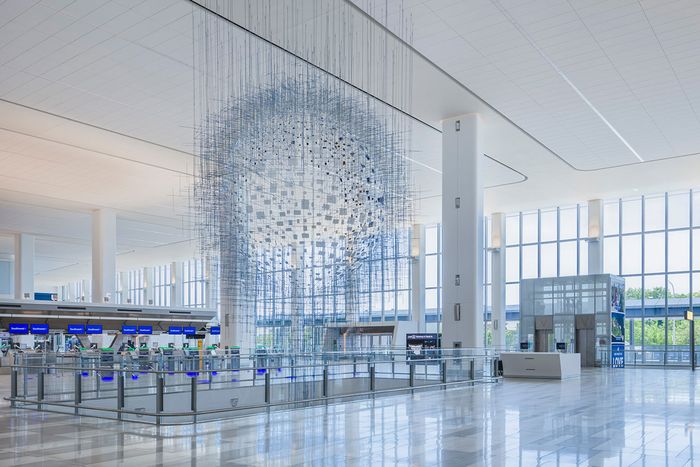 Photo: Port Authority of New York and New Jersey
When the masterminds behind the six-year, multibillion-dollar redevelopment of La Guardia airport were deciding how to connect Terminal B's ticketing and baggage area to its concourses, they had a dark history of dimly lit people-moving chutes to overcome. Fortunately, rather than descending into a disorienting subterranean tube, passengers ascend to one of two sky bridges spanning active taxiways, greeted by a view of Citi Field to the east and a panorama of Manhattan to the west.
"It's unexpected, and it's dramatic," says Rick Cotton, executive director of the Port Authority of New York and New Jersey. "You can stand transfixed by the Manhattan skyline for a long time."
As mesmerizing as the views are, the dual sky bridges are not just lipstick on a historically piggy airport; they're a space-saving necessity. La Guardia is one of the busiest (mostly) domestic airports in the country, but its 680-acre plot is also one of the smallest. JFK, by comparison, is nearly 5,000 acres; Philadelphia International, which serves about as many passengers annually as La Guardia, is 2,598 acres.
"The challenge was building this $4 billion project and, oh, we needed to do it while not disturbing operations at the existing airport," says Carl Galioto, president of HOK, a design and engineering firm that worked on the redevelopment. The sky bridges, Galioto says, allowed builders to construct the new terminal over the old one, preventing major disruptions to flight schedules. Passage under the bridges gives pilots a new route to gates; all told, the renovation has added about two miles of taxiway.
Sky bridges have become something of a status symbol for airports around the world — Sea-Tac, Denver International, Gatwick, and Hong Kong International all have them. La Guardia is the first to have two, so there.