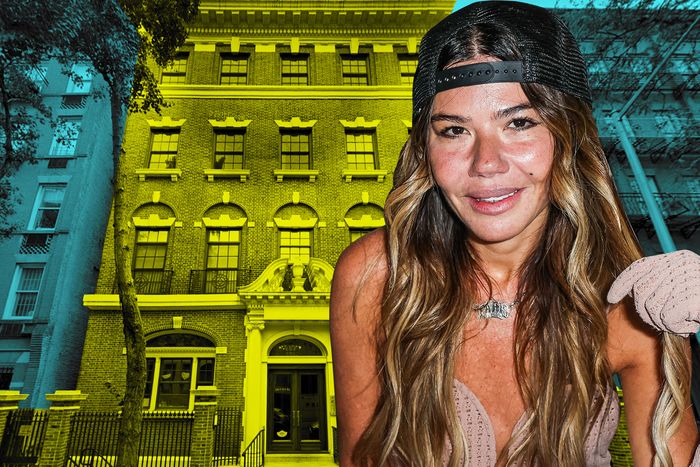 Photo-Illustration: Curbed; Photos: Getty Images; Google Maps
Libbie Mugrabi, a socialite who makes hats that say "Libbie" on them, is having trouble with her mansions. The first: a luxury Beaux-Arts condo at 320 East 82nd's Park Mansion. According to The Real Deal, Mugrabi, whose ex-husband is billionaire art dealer David Mugrabi, was issued an eviction warrant from the Park Mansion in October. The judge ordered her to pay $158,000 in back rent for the $28,000 per month full floor unit after she stopped, according to court filings, paying rent in April of 2020.
"I owe him no money but he will owe me soon as he will be civilly sued for $10 million in damages to me and my children," Mugrabi wrote to the Real Deal of landlord David Mitchell, who she claims has been harassing her. Mitchell, for his part, claims that Mugrabi never surrendered the apartment and owes him $1.5 million. Both parties are unhappy with the court-ordered sum of $158,000, which is neither $0 nor $1.5 million.
Now onto the next mansion, a sprawling Water Mill compound in the Hamptons with a pool and tennis court where last month, Mugrabi was arrested and charged for attacking her housekeeper. The alleged incident happened over the summer, the New York Post reported, when her housekeeper went to the police and told them that Mugrabi "attacked her on July 31 with a mop handle and a knife, and broke her cell phone."
Mugrabi, however, claims that she was attacked by her housekeeper after she came home from vacation from Ibiza and allegedly found that the domestic workers she employs were staying in her home. A "source close to Mugrabi" told the Post that her employees were driving her Porsche and (apparently by choice) wearing one of her hats that say "Libbie" on them. Mugrabi's mother claims she went to the house during this time and was forced to stay in the pool house and the housekeepers only cooked her "some kind of soup with ginger" and, as a consequence, she was "starving."
Fashion consultant Marko Matysik was at Mugrabi's Hamptons compound when she was arrested last month and told the Post that he, like any good friend, "grabbed as many of her handbags and hand luggage as I could" just in case she needed something from them and then "got into the chauffeured Suburban and followed the police car." (It's unclear if any of the bags contained any hats that said "Libbie" on them.) Mugrabi told the Post that after the arrest, she's now "scared" to go to the Hamptons. And perhaps because in part because she was evicted (or moved out two years ago by choice) from her Manhattan place and can no longer stay there, she was recently spotted at Art Basel Miami. She was wearing an orange jumpsuit that reads "Free Libbie."