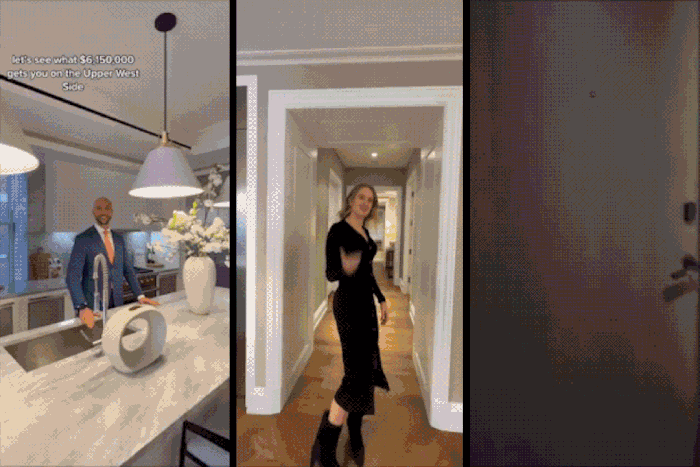 Video: alexander_zakhari, christina.kremidas, markonyc
Jason Lau, a luxury-real-estate agent, is pretending to take a shower. Enclosed in the spalike white-marble shower of a $2.6 million condo's en suite bathroom, fully clothed, he holds the stainless-steel faucet head and mimes rinsing himself from his paisley scarf down to his Chanel loafers. Lizza Prigozhina, standing near the toilet in a crop top and blazer, choreographs with iPhone in hand. "Now block out the camera with your hand," she says, "like, You can't see this." Lau complies. His business partner at the Corcoran group, Marko Arsic (loafers: Prada), nods approvingly from the adjoining bedroom: "We do whatever Lizza says."
Prigozhina is the 23-year-old queen of New York real-estate TikTok, a content whisperer to the star agents of Corcoran, Douglas Elliman, and Nest Seekers. In a high-end market that has been slowing since September, with whispers of downturns and 2008 in the air, what Prigozhina offers to real-estate agents is an injection of levity into their malaise and, ideally, thousands of new followers and possible clients. Under her guidance, agents are flocking to TikTok, where, for $700 and up a week, Prigozhina helps them create viral content, writes captions, and even posts on their behalf. Brokerages are laying off their agents, and sky-high mortgages are making sellers skittish, but her business is booming: In a good month, she'll make around $10,000.
Prigozhina's project this November morning is a one-bedroom condo on the 28th floor of Waterline Square, a development on the far west side of the Upper West Side that wants to be the new Hudson Yards. Lau's shower scene is the culmination of a one-shot, continuous-take video tour that has become endemic to real-estate TikTok — and that, through Prigozhina's direction, is designed to bring some grandeur to the unit's 984 feet. After a brief rehearsal, Prigozhina steadily winds around the apartment, iPhone in her right hand and cuing Arsic and Lau with her left. The agents gamely dart behind furniture and doorways in their designer suits, then out again to enthusiastically show off the Gaggenau stove and waterfall island and heated bathroom floors with oversize hand gestures, connoting Ooh! and Aah! At one point, Prigozhina tells Arsic to fling himself lightly onto the bed to show its bounce.
Prigozhina found her niche in real-estate TikTok in 2021 as the industry was beginning its manic rebound from the pandemic standstill. Born in Russia, she had arrived in the city in 2020 to attend the New York Film Academy and needed a place, so she reached out to Alexander Zakharin, a broker at Avenues Real Estate and a fellow Russian. Prigozhina didn't end up using his services (she found a no-fee studio on 63rd and West End Avenue on StreetEasy), but she saw Zakharin's TikTok, on which he had started posting apartment tours when no one was visiting them in person. Prigozhina realized what was missing: him. "Alexander has a big personality," she told me matter-of-factly, and she convinced him to put himself in front of the camera. She had gotten her start at 14 with lip syncs on Musical.ly (and had even briefly flirted with a stint as an influencer in 2020) and commanded the kind of obsessive fluency TikTok requires: the demented pop-culture shorthand, the viral trends customized for niche audiences, an intuition about when to post. ("I'm on it for hours a day," Prigozhina said, declining to say the exact number.) Since working with Prigozhina, Zakharin's following has surpassed 700,000; now, in his most frequent style of video, he stands on the steps of the Plaza and interviews unsuspecting tourists about their dream New York apartment. As his TikTok clout grew, the luxury market peaked, breaking records in 2021 and the first half of 2022 with a record $16 billion in sales — before they fell 18 percent this fall. Prigozhina's central principle applies even more in a slowdown: If you can't sell a condo, you have to sell yourself.
After three takes in the condo, we head down to the development's empty amenities floor and lounge, stopping for Prigozhina to film a few more TikToks on her way out (there is an even larger amenities level underground, equally quiet, with a climbing wall, tennis court, recording studio, hydroponic-vegetable-growing facility, and bowling alley). The development claims to be 95 percent sold, though there are almost two dozen available rentals starting at $5,873 a month. Lau acknowledges the softening state of the market but remains sunnily optimistic: "There are a lot of cash buyers," he says. "But I don't think it will be a huge tumble." As of now, with more than a month and a half on the market, the condo upstairs has yet to be rented.
Next, Prigozhina and I walk up Riverside Boulevard to an appointment with members of the Kim Team at Nest Seekers International. She charges her phone in her neon-green purse from Amazon that reads "Caution: Catwalk in progress." "She's our mastermind," one of the agents says. For this shoot, the goal is to create a dance to the viral YouTube song "I'm Petty," which requires a well-timed low-five behind the back with the agents in a kind of conga line and some coaching from Prigozhina on how to make it all seem natural. "Everybody's nervous," one of the agents told me as her colleague took new Instagram portraits to show off his new blond-highlighted tips. "It's been a little slow." Young agents, like those on the Kim Team, are especially keen to do anything that can build their personal profile in a commission-based industry full of zigs and zags. One of them still works nights at JFK as a Delta aircraft technician.
For Prigozhina's last job of the day, we walk farther uptown to meet Zakharin; Christina Kremidas, an Elliman agent who also uses Prigozhina's content services; and Kathy Murray, another Elliman broker, at one of Murray's listings. Up in a four-bedroom, $6.2 million condo at 344 West 72nd Street in a recently converted prewar building, the staging furniture and décor look almost exactly like what we left at Waterline Square: giant, vaguely modern squiggle art; oversize Phaidon art books topped by an oversize marble chain. There are starched white shirts hanging in the master-bedroom closet and handmade wooden children's toys in the room with the bunk beds. Next to two wineglasses and a bottle of Pinot Noir is the New York State Housing and Anti-Discrimination Notice. Prigozhina will be filming three tours, one featuring each agent, for all of them to use on their respective social-media feeds.
Murray is the most seasoned agent, and as Prigozhina plots the filming coordination, Murray tells me that, yes, sales have cooled since the frenzy of the past 19 months, when she sold a 13-room apartment to a family sight unseen ("They needed more room to work from home," she says), but the market is simply stabilizing after the last frenzy. "It's the same market as 2018," not 2008, she assures Zakharin when asked for her thoughts on whether things are feeling as they did in the recession. "Last time, none of the banks would lend."
Murray is newer to TikTok as a sales strategy — "I'm not the kind to be on camera a lot," she tells me — but Kremidas and Zakharin are resolutely bullish TikTok hustlers. "People always say, 'Are your luxury buyers really on TikTok?' Of course they are!" Kremidas says, adjusting her Hermès belt. Kremidas said even the most elite agents have started to reach out to her for tips. Maybe they're interested in its potential, or maybe they're getting increasingly desperate. Prigozhina is prepared to ride the wave up or down. "Some are like, 'I can't spend money on this.' But others say, 'I'll do anything to get out there,'" she told me earlier as we walked by condo after condo on West End Avenue.
I hide in the guest bathroom (one of four and a half) as Prigozhina films each video tour snaking through the bedrooms. "Alex, now!" "Christina, go!" Prigozhina calls authoritatively as the agents' heels clack on the glossy wood floors. Prigozhina breathes a sigh of relief after the shoot wraps, as if she had run a marathon. Sixty-six days later, the condo was still sitting on the market. But the TikTok had 145,000 views.