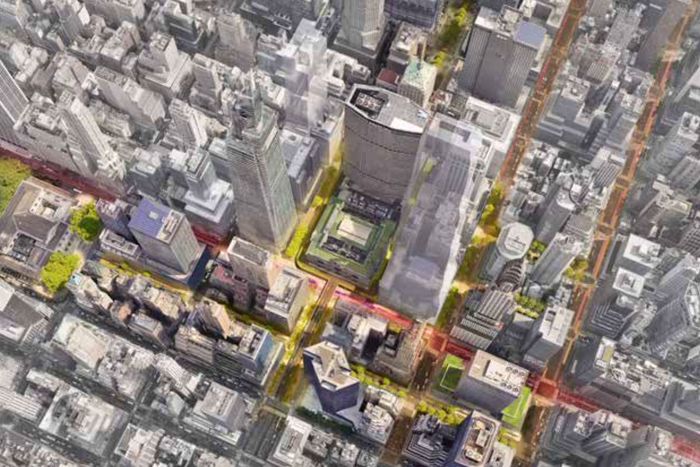 A scheme for a "public realm network" around Grand Central Terminal, as seen in the "New New York" report.
Graphic: Rendering by FXCollaborative
New York should be roaring back by now, and in some ways it has. In the last few months, I've attended crowded museums and sold-out concerts, shouted over diners at the next table, stood hip-to-hip in crowded subway cars, and trudged gratefully behind tourists who've returned to the city that people all over the world mention in wistful "I wish I could see it" tones. But despite these peaks, the city still feels off, gnawed by anxiety, lassitude, and resignation. Maybe that's just the New York I observe through the keyhole of my own experience; perhaps you feel it's returned to its old glamour and thrum. How do you measure a collective mood?
A new 159-page report rolled out by Mayor Eric Adams and Governor Kathy Hochul gives substance to the malaise. The tone is urgent, and hortatory, partly because the document doesn't try to gloss over the challenges. What began as a project to revive a handful of business districts blossomed into a handbook for rewiring the city as a whole. "To truly establish New York as the world's best place to work, we need to make New York the best place, period," the executive summary declares in bold typeface.
And yet my despondency mounted as I read, reaching a lugubrious fortissimo when I got to the charts summarizing the health of commercial areas. Manhattan's business core, the kernel of New York's prosperity and growth and identity for well over a century, is depressed. It's true that offices have emptied out before — after 9/11 and the 2008 financial crisis, for example — but this time the abandonment is worse. In the mid-1970s, when New York's population dropped by a million people in ten years, about 20 percent of office space lay fallow. That figure is now stuck at 21.9 percent.
Even when businesses are paying rent, the buildings they nominally occupy still have a haunted-mansion feeling about them. The chill spreads outward. Sidewalks in midtown are less crowded than before the pandemic (weekday foot traffic is off 23 percent), restaurant tables are going begging (a 35 percent drop in business), and stores are selling less. The gloom isn't uniform: People are eating and drinking more in the commercial core of Flushing than they did in 2019 and buying more stuff in Fordham Plaza and the Bronx Hub. But New York's tax base depends on the office-rich glass sierras of Manhattan, and if those are not going to be restored in the foreseeable future, then the city will have to adapt to that reality, and that's not happening. Developers are building more of the kind of real estate that New York doesn't need and not enough of the kind it does: housing. The gap between overabundant supply of offices and meager demand for them isn't going away, and some projections have them widening significantly over the next 15 years.
If this environment endures, it will inaugurate a fundamental shift in the way New York operates. Until the pandemic, the top priority in keeping the city an economic hub was luring CEOs; white-collar workers converged here because this is where the jobs were. Now, instead, the city's future depends on making it affordable, equitable, and enjoyable enough to convince New Yorkers to stay (or potential New Yorkers to move here) instead of telecommuting from Montana.
The task of figuring out how to do that fell to a team led by Daniel Doctoroff, a former executive at the urbanism company Sidewalk Labs and a deputy mayor in the Bloomberg administration, and Richard Buery, CEO of the Robin Hood Foundation and deputy mayor under Bill de Blasio. There's some irony to Doctoroff's stewardship. In the Bloomberg years, policy was shaped by projections of an almost insatiable need for new office space. Doctoroff used that rationale to justify building the private fiefdom of Hudson Yards, which now looks like a relic revolving around a barren plaza and a permanently empty Vessel. This time, Doctoroff is selling a long menu of policy changes that includes a mighty push for more and better public space, to be led by a new city czar of the public realm.
In envisioning a new New York, the panel came up with 40 ideas that range from the familiar to the self-evident to the ambitious but vague. The list incorporates Adams's recent pledge to enable the building of 500,000 new homes over ten years, more than double the past decade's pace. You've got your congestion pricing, more bus lanes, electric-vehicle charging stations, and cargo e-bikes — all good things that demand miracles of high-intensity follow-through. No. 18 on the wish list is "Create a sustainable operating budget model for the MTA." (Why hasn't anyone thought of that?) No. 19 is "Maintain peak subway service and dramatically increase off-peak subway service." Both sound terrific, but back in the real world, the MTA, which is carrying just 60 percent of the passengers it did before the pandemic, is threatening to raise fares and cutting service.
The good news is that, after years of pissing matches between mayor and governor, Adams and Hochul appear to have the same agenda. Whether they can wrangle a motley pack of city agencies and state legislators into pulling together, push new zoning regulations past fractious and resistant neighborhood groups, or weather the legal and political blowback that change inevitably brings — that's a different story. "Successfully implementing these recommendations will require an effective and motivated government, with appropriate and clear accountability and organizational structures in place," the report points out. It will also require consistency, and I have doubts about that.
The same report that's so skeptical about the future of office work also includes a by-the-way mention of Hochul's misguided plan to surround Penn Station with ten new office towers. And the day before Adams released this document, which aims to reduce car traffic and vehicular pollution, he also released a new set of preliminary design options to restore the crumbling BQE, adding back lanes that had previously been eliminated. If you like your infrastructure with a mid-century, diesel-scented vibe, that's a great option. If you're hoping for bold thinking about the city of the future, not so much.