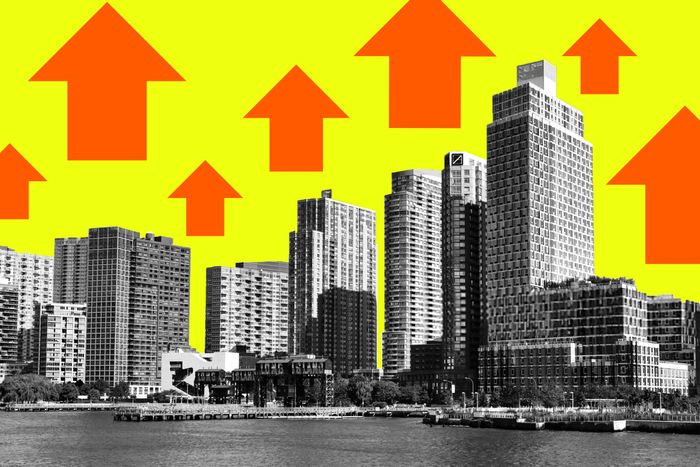 Photo-Illustration: Curbed; Photo Getty Images
The real-estate market was out of control in 2022. After two years of COVID deals, many of which were for just somewhat less expensive but still expensive rent, landlords and brokers had their revenge: Low inventory and high demand alchemized to turn the search for a New York City apartment into something even more demeaning, frantic, and, of course, pricey than ever. People lined up around the block to view sad studio apartments and offered to raise their own rent to get an edge over other prospective tenants. The people throwing themselves at the feet of their future landlords were the lucky ones — as pandemic-era protections ran out, many couldn't afford to stay in their apartments at all, facing rent hikes of $500, $1,000, or even $2,500. Below, in miserable detail, the year in rent — which, by the way, is due again on January 1.
The Big Debt
In January 2022, an estimated 591,000 households owed a total of $1.97 billion in back rent. Federal rent-relief funds were running out, which had led Governor Kathy Hochul to close the Emergency Rental Assistance Program's application portal a few months earlier, even though Legal Aid estimated that 400,000 tenants still needed to apply. Meanwhile, the state eviction moratorium was set to expire on January 15. "People are going to be threatened with eviction again, and we're still in the midst of COVID," a staff attorney at Legal Aid told Gothamist at the time. Noting this bind, a judge forced the state to reopen the ERAP right before the moratorium expired, hoping to buy tenants a little more time in their homes as they waited for claims to work their way through the system. As the judge explained, ERAP was "no use" to tenants who had already been evicted. But what came next was still to be expected — a year of free-falling.
The Death of the COVID "Deal"
In February, TikTok began delivering a very specific type of content: rent-hike reveals. At first, it was just a few videos — a harbinger of what was about to come — but soon, the drip became a flood. "I just got my new lease, and guess what: They're raising my rent 48 percent, and it's fucking legal," one woman said, while others simply screamed as they saw their rents go up from $2,500 to $4,950. The Douglas Elliman report from that month ominously declared that rental bidding wars had risen year over year "from nominal levels to nearly one out of five new lease signings." It was only the beginning.
"Real-Time Crazy"
Legal Aid announced in April that it could no longer take on new clients for the month. As Julia McNally, housing director for the Legal Aid Society in Queens, told Curbed, "They now virtually schedule new cases every 15 minutes" — the pace was overwhelming the staff. This spelled trouble for the protections of the 2017 Right to Counsel law. The courts were trying to move through new cases as well as the backlog of 200,000 eviction lawsuits that had built up over two years, and they were unsympathetic to Legal Aid's claims. A spokesman for the Office of Court Administration told Curbed that the problem originated with "legal-services providers who are incapable of carrying out their contractual obligations regarding representation." But those providers were burnt out, understaffed, and underfunded. As one Legal Aid lawyer put it, Right to Counsel's acronym, RTC, really stood for "real-time crazy."
A City of Cucks
In May, Manhattan's vacancy rate hit 2 percent (the city had more Airbnb listings than available apartments), and a certain kind of apartment hunter quickly lost their mind. Smelling blood in the water, brokers solicited potential tenants' "best offers." The desperate and moderately wealthy obliged. Bridget Read named the phenomenon "cuck money," i.e., offering to pay a landlord over the asking price to win a bidding war. "To be clear, it is NOT necessary to offer more than the $3,000 asking price in order to stay in the running," read an email a potential tenant received from an agent, but "the landlord will likely choose an offer over the asking price." (The apartment seeker said the application process felt like The Hunger Games.) One family that month ended up paying $10,000 above the asking rent — $40,000 per month total — for a Brooklyn Heights penthouse. Sight unseen, of course.
No Good Cause
There was a moment when it felt as if Good Cause Eviction, which would give market-rate tenants protection from excessive rent hikes and guarantee them lease renewals, had to pass. "This is not a radical reset of the landlord-tenant relationship," Michael McKee, treasurer of Tenants PAC told City & State early in the year. "It's a very moderate form of protection." As tenants were hit with egregious rent hikes across the state, political momentum around the bill grew. Eleven New York Congress members, including some moderates, wrote a letter in support of the bill: "We believe Good Cause Eviction levels the playing field between tenants and landlords and can protect hundreds of thousands of families from unnecessary displacement." Tenant organizers spent the year mobilizing around the legislation, which was widely popular and had the support of a number of major labor unions. Municipalities across the state passed their own versions. The real-estate industry fought it tooth and nail, but it still seemed the bill could prevail. "If these unions put significant resources into the issue, elected officials will take notice," Blair Horner, executive director of the New York Public Interest Research Group Fund, told The Real Deal as the legislation gained steam. But the bill languished. By the end of Albany's legislative session in June, it was clear the momentum had died. Instead, New York lawmakers did what they do best — passed a bill to create a commission to study the problem of affordable housing. (I've heard it's a real problem!)
Another Rent Hike (This Time for Stabilized Tenants)
In April, Eric Adams appointed Arpit Gupta — a fellow at the conservative Manhattan Institute, metaverse YIMBY, and self-described rent-control "skeptic" — as a public member of the Rent Guidelines Board. At the time, the board was recommending up to 4.5 percent increases on one-year leases, a huge jump from the little-to-no hikes under Bill de Blasio's mayoralty. For landlords, even that was too low; the Rent Stabilization Association, a landlord group, claimed it needed at least a 6.5 percent increase, testifying that building owners were facing hardships under rising costs. "Without adequate rent increases for thousands of stabilized-property owners, we could reach a point of irreparable harm," Vito Signorile, a spokesperson for the group, said during a hearing. A board member representing landlords, Robert Ehrlich, infamously Zoomed into one of the group's meetings on a golf cart. By the end of June, the board finally approved a 3.25 percent increase on one-year leases and 5 percent on two-year leases — the highest bump in nearly a decade. Tenants who gathered at Cooper Union, where the final vote took place, booed and chanted, "Shame!" Even the landlords weren't satisfied. "The adjustment approved by the RGB today will not put a penny of profit in the pockets of small property owners," said Jay Martin, executive director of the Community Housing Improvement Program. "The RGB has simply taken steps to limit their losses for the next year."
Summer of Hell
Over the summer, seeing a new Douglas Elliman report drop was like getting slapped in the face (over and over again). In June, the report showed the average rent in Manhattan had cracked $5,000 for the first time. Part of the reason, said Jonathan Miller, author of the reports, to The Real Deal, was that rising mortgage rates had "tipped people on the margin into the rental market," driving up competition and prices even more. A month later, we made history again: The average Manhattan rent reached $5,113. Incredible!
The Hunter Becomes the Hunted
In August, it was reported that the writer of the New York Times real-estate column "The Hunt," Joyce Cohen, along with her partner, Benjamin Meltzer, were being sued for back rent by Amit and Jasmine Matta, from whom they had been subletting an Upper West Side apartment. The Mattas hadn't cleared the sublet with their landlord, so they asked Cohen and Meltzer to leave, but the couple refused, leading the landlord to bring a case against all of them. According to the Mattas' suit, Cohen and Meltzer had moved into the apartment because they suffer from a hearing disorder called hyperacusis and were fleeing the construction noise outside their own home. During the dispute, they started paying rent into an escrow account but only the legal rent of $2,558 a month, rather than the $2,999 in the sublet agreement. "Defendant's behavior is rich with irony and hypocrisy since the rent the Defendants refuse to pay is less than the current rental market value of Plaintiff's Residence," the complaint reads. It's been a bad year, even for housing-market columnists.
Fall of Continued Disrepair
The city's shelter population grew steadily all year but reached an all-time high in October. According to the City Limits tracker, on one day in that month, as many as 65,660 people were staying in a Department of Homeless Services shelter, up from 46,591 at the beginning of the year. The population has increased slightly since then, breaking 66,000 in December. "Housing and homelessness are citywide crises, and meeting them requires citywide solutions," Public Advocate Jumaane Williams said in October. Eric Adams's solutions were: building and taking down a controversial tent to house migrants, conducting routine encampment sweeps from which only 5 percent of people entered shelters, and flooding the subway with police to harass and remove homeless people from trains. "They're wasting money on this when they could be using it to solve the problem," Sinthia Vee, an East Village encampment resident and protester, told Gothamist after facing multiple sweeps. "I don't want wraparound services. I want an apartment I can afford to live in."
The $35,000 Williamsburg Rental
In November, a home in Williamsburg was listed for $35,000, making it Brooklyn's most expensive rental in history (so far). The 4,200-square-foot building at 139 Powers Street includes six bedrooms, four baths, a 2,500-square-foot backyard, a two-story tree house, and what seem like 1 million rugs, and it comes fully furnished. "The entire home is rooted in comfort and style," the listing reads, I guess attempting to describe a vibe that's something like Arts and Crafts meets industrial Brooklyn warehouse. The owners told the Post they were renting out their house because they wanted to leave the city with their kids and "spend more quiet time with them in nature." I'm sure they'll find something they can afford upstate.
Our New Normal
Rents finally leveled out in the fall with the median New York City cost dropping 2.3 percent between September and October, according to Zumper. Even so, rents are still … very high. As one tenant told City Limits after his rent went up $200, "Now my partner and I have had to really cut back on food, which is hard with the increase in food prices. Eating out is a no." Meanwhile, the city recently hit another record — the gap between rent and wage growth was the highest in 14 years, according to a StreetEasy report. "A silver lining for renters is that the NYC rental market is rebalancing, although still highly competitive," the report reads. Happy New Year.