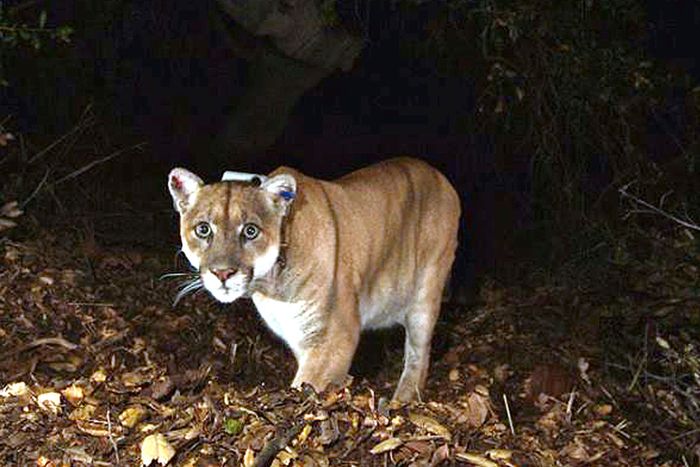 For more than a decade, Los Angeles residents co-existed with a mountain lion living in the center of the city.
Photo: Uncredited/AP/Shutterstock
P-22 wasn't seen in public much, but when he was, it became an event. People would share Ring footage of the giant cat casually slinking through the camera's field, always followed by breathless comments: "I can't imagine what it would be like to encounter P-22 — did he stare at you guys?" In the decade since he was first discovered by the Griffith Park trail cameras of wildlife biologist Miguel Ordeñana, P-22 (the 22nd puma tagged by the National Park Service) has been a local celebrity — the subject of museum exhibitions and profiles. But at the age of 12 or 13, after being hit by a car and a series of aggressive incidents involving humans and dogs, P-22 was captured and "compassionately euthanized" last weekend. And with that, Los Angeles lost its most reclusive star. It was a strange, and likely sad, life for a mountain lion.
For most of the period that wildlife officials tracked him by radio collar, P-22 tended to stay within the 4,310 acre, deer-saturated urban wilderness of Griffith Park, though he sometimes ventured into adjacent neighborhoods. Beyond the occasional paparazzi shot, he generally didn't make headlines — except for an unfortunate detour into the city zoo in 2016, when he devoured a koala named Killarney. But something changed in recent months. In November, P-22 killed a Chihuahua out for a walk in the Hollywood Hills — blocks from Griffith Park. A few weeks later, he went after another Chihuahua three miles away in Silver Lake. The dog survived, but the human who fought P-22 off ended up in the ER with 14 stitches. The California Department of Fish and Wildlife soon announced its intention to capture and observe P-22, and, last week, it did.
In a dramatic conclusion to his time in the big city, P-22 was tracked to a Los Feliz backyard, where NPS and CDFW officers sedated him with a single tranquilizer dart, gently wrapped him in a green tarp, and transported him to the Los Angeles Zoo's clinic, then to San Diego's Safari Park for a full evaluation. In the next few days, under the care of six veterinarians and four specialists, a grim prognosis of chronic health conditions began to emerge: dramatic weight loss, kidney failure, liver disease, an extensive parasitic infection, and evidence of a recent injury. Ultimately, his quality of life had deteriorated so significantly, they said, that the alternative plan to send P-22 to a wildlife sanctuary was no longer an option.
P-22 had lived longer than most mountain lions tracked by NPS, and his old age was making it difficult for him to survive in the wild, officials said. But what constituted the "wild" for P-22, like L.A.'s other mountain lions, was a dense urban environment that, once entered, wasn't very easy to exit. Due to the multiple mountain ranges that travel through Los Angeles County, it's not that unusual to spot mountain lions — sometimes even in the city proper. But P-22 became an L.A. mascot, because he was more or less trapped. His arrival in Griffith Park around 2012 meant crossing at least two freeways. (It's a journey that his human advocates have taken on foot — about 50 miles.) His feat, however impressive, doomed him to a lifetime of relative isolation.
"We put him in this predicament because of our built environment," Chuck Bonham, director of the California Department of Fish and Wildlife, said through tears during Saturday's press conference. "We need everyone to stand up, raise their voices, create this moment to fix that built environment, so these majestic animals have the freedom to roam." The fix Bonham was referencing is wildlife corridors — networks of bridges, tunnels, and greenways planted with native flora that would allow mountain lions and other animals to safely navigate the deadly, car-centric infrastructure that has carved up their habitats. The largest wildlife bridge in the world is currently under construction over the 101 — a freeway that P-22 crossed a decade ago. Making this infrastructure required for all road projects throughout the region would mean the next mountain lion who makes it to Griffith Park wouldn't be stuck there — he could safely commute across the city, from a municipal park to the L.A. River bed to a nearby national forest, so he can hunt, mate, and thrive.
The urgency to build these corridors became all the more clear in P-22's final weeks in the city. In addition to his human and pet confrontations, wildlife officials had received an anonymous tip that a driver hit a mountain lion in the same neighborhood where P-22 was eventually captured. Witnesses came forward saying they saw P-22 struck by a car at a busy Los Feliz intersection. P-22's location at the scene was confirmed at Saturday's press conference, as was the fact that his most critical injuries — skull fractures, a laceration near his eye, and a herniation of his abdominal organs — had been caused by blunt-force trauma from a car. "It was indeed apparent pretty early on that there had been acute injuries — this was a trauma patient — consistent with a vehicle strike," said Hendrik Nollens, vice president of wildlife health for the San Diego Zoo Wildlife Alliance, as he showed CT scans of P-22's chest cavity. The damage to P-22's internal organs, including his lungs and heart, would have required invasive surgical repair in order for him to survive. This is a tragically common occurrence. Five mountain lions have been killed by cars locally (including one last month) in 2022.
In a moving eulogy, California's regional executive director for the National Wildlife Federation, Beth Pratt, who has a drawing of P-22 under the Hollywood sign tattooed on her arm, seemed stunned that, with everything he had endured, it was a car that ended P-22's life after all. "I thought of how terrible it was that this cat, who had managed to evade cars for a decade, in his weakened and desperate condition could not avoid the vehicle strike that sealed his fate," she wrote. "It's my hope that future mountain lions will be able to walk in the steps of P-22 without risking their lives on California's highways and streets."