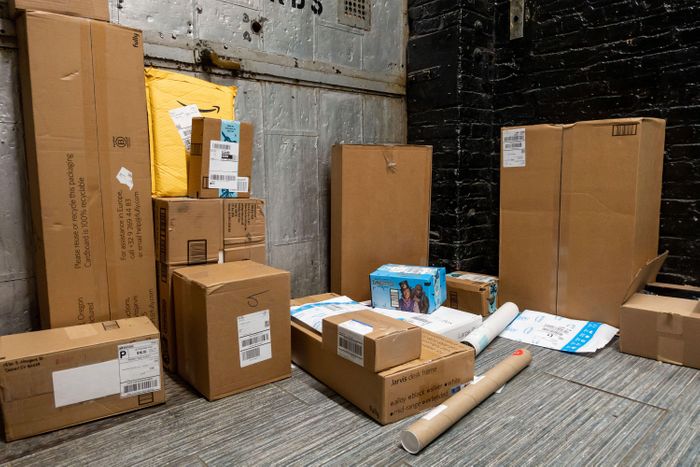 A building lobby in New York filled with online orders.
Photo: Hugh Mitton/Alamy Stock Photo
Jake DeGroot has lived in his Jackson Heights townhouse for just over a year and has had packages stolen from his front door three times. The first time, the thieves made off with a 25-pound box of specialty dog food. Then they took a box of Amazon items.
The third time, DeGroot was working upstairs when his doorbell camera alerted him to a woman he didn't know grabbing a package from his doorstep. By the time he was outside, she was on the back of a moped, headed down the street. So he sprinted two blocks and caught up to her in front of another building she was trying to enter. "I said, 'Hey, what are you doing? You can't steal my stuff.'" He said she replied, 'Please don't call the police,' handed back a few items — it turned out to be underwear he'd ordered — and ran off. He called the cops anyway: "They scolded me for having chased her," he said. "But they never did anything. I followed up four times with the precinct but they just dropped the case."
DeGroot is just one of many residents across the city frustrated by package theft. Across the city, New Yorkers are posting screenshots from their doorbell cameras on neighborhood listservs, Facebook groups, and on Nextdoor to track down and warn their neighbors of those caught in the act. As residents doubled their online shopping during the pandemic, to the tune of about 3.6 million packages a day, the rise of package theft seems to have accompanied that surge. Even before the pandemic, a New York Times analysis from 2019 estimated that 90,000 packages are stolen or mysteriously disappear every day in the city, up 15 percent from four years earlier. Nationwide, New York is now the state with the fourth-highest rate of package theft, according to this 2021 survey, with 27 percent of New Yorkers saying they'd had at least one package stolen in the past 12 months.
That's created a lot of demand for a solution — especially during the holidays. DeGroot thought his doorbell camera might prevent people from stealing, but "it clearly hasn't solved that," he said. "Security cameras don't seem to be a deterrent in New York," says Liz Picarazzi, a Brooklyn entrepreneur. "Porch pirates rarely get caught and know that the police have more important crimes to focus on. Theft of sentimental items especially sucks." Recently, she says one of her friends mailed someone a handmade gift: a Christmas ornament in the likeness of his face. The ornament was swiped — "not easily replaceable, and certainly not in time for Christmas."
In 2018, Picarazzi created the ParcelBin: a sleek package locker with an aluminum cabinet and bamboo siding that can be padlocked or, for $1,225, comes with a digital lock. Since the pandemic, she's seen a 150 percent surge in orders, especially from brownstone and townhouse owners in Brooklyn and Manhattan, and she recently began expanding sales nationwide to businesses like AT&T. But the bins only work if carriers use them: last year, Picarazzi — a self-described jumpsuit collector — says she had a jumpsuit stolen when a carrier left it on her stoop instead of placing it into her ParcelBin.
Other startups include GoLocker, whose walls of white lockers with built-in touchscreens first launched in 2015 at Rocky's Deli and Supermarket in Fort Greene. Users pay $20 a month to get up to ten deliveries a month from the lockers, which are currently mostly in Brooklyn but "will exponentially expand to the other boroughs in January 2023," says Kiley Tkaczyk, a vice president at the firm. It's already opened two dedicated locations in the Lower East Side and Upper East Side with 24/7 access: "Our goal is to have lockers located in every neighborhood." They're competing with Amazon lockers, which can be found in stores like Rite Aid and Amazon-owned Whole Foods. (An Amazon rep didn't respond to a request for comment, but a search on Amazon's site shows at least a hundred locker locations across the city.)
But the option that doesn't require new physical infrastructure at all is the one that might just be in your local bodega or pharmacy. For small businesses, joining pickup networks is a way to earn a little extra cash. They might participate in networks like Bounce, which recruits local businesses to double as package acceptance centers. Bounce debuted on the Lower East Side in December 2020 at the Madison LES Hotel, charging users $5 per item to receive packages or store items like luggage. "After we launched, we had many NYC property management companies reach out and ask whether we could get locations near their buildings, and how they could get subscription plans to their customers," says Nikita Frampton, a Bounce manager. The startup, now backed by millions of dollars in VC funding, has 76 locations across the city today, and is also available in over 100 cities around the world.
Another option that may already be familiar to many is the UPS Access Point network, which launched in New York in 2014. It has 398 locations across the city today, according to Robin Hooker, a director at the company. One of those local spots is at JHC Wireless, a Chinatown phone card seller operating behind a tiny counter in the hallway of an East Broadway arcade, which joined the network in 2019. Owner Jay Chen says getting approved was a highly competitive process: "They have so many people waiting to apply for Access Point. Like, if there's one closing down, there'll be another one."
Chen earns 50 cents for each parcel he holds on the shipping company's behalf. Since he started, the amount of packages he handles has jumped around 40 percent — not just because of the pandemic, but because the neighborhood is changing, he says. Older Chinese immigrants aren't big online shoppers, and nearly all his UPS customers are non-Chinese. Many of them live in apartments where UPS won't deliver due to high rates of package theft, instead routing them directly to Chen's stall, where they sometimes pile up to the ceiling, leaving almost no room for him to move around.
DeGroot, the Jackson Heights resident, hopes similar amenities will come to his neighborhood soon. There's no space by his door to install a locker, and the pickup networks haven't yet opened up nearby. For now, he's posted on Facebook to warn others about his underwear thief, and set up a texting group with the people next door to keep an eye out for future incidents. "If there were a local bodega I knew was willing and able to accept packages, I would really consider rerouting my deliveries there," he says. "I think that's a really good idea."