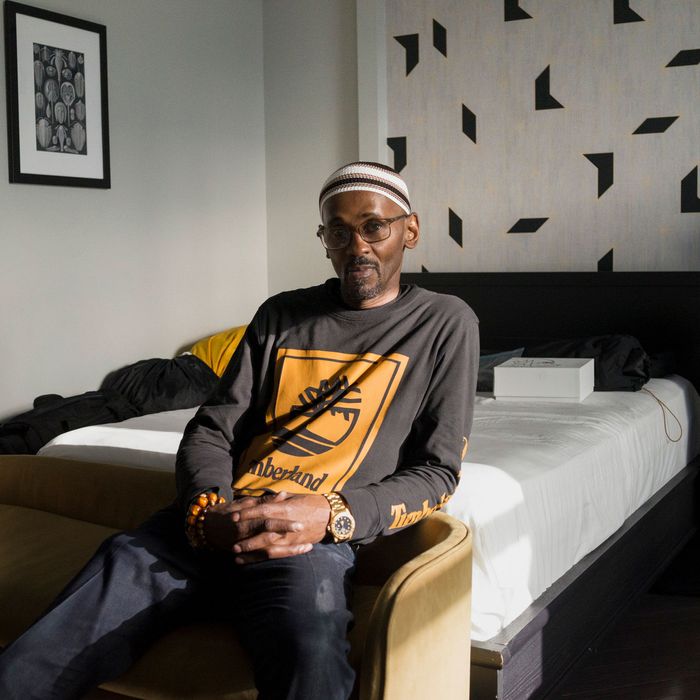 Ashley Carnevale's room at the Tillary Hotel in Brooklyn has two queen beds, a small closet, a TV, a private bathroom, and a dresser that she purchased herself — just the basics. But here, at least, she can come and go whenever she wants, unlike her time at the Taconic Correctional Facility in Westchester County, where she was incarcerated for 12 years. The transition from prison to Downtown Brooklyn was jarring at first. "I'm not from the city, so the whole experience was very hard," she says. That included learning how to support herself — she had always lived with her parents or in-laws. But after a year and a half (she moved in last May), she says, "Now I'm just like a regular citizen, going to work every day."
Her stay, part of the Emergency Rikers Relief Plan launched in March 2020, was designed to relieve an overcrowded Rikers and state prisons at the beginning of the pandemic. The program had placed her and more than 2,000 other former inmates in six hotels around the city as temporary housing for those who had no place to go. Having an address is critical; without one, those who are detained have a harder chance of getting parole, since it's assumed that they will become homeless or go into the shelter system. Through the social-service support that comes with the hotel program, approximately 16 percent of the nearly 2,500 former inmates placed in hotel rooms have moved into permanent housing.
But the city is expected to terminate half of the hotel contracts by the end of this year, leaving approximately 300 people scrambling to find housing, whether in other hotels or elsewhere. It already closed the Wolcott Hotel in Midtown Manhattan in early October, where approximately 160 residents were staying, and the Fairfield Inn & Suites in Long Island City at the end of October. The Tillary, where Carnevale is staying, is scheduled to close by the end of December. Many of these residents have since been moved to the remaining hotels and were forced to double up in most cases.
The hotel program, run by the nonprofit Exodus Transitional Communities since its inception, is scaling down in part because the city says it wants to wind down its emergency program and instead focus on expanding its transitional housing. Exodus itself, caught up in multiple scandals, is being replaced as well. Three of its employees were caught trying to bring illegal substances and paraphernalia into Rikers and a fourth was removed for urinating in a hallway, and three active law-enforcement probes have been investigating the nonprofit's hire of an unlicensed security firm to guard the hotels. The city has canceled Exodus's contract and selected Housing Works to begin overseeing the remaining three hotels on December 31. However, if additional housing is not available in the next three weeks, an estimated 75 to 100 people could be left without a bed, say sources at Exodus. They will most likely be forced to choose between the shelter or the streets. As it is, many residents currently in the hotels are afraid of sharing a room with a stranger, and some are trying to find alternative housing. The mayor's office did not answer whether more housing will be made available by the end of the year.
As the Tillary closes down, many residents feel like a lifeline has been abruptly taken from them. "I just have to keep fighting through this. It's very disappointing," says Ashley, who adds that she has not been offered any housing options yet. The closure comes at a particularly perilous time as rents across the city have remained high and winter temperatures drop. Without shelter, the risk of former inmates landing back in prison also goes up — when homeless, their chances of interacting with the justice system are 13 times higher than the general public's. During the fall, photographer Annie Grossinger talked to ten people about their hotel stays and their transition to post-prison life.